Smashburger Just Brought Back A Fan Favorite For Good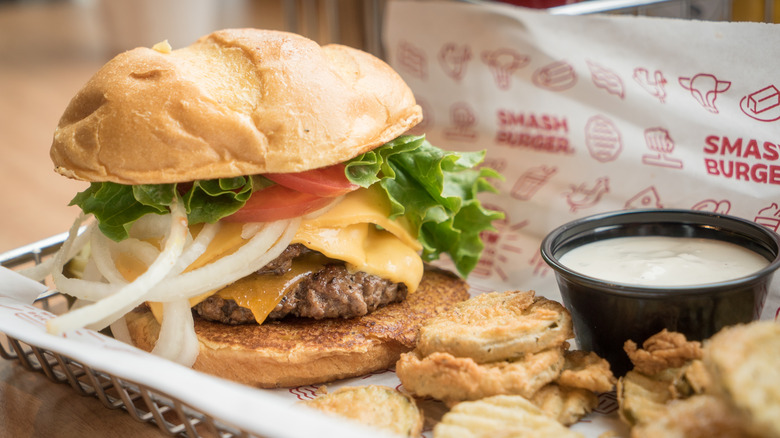 010110010101101/Shutterstock
Everyone knows that when a seasonal or regional favorite gets permanently added to a fast food menu, somehow, somewhere, a deep-fried angel gets its wings. The Shamrock Shake Angel is gathering her things as we speak, getting ready to exit stage right and hoping beyond hope that someone will give her the nod to stay a little longer. She knows that once all talk of St. Patrick's Day has waned, and spring turns to summer, her service will no longer be required, and she'll walk sadly back to the fast food restaurant in the sky, dreaming of the day she'll be given wings to fly all year long. Everyone remembers the day the Impossible Whopper Angel got her wings (it was April Fools' Day, according to Smithsonian Magazine), whereas cherubs like the Filet-O-Fish Angel have been flying high since day one.
But this week, Smashburger added another winged angel to the heavenly fryer-choir up above. According to Chew Boom, a burger that was previously available in only one of the contiguous United States was recently dubbed worthy of permanent billing in the other 49. So while we may be no closer to enjoying a bright green Shamrock Shake year-round, we can now stroll into any Smashburger in America, on any given day, and order a Colorado Burger without fear of rejection. And just maybe, we can help out an angel along the way.
Hark! The Colorado Burger is here to stay!
In addition to being the newest member in the burger lineup on offer at Smashburger, the Colorado Burger might also be the spiciest (via Chew Boom). And not just because it keeps giving the other burgers the stink-eye when they ask to borrow some ketchup. No, according to the Smashburger website, it's the Anaheim chiles that give the Colorado a little extra kick, plus an extra spicy boost courtesy of the "spicy toasted chipotle bun" and pepper jack cheese. Like the rest of Smashburger's burgers, the Colorado is made with grass-fed, certified Angus beef, and comes with lettuce, tomatoes and mayo... But it's the spice that had fans in all the non-Colorado states begging to be let in on the action.
Per QSR Magazine, the Colorado Burger is giving a not-so-subtle nod to its state of origin with all those Western flavors. In fact, the once-seasonal burger even earned remarks by the president of Smashburger himself, Carl Bachmann, when he said in 2020 that the popular burger "reflects our restaurant's humble beginnings in Colorado." He also explained that it had developed such a cult-like following that the chain had no choice but to keep bringing it back, year after year. This week, the team at Smashburger finally realized they should just leave the Colorado Burger where it was (that is to say, on the menu), and lo — angels and customers around the world rejoiced.