These Pre-Cut Fruit Items Were Just Recalled For Listeria Concerns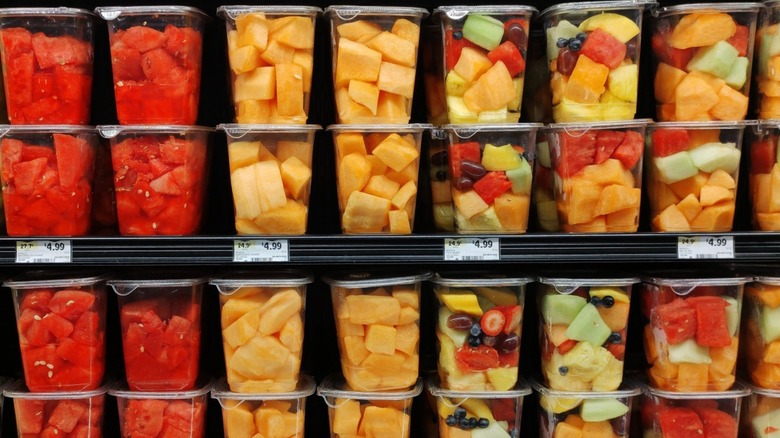 Philip Arno Photography/Shutterstock
One of modern life's small but meaningful conveniences is the availability of pre-cut fresh fruit. An unfortunate trade-off, however, is that the relatively small amount of processing involved in the peeling, pitting, slicing, and packaging of fresh fruit in a commercial setting may subject your seemingly pristine fruit to the risk of contamination by foodborne pathogens. One such pathogen is Listeria monocytogenes, which is found in water, soil, and animal droppings and can be transmitted to humans via the consumption of contaminated food (via Mayo Clinic). The resulting illness, known as listeriosis, can be deadly in certain populations, namely pregnant women and their unborn fetuses, people older than 65, and anyone who lives with a weakened immune system (listeriosis rarely affects other populations, and when it does, it tends to respond well to antibiotics).
The first major listeriosis outbreak was reported in 1985, according to Food Safety News. Linked to the eating of soft, Mexican-style cheese, the outbreak sickened 142 people and killed 28, including 10 newborn babies. It also played a part in 20 miscarriages. But fruit, and specifically, cantaloupe, was at the center of another deadly listeriosis outbreak in 1996 that sickened 147 and killed 33, according to the CDC. That's why if you have recently purchased pre-cut fruit anywhere in the New York area, you should determine if it may be subject to a recall, as reported by the FDA.
Check your fridge for these fresh-cut fruits and dips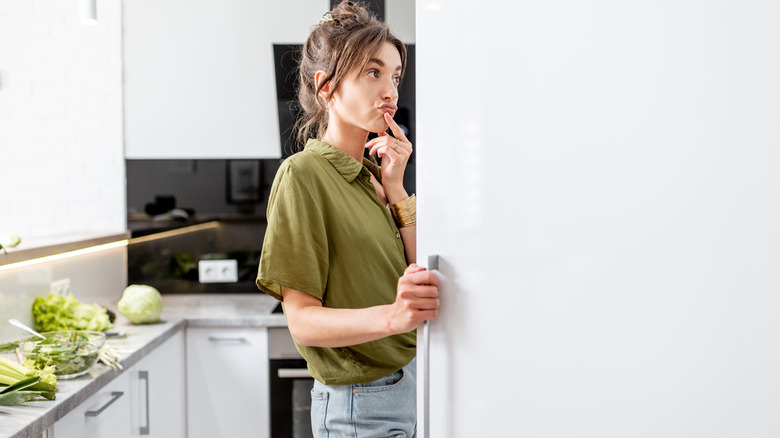 RossHelen/Shutterstock
On March 20, 2022, the FDA alerted consumers to the recall by Fruit Fresh Up, Inc. of various pre-cut fruit items and related dips due to listeria concerns. These items were processed at a facility in Depew, New York, and were distributed through Wegmans, Fresh Harvest, Lexington Co-op, and Tops locations in the New York area. The company and the FDA are asking you to check for any of the items listed on the recall announcement. 
As noted by the FDA, the items subject to recall were all "packaged in clear plastic containers with a tamper evident seal" and bear a "Best if Used By" date between March 5, 2022, and March 31, 2022. If you have any of the recalled items in your possession, the FDA urges you to not consume them and to discard them immediately. The recall was initiated after the discovery of contaminated surfaces where fruit and dips had been packaged. Although no illnesses have been reported at this time, listeria symptoms might not show up until a month or longer after consuming the contaminated food (via Mayo Clinic). Therefore, if you believe you may have consumed any of the recalled fruits or dips, it's advisable to check in with your healthcare professional if you begin to experience flu symptoms, including fever, nausea, diarrhea, headache, or worse. 
People with questions can contact the company on weekdays between 8:00 a.m. and 3:00 p.m Eastern Time by calling 716-684-3400.