A Popular Trader Joe's Ice Cream Flavor Is Back And Shoppers Are Thrilled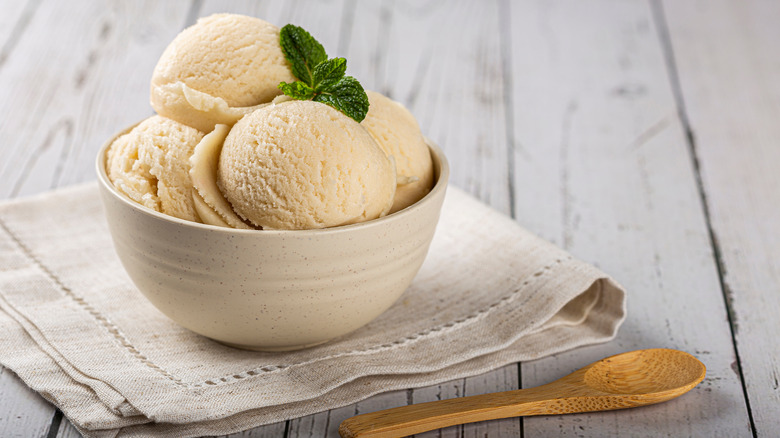 WS-Studio/Shutterstock
Spring is officially here, which means warm weather and longer days are finally on the horizon. But this time of year doesn't just mean the return of pleasant weather — it also means the return of many of our favorite warm weather treats. And the number one treat that most people can't wait to enjoy? Ice cream. According to a survey conducted by Harris Poll in 2015, ice cream is the nation's favorite summer food, with two out of three Americans ranking it higher than other classic summer foods like burgers and pie (via PR Newswire).
It's official: People love ice cream in the summer, and we can't say we blame them. It is the perfect blend of sweet, creamy, and refreshing, and it is available in a wide variety of flavors, so there is sure to be an ice cream out there for everyone. And just recently, a crowd-pleasing ice cream flavor returned to shelves at Trader Joe's — and it had ice cream fans raving. The store's popular Coffee Bean Hold the Cones ice cream flavor is back for the summer, and many shoppers can't wait to stock up on this delicious seasonal treat just in time for spring.
Many shoppers agreed this Trader Joe's flavor is 'the best'
The popular Trader Joe's themed Instagram account @traderjoesfoodreviews recently posted a review of the brand's Coffee Bean Hold the Cones, giving it an impressive 9/10 score. "It's a crunchy, chocolate cone filled with creamy coffee ice cream, and then covered with a chocolate shell!" they wrote, adding there are also "little flecks of coffee beans mixed throughout, and a slightly bold coffee flavor while still being creamy and smooth" and "even chocolate at the bottom of the cone which makes for the best bite at the end."
Many of their fellow Trader Joe's fans were thrilled by the return of this delectable dessert. "Yes!! I'm thrilled these are back! They are so good!" one person raved, while many others agreed this flavor is "the best." "My toxic trait is that I would eat this entire box in one sitting," another user joked. Quite a few shoppers couldn't wait to start stocking up on this limited-time treat. "THE best flavor! Really wish these bad boys weren't seasonal!" someone else wrote. "I ain't playing games this time I'm copping 10 boxes," another proclaimed. So if you have been looking for the perfect ice cream flavor to help ring in the start of the spring season, you might want to grab a box or two of this popular Coffee Bean Hold the Cones flavor the next time you head to your local Trader Joe's.