Brazi Bites Just Went Gluten-Free With Its Newest Snack
Gluten is a protein that naturally occurs in wheat and other grains, and is also occasionally added to processed foods to improve the flavor and texture, according to Johns Hopkins Medicine. While gluten is not a problem for most people, it is difficult for the body's digestive enzymes to completely break down the protein — and some people have dietary sensitivities that make it hard for their bodies to process the undigested gluten, which can lead to problems like bloating and diarrhea, and even skin rashes. Therefore, people with Celiac disease or other gluten intolerances avoid including the ingredient in their diets for these health reasons.
The number of people following a gluten-free diet has been on the rise over the past decade, with around 3.1 million people identifying as gluten-free in the United States as of 2017, according to Forbes. Luckily, there are an number of brands that have made it easier to find good-tasting foods that are gluten-free in order to help cater to this growing demographic. Brazi Bites is the latest, making their Latin-inspired snacks even more inclusive with the launch of their newest line of gluten-free Better For You Pizza Bites. So even those who do not eat wheat can still enjoy a tasty, savory pizza bite, according to a press release shared on PR Newswire.
The Better For You Pizza Bites are made with gluten-free tapioca flour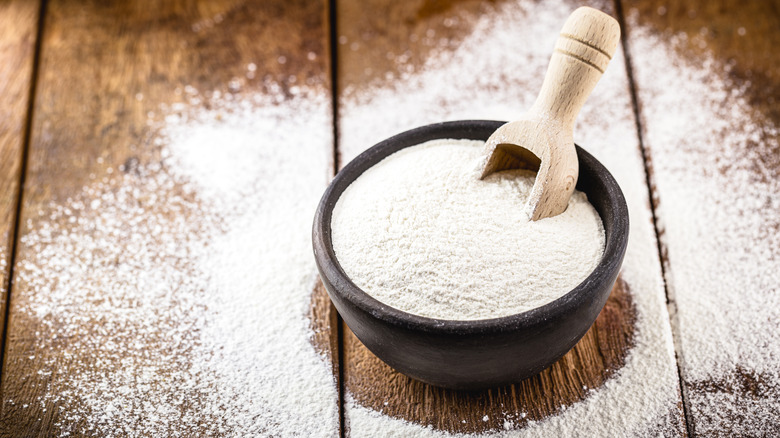 RHJPhtotoandilustration/Shutterstock
Brazi Bites developed their new Better For You Pizza Bites with an aim to "revolutionize the freezer aisle," Junea Rocha, the co-founder and CMO of the company, explained in a press release shared via PR Newswire. These snacks deliver the same rich, hearty flavor as a traditional pizza bite, but are made with tapioca flour instead of wheat, making them completely gluten-free and safe for those with sensitivities and intolerances. But each bite is not only gluten-free — they are also free from soy, grains, trans fats, and artificial ingredients.
These new treats are now available in three different flavor varieties: Pepperoni, which includes uncured pepperoni, fresh mozzarella, and tomato sauce; Four Cheese, which features a gooey blend of mozzarella, cheddar, Parmesan and asiago cheeses; and Supreme, which boasts a hearty serving of uncured pepperoni and Italian sausage alongside onions and red and green bell peppers, and seasoned with spices stuffed inside each flavorful bite. Each kind can be prepared in the oven or air fryer, for a quick and easy appetizer or snack on-the-go. They can be found on shelves nationwide in stores like Kroger, Safeway, Stop & Shop, Target, Wegman's, and more, as well as online on Amazon and at www.brazibites.com.