Michael Symon's Dog, Norman, Just Made Instagram's Day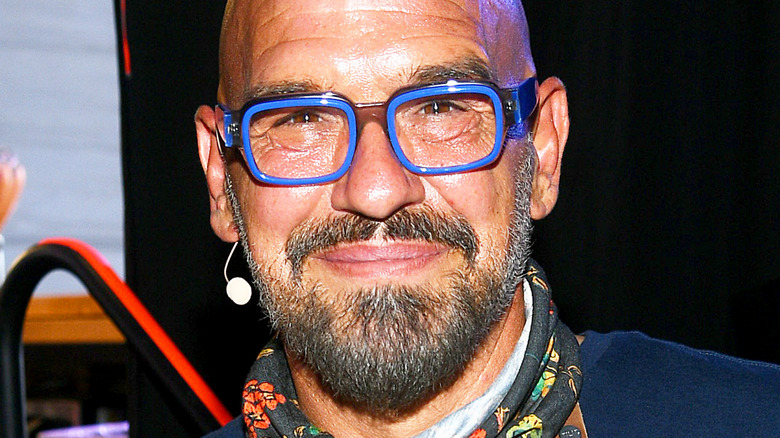 Dave Kotinsky/Getty Images
Pictures or videos of puppies doing cute and funny things can brighten anyone's day, but an Instagram post of Michael Symon's dog smiling has his fans in stitches.
The restauranteur has a Hamptons home, which was recently shown off in Closer Weekly. The large property perfectly accommodates Symon's family, including his two-year-old dog, Norman. According to wkyc, Norman came to the Symon family as a puppy back in 2019, and the celebrity chef took to Instagram to announce the newest addition of his household. In the post, Symon shared that although still grieving the loss of another dog at the time, he was very excited for Norman to join the family and "grow up with Emmy."
Over the past two years since Norman was first welcomed into the Symon family, the pup has matured and has clearly learned a few things. In a short video post that has already amassed 36,800 likes, the TV personality shows off some of Norman's skills.
Norman offers up a big grin
Symon shared a video with his Instagram followers of him taking a happy Norman for a walk. The short clip consists of the duo walking for a bit before Symon commands Norman to sit. After quickly obeying and offering up a big grin, Norman was called a "good boy," by his human. The post is captioned, "My guy .. no matter the day his smile always cheers me up!"
You can always count on fellow dog lovers to chime in on posts as adorbs as this one. Instagram users have already flooded the comment section with the likes of "​​Good boy! What a beautiful baby!" and "I love this happy boy. Thanks for posting pictures of him. He makes me smile too." The fandom continues on as one user exclaims "Strut your stuff Norman!"
For those of you who can't get enough of this grinning guy, Norman has his own Instagram account, and fans can stay up-to-date with his adventures by following normansymon. As for his human, Michael Symon, you can catch him on the Food Network.