Aldi Shoppers Are Loving This Frozen Shrimp Dish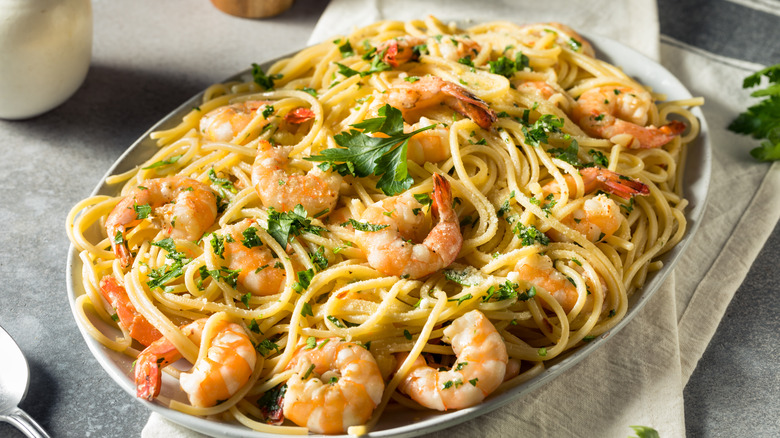 Brent Hofacker/Shutterstock
You might think shrimp scampi has a fun name, but you might not know the origin of the dish. According to The New York Times, the recipe originally featured a "lobster-like crustacean" called scampi, but Italian cooks decided to switch out this seafood for shrimp when they brought it to the United States. Chefs kept the names of both crustaceans in the title, and continued to serve this buttery, garlicky seafood meal alongside pasta or bread.
This rich meal takes some time to whip up and when you have a shrimp scampi craving, you need to plan ahead when creating it at home. Luckily, Aldi came out with a frozen version and shoppers can't get enough of it. Instagrammer @aldiforpresident discovered the product during a recent shopping expedition, and fans responded in kind, saying "Yummy," and "This Scampi is delicious!" While this user's followers couldn't get enough of the find, many other Instagrammers independently stumbled upon the same frozen meal and concurred that it tastes delicious.
Instagram loves Aldi's scampi
Instagram user @theamazingaldi included the frozen shrimp scampi in a product roundup and fans lit up when they saw the post. Excited replies poured in, including, "The shrimp scampi is amazing. Make a big bowl of angel hair and some fresh parm," to which the author of the post responded with, "mmmm. The best way."
User @ohheyaldi also found the frozen scampi, posting a photo of the meal alongside the caption, "Soup, salad and shrimp scampi please. $5.89 Fremont Fish Market Shrimp Scampi." One follower couldn't get enough of the seafood score and replied with, "This scampi is amazing, already bought 6 of them. I love ALDI!"
Fans have encountered this frozen entree before. Aldi Reviewer tasted the dish last year and noted that the packaged product was a great way to enjoy a more refined seafood meal you might not have on a regular basis. While the item provided a touch of luxury, the reviewer also noted that the 2021 version tasted very salty and contained loads of fat, but when you feel like splurging, the item proved delicious. 
The word's still out on if the latest incarnation of Aldi's shrimp scampi can live up to its predecessor, but it still has found a way to strike a chord with shoppers across social media.