Ranch Lovers Need To Know About Trader Joe's New Seasoning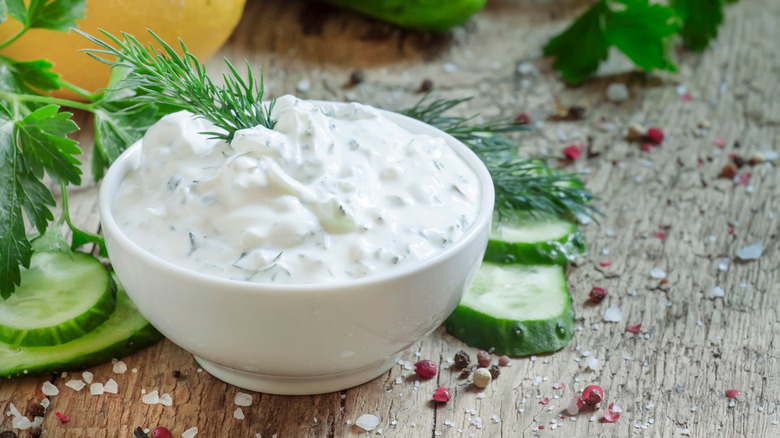 5PH/Shutterstock
The condiment has found its way into a ton of homes over the years, but many might not know where the signature flavor of ranch dressing comes from. According to HuffPost, ranch dressing relies on a mix of "buttermilk, sour cream, and mayonnaise," in addition to other add-ins like garlic, dill, and chives. The mix of dairy products generally means that you can only really enjoy all of the flavors if you want to drizzle the dressing over your food. Some have tried to concoct this seasoning at home, but now, Trader Joe's has an easy way for you to tap into the flavors of ranch dressing.
Instagrammer @traderjoeslist recently discovered that Trader Joe's carries a signature ranch seasoning blend that you can pour directly on your meals. They posted a photo of the find alongside the caption, "NEW RANCH SEASONING BLEND. @ohkimshescrafty. Well this is certainly going to change 2022 for the better! Ranch seasoning can go on literally everything... popcorn, veggies, meats and seafood, eggs, your partner and pizza! I can't wait to sample and review this! What will you be using this new spice on?" Fans enthusiastically jumped in and couldn't wait to answer with their favorite meals that needed some flair.
A ton of love for ranch flavor
Followers bombarded the Instagram post with replies like, "Handsome Cut Potato Fries!" and, "POPCORN....I hope it's better than the other ranch seasoning I bought to go on popcorn. That's bland and yucky." One user, "Mixed [it] with plain Greek yogurt," while another said, "I hope this tastes better than the TJs Ranch dressing!" One user noted, "Mix it with the Organic sour cream (much creamier) than the conventional brand and you've got yourself a perfect dip for potato chips!" while another chimed in with, "This would be PERFECT to use for my chicken bacon ranch recipe‼️" Many shoppers loved the idea of adding this seasoning to poultry, like one user who said, "I just bought this today to put on chicken."
One particular Instagrammer felt extra spicy when they replied with, "Definitely using this on my partner!" Either way, this product has drummed up a ton of hype, and many replied with, "Omg I am going to try and find this asap!" and, "Definitely will be buying it and give it a taste test."