The BOGO Deals White Castle Is Celebrating Spring With
It seems like White Castle always has a sweet deal going on. According to Eat Drink Deals, the fast food chain currently has a BOGO deal on Waffle Sandwiches until March 25 and plans to sell their Panko Fish Slider Combo on Fridays for $5 through April 15. Anyone with the White Castle app can also save some money, as the chain plans to knock $2 off of its Impossible Slider Combo, sell two Breakfast Sliders for $2, and offer a BOGO deal on Bacon Cheese Sliders until March 31.
These deals might get your mouth watering, but they won't last forever, which may seem like terrible news and could put a damper on your future White Castle meal plans. Luckily, the chain has thought ahead and plans to offer customers some crave-worthy new deals over the course of spring. "We love to give our Cravers a reason to smile," said Lynn Blashford, chief marketing officer for White Castle (via PR Newswire). She added, "Our special offers will help them enjoy both ordinary days and special occasions this spring."
Cravers can expect a new deal every week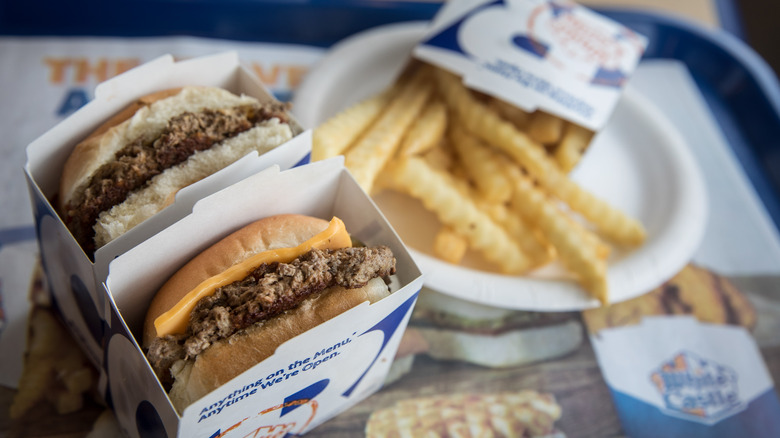 Drew Angerer/Getty Images
White Castle fans have something new to look forward to each week over the course of spring. PR Newswire reports that on April 20, diners can expect $4 off any delivery order over $20. The burger chain plans to honor Mother's Day with $5 off any $25 order between May 6 and 8, and for Father's Day, anyone who gets a delivery order can take 20% off a check over $25 between June 17 and 19.
The chain didn't forget in-store purchases either. On April 18, the brand celebrates Tax Day by taking 18% off of your entire meal, while the restaurant wants to honor National Slider Day by giving out free cheeseburgers all day on May 15. Diners can also come in between May 27 and 30 to get "$5 off the 1921 Share-A-Meal" for Memorial Day.
Any Craver Nation member can score many of the spring deals, including 20% off every order between April 1 and June 30 and BOGO Impossible Sliders between May 2 and 31. You can also get a six-piece of the famous White Castle Chicken Rings for $2. 
For complete deets on these deals, or to become a Craver Nation member, head over to the White Castle website.