A Beloved Kids' Cartoon Inspired Pinkberry's Two New Strawberry Flavors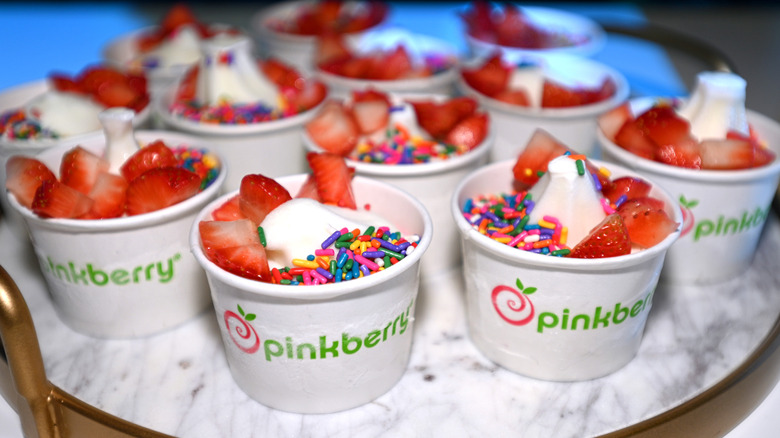 Andrew Toth/Getty Images
Most people would love to meet their favorite fictional character in real life, but barring realistic dreams and encounters with convincing impersonators, it's sadly not possible. To make consumers feel closer to the objects of their fandom, some very clever creative director came up with the tried-and-true marketing tactic of using fictional characters to sell a product. To use a recent example, the cosmetics brand ColourPop released a makeup line last year inspired by the animated cast of the popular video game "Animal Crossing." Alternatively, some cartoon mascots were created in order to sell a food product, like Ronald McDonald or the Kellogg's Rice Krispies trio Snap, Crackle, and Pop.
In a similar move, the Scottsdale-based frozen yogurt chain Pinkberry has just released a new flavor — available through May 26 in participating stores nationwide, according to a March 25 press release — that sounds like a perfect celebration of springtime. Younger audiences will be particularly stoked about the limited-time treat, because it's inspired by a beloved cartoon character from the Canadian media company WildBrain. 
Pinkberry meets Strawberry Shortcake
Per the press release, Pinkberry's limited-time Strawberry Shortcake flavor takes its name from the main character of the WildBrain cartoon "Berry in the Big City," the third installment of the network's "Strawberry Shortcake" series. For the unfamiliar, the dessert-centric program follows a young girl by the name of Strawberry Shortcake who moves in with her Aunt Praline in Big Apple City. With her cat, Custard, in tow, Strawberry Shortcake gets up to all kinds of adventures with her new friends Orange Blossom, Lime Chiffon, Lemon Meringue, and Blueberry Muffin. Now that we have that covered, let's get into the new frozen dessert. 
With its "cool, tart tang," Pinkberry's Strawberry Shortcake flavor "celebrates the sweetness of the season," Melissa Hubbell of the dessert franchise's parent company Kahala Brands says. As with all Pinkberry flavors, customers can choose to leave their treat plain or customize it with bits of chocolate, nuts, and other toppings. For those who want to enjoy a deconstructed version of the classic dessert, Pinkberry is promoting a combination option with fresh strawberries, strawberry purée, crumbole (a vanilla-flavored crumbled cookie topping), and whipped cream, according to the press release. We have no doubt that even those who have never seen "Berry in the Big City" will still enjoy this seasonally appropriate treat.