The Tea Debate In Bridgerton Season 2 Explained
No British period drama is complete without a scene or more involving tea – either taken on its own or as part of the classic mid-afternoon ritual. But in the latest season of the hit series "Bridgerton," English tea takes a bit of a beating at the hands of lead character Kate Sharma, played by Simone Ashley, who chooses to dismiss the beverage. In one of the images shared on social media, the character is quoted as saying, "I even taught her [my sister Edwina] how to make this pitiful excuse for tea the English so adore." In another, she succinctly states, "I despise English tea."
While the comment may fly over the heads of those who don't know much about the history of English tea, Metro says it struck a chord with members of the Indian diaspora. The sentiments expressed about tea appear to be commonly shared by those who have seen the show. One fan actually took to Twitter to explain, "It's the smallest of things in s2 of that really stand out to me. One particular case is when Kate is making tea but she uses whole spices to infuse the tea first just like how many South Asians do when making their chai." Another person tweeted, "Bridgerton' did justice to Indian tea and I feel so alive."
Indian tea has more spices than its British counterpart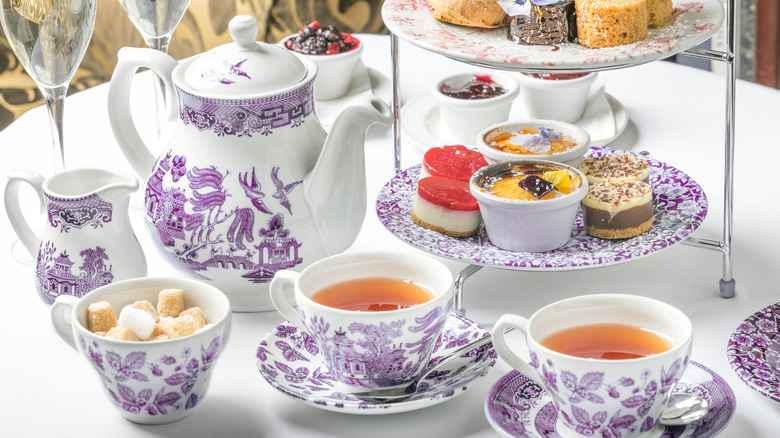 petereleven/Shutterstock
While India didn't give rise to tea, the BBC says the subcontinent played a large role in popularizing it. While tea was first enjoyed in China as early as the third millennium BC, it didn't begin appearing in Europe until the mid 17th century. But the bitter brew did not really catch on until sugar and milk were added to the beverage and since then, Indians changed the beverage and made it their own.
Indian tea, or masala chai, is traditionally made with loose Assam leaves. It is dark and has a strong flavor. Per Indian Healthy Recipes, the "masala" in the chai is a combination of spices of which the base is made with green cardamom pods, cloves, and cinnamon. Though other spices, including black pepper, ginger, fennel seeds, and nutmeg, as well as star anise, can be used. 
Simone Ashley's character Kate Sharma and her "sister" Edwina, played by Charithra Chandran, were both born and raised in India. So it seems understandable that Kate – who is depicted as being strong-willed from the get-go – would find British tea to be a "pitiful excuse," and would not hesitate to call it out.