Red Bull's New Summer Flavor Features An Unexpected Fruit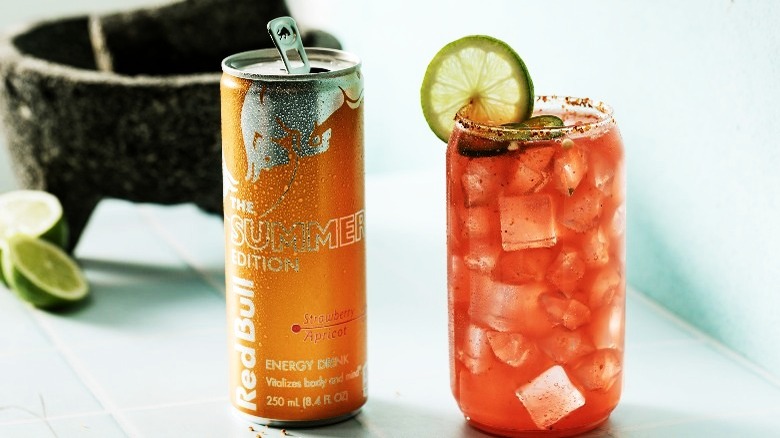 Red Bull
Red Bull has a new, limited-edition summer flavor that features a fruit some fans might not expect, per a March 23 press release.
The drink's summer-inspired taste contains a "hint of peach," in addition to strawberry and apricot. Shoppers will be able to find the new flavor in matte orange cans, which come in 8.4-ounce and 12-ounce sizes. Its marketing campaign features athlete Carissa Moore.
Some Red Bull fans are already anticipating the new seasonal flavor and sharing the news. "Red Bull has a new summer edition flavor Strawberry Apricot heading to stores in April," one fan tweeted. "This one sounds pretty solid. Feeling this one." The flavor will be available at select retailers on April 4, and it will be available nationwide on May 1.
But fans don't have to wait that long — one fast-food chain is already selling Red Bull Strawberry Apricot Slushes. Here's where to find them.
Fans are hyped for Red Bull Strawberry Apricot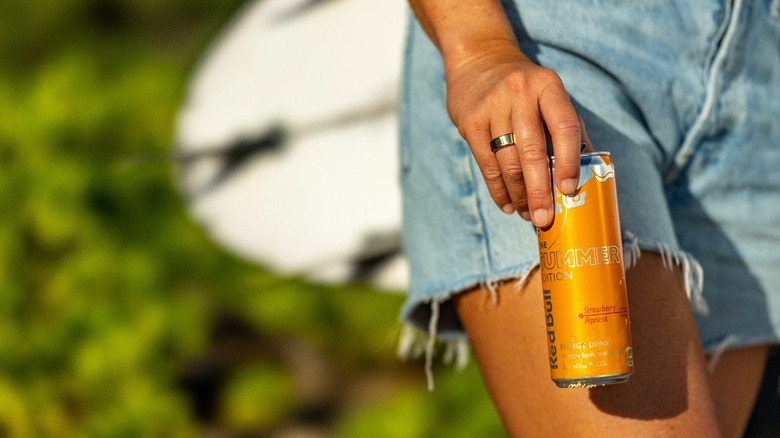 Red Bull
Red Bull fans can get an early taste of the new flavor at Sonic Drive-In. Per Business Wire, the fast-food chain is already offering Red Bull Strawberry Apricot Slushes. Customers can grab a medium size for $3.99 from March 21 until August 28, as well as an 8.4-ounce can alone for $2.99. Sonic app users can also grab a slush for half price.
"For the fourth year in a row, we're bringing the fan-favorite Red Bull Slushes back to the Sonic menu, and our guests are going to love the way the new Red Bull Summer Edition Strawberry Apricot Slush captures the refreshing fruit flavors and excitement of summertime," Sonic vice president of culinary and menu innovation Mackenzie Gibson said in a news release.
Some fans are thrilled about the new Red Bull slush flavor at Sonic. One happy customer tweeted, "Strawberry Apricot Red Bull slush. Holy sh**. It is a good evening to be a @redbull fan.. Thank you @sonicdrivein."
It seems that many Red Bull fans have their wings ready for summer.