Reddit's Already Noticed A Shortage Of One Of Taco Bell's Most Popular Menu Items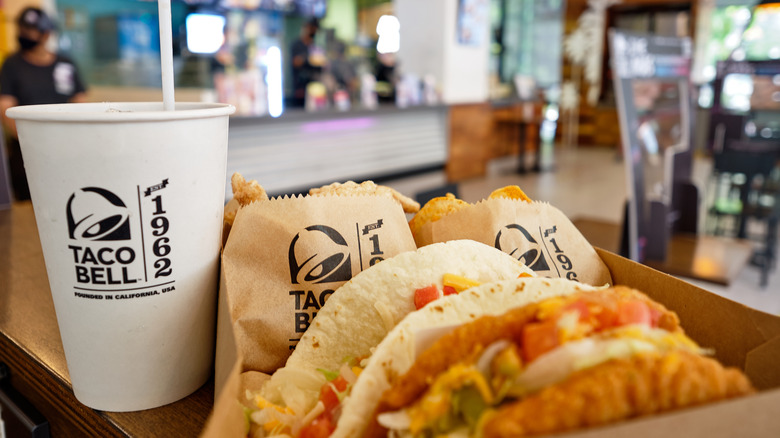 KULLAPONG PARCHERAT/Shutterstock
Taco Bell knew it had a hit on its hands after it launched a new menu item, nacho fries, in 2018. According to The Street, the dish is served with Mexican spices and a special nacho cheese sauce, and is notorious for making brief appearances at the fast food chain. The fries have always left Taco Bell fans divided, per Eater's Amy McCarthy, who wrote that while some customers cannot get enough of the dish, others despise its taste and don't enjoy the fries at all. McCarthy explained that the quality of the French fries is not particularly impressive, but what makes them irresistible is the fact that they never fail to serve up a huge dose of nostalgia.
The nacho fries have stood out for another specific reason: They seem to keep disappearing from the menu, forcing fans to patiently wait for their comeback. That said, the nacho fries did show up earlier this month on March 10, and customers could choose to order them for $1.49 or purchase a Nacho Fries Box at $5.49 and enjoy a Crunchy Taco, a medium-sized beverage, a Beefy 5-Layer Burrito, and of course, nacho fries. Unfortunately, it seems like Taco Bell may have run out of the special menu item — Redditors are starting to worry that the nacho fries have left the fast food outlet and are asking other fans about their experiences with the dish.
Fans are pretty upset
A Redditor couldn't help but wonder whether Taco Bell is experiencing a nacho fry shortage. The user wrote about their woes on the platform two days ago, claiming that two nearby outlets have been unable to offer nacho fries to their customers for more than a week. The customer added, "They still have all the posters up in the windows, but I'm totally unable to order them on the app or in person. The employee told me they didn't have any, and they 'didn't know if they'd be getting any.'"
Well, it seems like they're not alone — another Redditor said that they have five Taco Bell outlets close to their home and three of them have not sold any nacho fries for a week. Another commentator had an explanation for this unfortunate phenomenon and wrote, "Supply chain shortage. They're talking about limiting # of nacho fries per order in my area. Omaha, NE." Meanwhile, a fan even mentioned that they placed an order for nacho fries several months ago and tried to freeze the snack, but couldn't reheat the fries and had to accept defeat. They added, "Was fu***** sad for days tbh."