Kandi Burruss Features Family Staples At Old Lady Gang Restaurant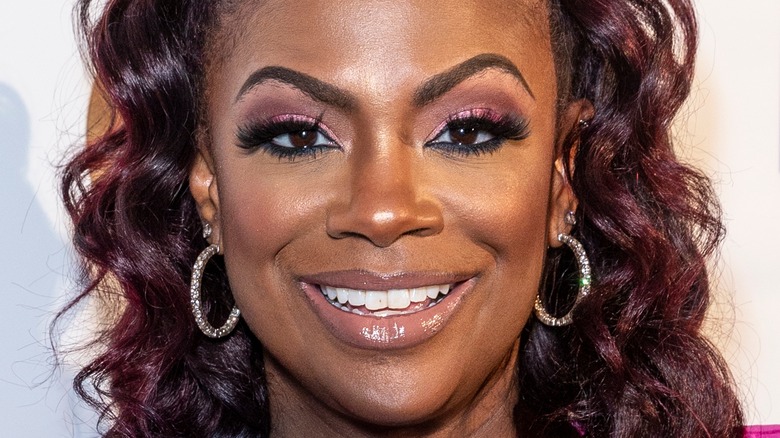 lev radin/Shutterstock
The old wives' tale that going into business with family is a recipe for disaster doesn't exist in Kandi Burruss's orbit. The "Real Housewives of Atlanta" star and her husband, Todd Tucker, opened Old Lady Gang back in 2017, and it has since become one of Atlanta's hotspots for fried green tomatoes, shrimp and grits, and other delicious southern samplings (via People). But Old Lady Gang isn't just a husband-and-wife-owned eatery — it's a full blown family operation. And, at the center of it is the OLG ladies themselves.
Old Lady Gang is the affectionate nickname of Burruss's aunts, Betha Jones and Nora Wilcox, and her mother, Joyce Jones (or Mama Joyce to "RHOA" fans). You can find the trio running the restaurant on any given day, and sample one of their delicious homemade recipes from the OLG menu, too. Just be sure to arrive at Old Lady Gang with a hungry stomach because you'll want to try one of everything they have to offer. From starters and entrees to sides and sweets, OLG's menu features many family staples, which, of course, you can only find at OLG.
Aunt Bertha's fried chicken and other family staples at OLG
Aside from supporting a local business, the best part about dining at a family-owned and operated restaurant like Old Lady Gang is that you're eating food you truly can't find anywhere else. Sure, other southern eateries may claim their fried chicken or peach cobbler is the best, but there's only one Mama Joyce's BBQ Rib Tips and Kandi's Peach Cobbler Bread Pudding. Whether you're a "Real Housewives of Atlanta" fan or are in need of Atlanta restaurant recommendations, locals will point you to Old Lady Gang. The OLG menu features sweet and savory family staples from reality stars Kandi Burruss, Todd Tucker, and the OLG trio.
Of Old Lang Gang's family dishes, People suggests starting with Aunt Nora's Fried Catfish Strips before diving into Riley's Shrimp & Grits (Riley is Burruss's daughter) or the OLG Cheeseburger. The eatery also features recipes of Todd's late mother, Sharon — Mama Sharon's Chicken & French toast is a crowd favorite. "RHOA" stans will be excited to try Kandi's Sweet Potato Soufflé, Honey Glazed Blackened Salmon, and The Housewife cocktail. But, the fun and deliciousness doesn't stop there. OLG's boozy menu also includes family signature cocktails like Aunt Nora's Deep South L.I.T., Mama Joyce's House Punch, and Todd's Margarita. 
Craving more OLG? Fans can catch the OLG crew on Bravo's new series "Kandi and the Gang," where they're up serving laughs, drama, and mouth-watering food (via Bravo).