The Truth About Coby Farrow From Big Restaurant Bet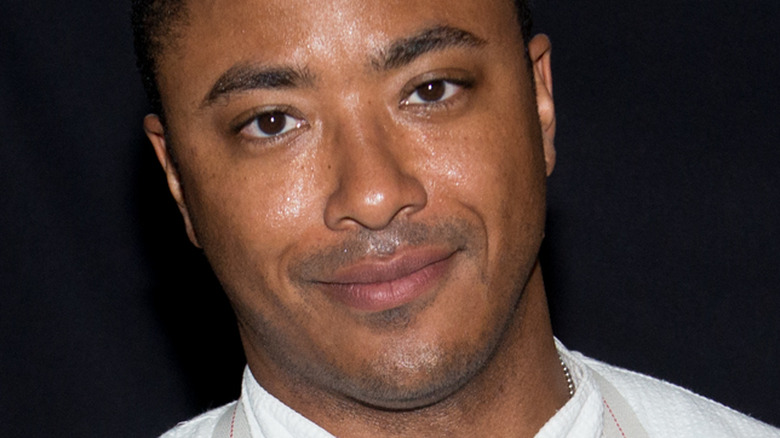 Noam Galai/Getty Images
Celebrity chef Geoffrey Zakarian is set to challenge eight aspiring entrepreneurs in his Food Network show "Big Restaurant Bet," which will debut on April 5. Per Food Network, the winner will receive a generous prize — a contract worth $250,000 with Zakarian's Hospitality Group — to launch an eatery of their own. Zakarian will test the participants as they attempt to survive the competition and impress the chef with their culinary and business skills.
According to a press release, Zakarian will be joined by his wife and business associate, Margaret, as well as renowned chef Eric Haugen as they take on the difficult task of judging the participants' work. Zakarian said in a statement, "In the end, I'm going to select one chef to get behind and help bring their concept to fruition. The stakes are high, and my own reputation is on the line as we find America's next great restaurateur."
One of the "Big Restaurant Bet" participants is Coby Farrow, a chef and entrepreneur from Burlington, New Jersey. Per his LinkedIn profile, Farrow has a degree from the Institute of Culinary Education in New York City and has been in the food industry for years.
He's passionate about his work
According to his LinkedIn profile, chef Coby Farrow has been a part of many restaurants, such as BLT Prime, a Mexican eatery called Pulqueria, PJ Clarke's, Park South Hotel and The Strand Hotel, and more. He has also been a Chef Ambassador for Greensbury Market and has launched several brands, such as Avsome Brands and KCHN Catering. Farrow also created a group called The Secret Table and worked with other chefs on organizing food events inside restaurants that had officially closed for business, per a 2010 report from T Magazine.
In 2015, Farrow spoke about his passion for food, telling Broadway World, "Well, my family is really into food and it's always been a part of my life. But the earliest experience would have to be always asking my grandmother how she made rice and beans (we are from the Caribbean) and then watching her cook it. It's one of the first things I learned how to cook."
As a chef, Farrow has a simple philosophy: He likes to expand his perspective through travel and new experiences. And he advises other chefs to push themselves outside their comfort zone and travel as much as possible. As Farrow explained to Frederick Benjamin Grooming in 2016, "That experience can grow your skill set and appreciation for cooking faster than any one class ever could."