Healthy Moroccan Carrot Salad Recipe
Miriam Hahn/Mashed
Moroccan carrot salad is fresh, delicious, and super easy to make. As you can tell by the name, this dish features carrots as the main ingredient. Add a little bit of parsley, scallions, sunflower seeds, and raisins, and top the salad with a honey mustard dressing that has an Indian twist, and it's absolutely a fantastic side dish to accompany any main course. Of course, the salad would also be excellent on its own.
Recipe developer Miriam Hahn of YouCare-SelfCare came up with this quick and delicious recipe. "I love that this salad has a different flavor than most of my [salads]," Hahn raves. "I love curry and use it a lot in hot, savory dishes, but it is kind of rare to see it in a cold salad. Pairing it with golden raisins and fresh parsley is a really good combination."
The salad is great to serve at a variety of events. "I like serving this anytime I need a good side dish that isn't run of the mill. When I am entertaining, I am always looking for dishes that I can make ahead and keep well, and the ingredients in this salad lend itself to that. I also am in the habit of buying a bag of shredded carrots every week, so I usually have the ingredients on hand to whip up this quick salad anytime," Hahn says.
Gather the ingredients for Moroccan carrot salad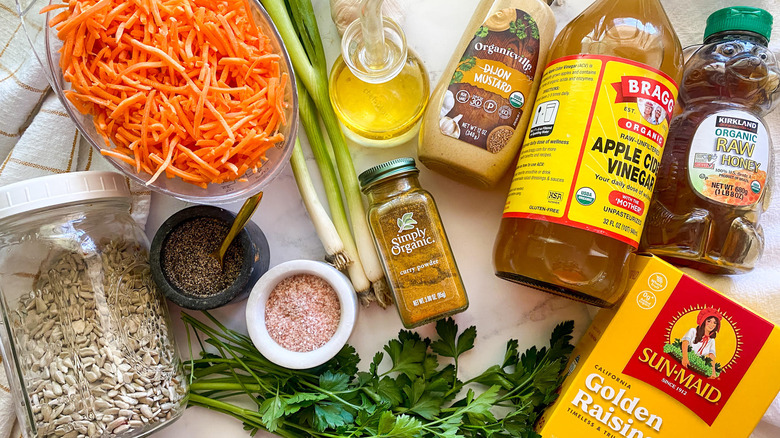 Miriam Hahn/Mashed
Once you're ready to begin, you need to grab all the necessary ingredients to put together this tasty Moroccan carrot salad. Pick up olive oil, apple cider vinegar, a clove of garlic, honey or maple syrup, Dijon mustard, curry powder, salt, pepper, shredded carrots, parsley, scallions, sunflower seeds, and golden raisins.
Make the dressing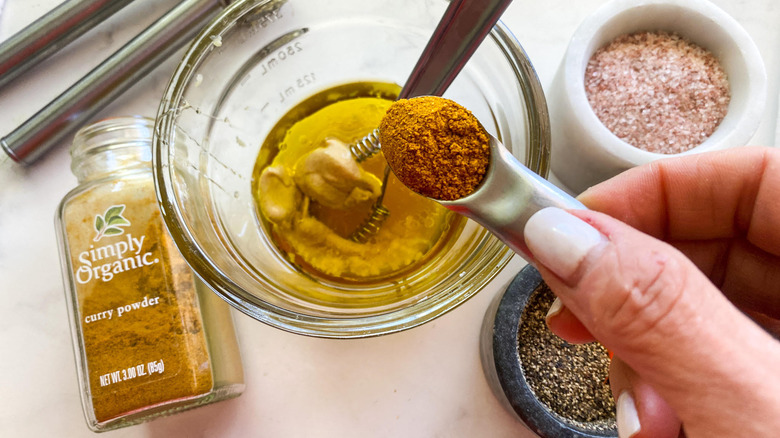 Miriam Hahn/Mashed
Grab a small bowl and combine the olive oil, vinegar, garlic, honey, mustard, curry, salt, and pepper. Stir to combine. This makes the yummy dressing that goes on the salad. "The dressing is like a honey mustard dressing with the addition of curry ... so [it's] super flavorful with an Indian flare," Hahn explains. How good does that sound? 
Once made, set the dressing to the side to prepare the salad itself. 
Chop the parsley and onions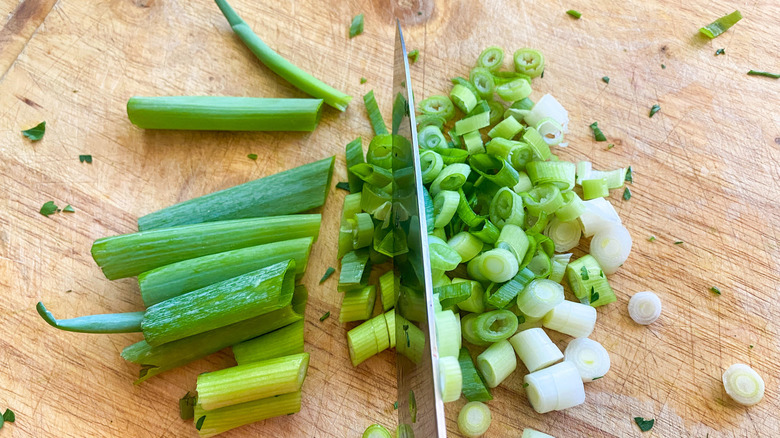 Miriam Hahn/Mashed
Take out a cutting board and a sharp knife. Then, grab your parsley and onions and get to chopping. "I put parsley and onions in almost everything I make. Parsley is super easy to grow, so most months, I have tons growing in my garden. It is full of Vitamin A, C, and folate along with fiber and also helps the body flush out toxins," Hahn raves. "I usually chop the top half of the bunch and discard the thick stems at the bottom if I am using it in a salad. The thinner stems are fine," Hahn shares.
As for the onions? "Onions of all kinds have many health benefits, and some say we should eat them every day to prevent disease. I love using scallions as a topper for most everything. I use both the white and green parts and only discard the last ½-inch of the green area," she notes.
Sauté the sunflower seeds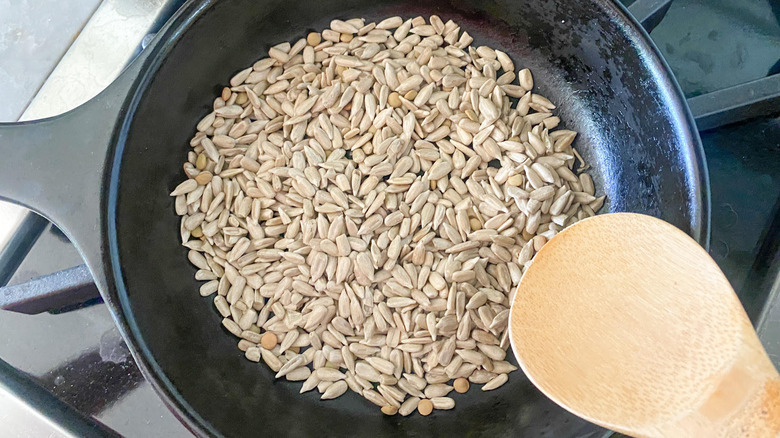 Miriam Hahn/Mashed
If you purchased raw sunflower seeds, you'll need to sauté them for a few minutes. Simply take out a dry sauté pan and cook the sunflowers on medium for about 5 minutes. They should start turning golden brown, indicating that they have finished cooking.
Once the 5 minutes are up, set them to the side.
Combine the ingredients and serve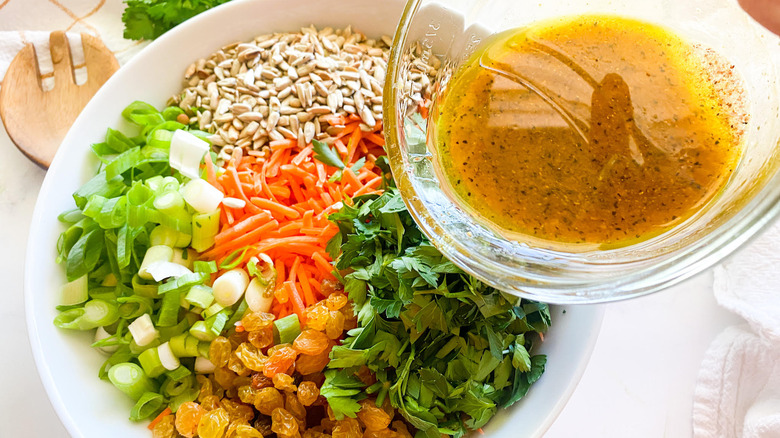 Miriam Hahn/Mashed
Combine the carrots, parsley, scallions, sunflower seeds, raisins, and dressing in a large bowl. Now, you can serve the salad to your lucky guests. "I like to serve it as a veggie side dish with paninis, sandwiches, wraps, veggie burgers, or chili. It is great to have in the fridge to add some nutrition to a quick lunch. You can also add it in a wrap to add some crunch," Hahn says. "You can layer a whole grain wrap with hummus, roasted vegetables, and some of this salad, and it is delicious."
This is so good, we don't think you'll have anything leftover, but if you do, save it! "Leftovers will last up to 5 days in a sealed container," Hahn shares.
We hope you enjoy this healthy dish.
Healthy Moroccan Carrot Salad Recipe
The crunch and flavor in this Moroccan carrot salad recipe will make you want to eat it every day of the week It's an added bonus that it's quick and easy.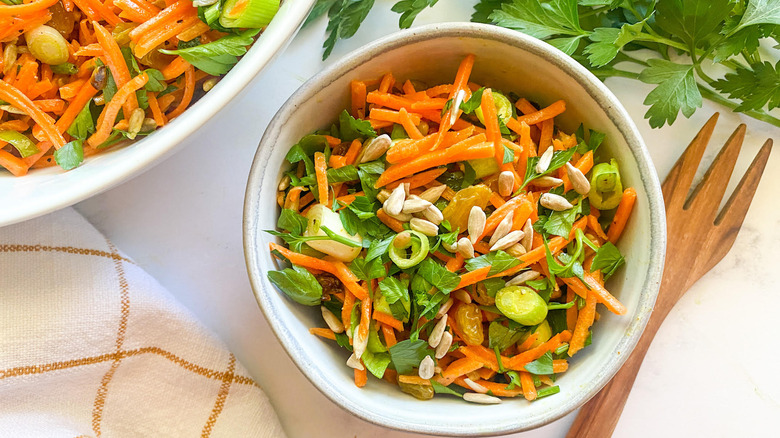 Ingredients
3 tablespoons olive oil
3 tablespoons apple cider vinegar
1 clove garlic, crushed
1 tablespoon honey or maple syrup
1 ½ teaspoons Dijon mustard
½ teaspoon curry powder
½ teaspoon salt
¼ teaspoon pepper
4 cups shredded carrots
½ cup Italian parsley, chopped
3 scallions, chopped
½ cup toasted sunflower seeds
½ cup golden raisins
Directions
In a small bowl, combine the olive oil, vinegar, garlic, honey, mustard, curry, salt, and pepper. Set aside.
Chop the parsley and onions.
If your sunflower seeds are raw, place them in a dry sauté pan and cook on medium for about 5 minutes, or until they start to turn golden.
In a large bowl, combine the carrots, parsley, scallions, sunflower seeds, raisins, and dressing, and serve.
Nutrition
| | |
| --- | --- |
| Calories per Serving | 169 |
| Total Fat | 9.1 g |
| Saturated Fat | 1.2 g |
| Trans Fat | 0.0 g |
| Cholesterol | 0.0 mg |
| | |
| --- | --- |
| Total Carbohydrates | 21.7 g |
| Dietary Fiber | 3.6 g |
| Total Sugars | 13.4 g |
| Sodium | 270.6 mg |
| Protein | 2.4 g |