Why Grubhub, Uber Eats, And Postmates Are Being Sued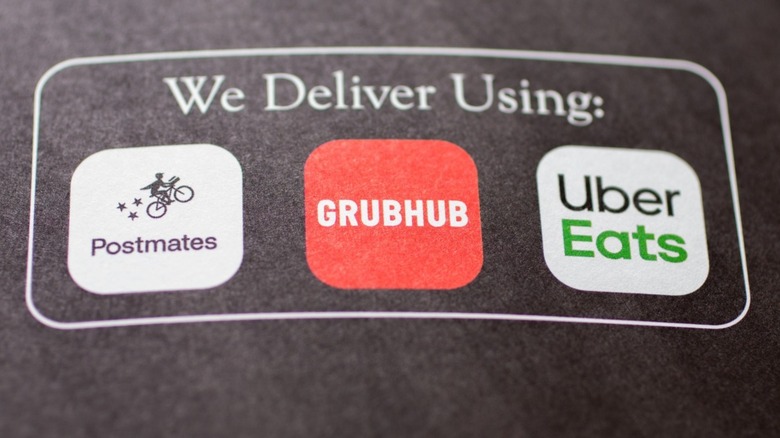 TonelsonProductions/Shutterstock
Delivery apps will indeed have to face a lawsuit directed at the claimed negative impact their existence has on all concerned. As Bloomberg related on March 30, the crux of the complaint is that due to restaurants having to rely on these businesses and the high fees they charge, restaurants must charge customers more — even when they don't order through a delivery app. However, the complaint is specifically on the behalf of people who ordered through the app and who have ordered from the restaurants. The restaurant themselves aren't suing. 
Frank LLP, which is working on behalf of the complaint, explains that since delivery apps both charge between 13.5% – 40% of the revenue made through a delivery and enforce contracts that disallow restaurants from offering lower prices to customers who would dine in, restaurants have to charge higher prices for when customers order by other means. However, because the prices charged outside of delivery apps are no longer competitive, customers turn to delivery apps for the best deal at the further expense of the restaurant. But even when customers order through the delivery app, the price they pay is still artificially because of the fees charged by the delivery app on both ends.
Postmates, Uber Eats, and Grubhub attempted to have the lawsuit dismissed, but U.S. District Judge Lewis A. Kaplan in Manhattan deemed the suit worthy of continuation. Grubhub expressed disappointment in a statement made to Bloomberg, but affirmed that they will battle the suit.
The tension at the core of the business model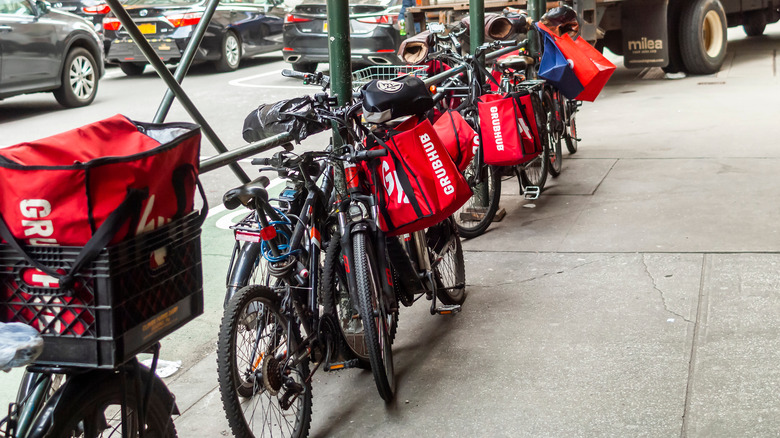 rblfmr/Shutterstock
The lawsuit is the latest surfacing of the ongoing tension between restaurants suffering due to the coronavirus pandemic and delivery apps that have seized the moment to push their practices to monopolistic extremes.
In July, for example, the Board of Supervisors of San Francisco voted to make the temporary cap on what delivery apps could charge permanent. The argument, like the one presented in the lawsuit, was that the way the pandemic rearranged the restaurant industry meant that apps were now a necessity for businesses, not simply an expensive option. Moreover, even though these businesses made record amounts of money, only DoorDash made a profit — for one quarter.
But as Food & Wine notes, such caps could result in delivery apps charging the customer more to make up for lost revenue. When Philadelphia capped what DoorDash could charge restaurants, DoorDash petulantly initiated a "regulatory response fee." Such practices, though, speak to the point of the lawsuit. The place delivery apps have carved for themselves means that they can charge consumers more or push restaurants into having to raise prices. Both cases are possible because of the hold they have over the market.