Trader Joe's Fans Are Divided On Its Spring Gummy Candy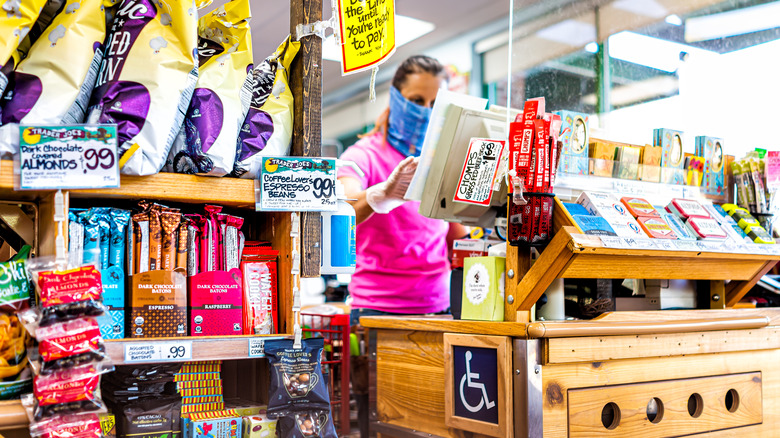 Andriy Blokhin/Shutterstock
The start of a new season can only mean one thing at Trader Joe's: new products on the shelves. The market chain is a veritable master of inventory rotation and fans of the store love to keep up to date on the new releases. Sure, shoppers will find staples like dark chocolate peanut butter cups and everything bagel seasoning all year round, but part of the thrill of a TJ's run is picking up the buzzy new products everyone's gabbing about. With the arrival of spring, the chain has introduced everything from lemon swirl ice cream to ranch seasoning to Thai-inspired banana fritters and black tea and boba ice cream, with other new items joining the party all the time. 
According to a post on the Instagram account @traderjoeslist, the chain just welcomed the return of a seasonal gummy candy that essentially adds a spring twist to its popular Swedish Fish dupe, Scandinavian Swimmers. Some shoppers are stoked about the bag of sweets, while others are less impressed.
Some people aren't wild about the flavors
The Instagram post on @traderjoe's list touts Trader Joe's new spring gummies as "DELICIOUS," fruity, and "not too gummy." Some people couldn't agree more. "I could not wait for them to return. I'm buying a case," writes one commenter. "Green ones are my favorite!" added another. 
But not everyone is on board. One self-proclaimed "gummy lover" was "not a fan of the texture or the flavor" and rated the candy a 4/10. Likewise, another commenter wrote that they tried the candy last spring and threw it out, but added that they'd consider giving it another go. Another user felt that the candy was "not great," but claimed that popping the bag in the freezer gives the gummies a more desirable texture. There was also some confusion about the flavors of the gummies — a sentiment that's echoed in a 2021 Reddit post. "I thought the pink was more guava or something," suggested one Redditor, who felt the only redeeming flavor was pineapple. 
Shoppers may be divided on the pastel-hued springtime treat, but at least candy fanatics will always have a plethora of chewy bonbons to choose from at Trader Joe's.