How Kale Went From Pizza Hut Garnish To PR Miracle
With only 33 calories and 6 grams of carbohydrates per serving, kale punches well above its weight by delivering vitamins A, K, B6, and C, as well as heart benefits, antioxidants, and essential minerals, per Healthline. The best ways to cook with kale are numerous, too, as it can be stir-fried, roasted, steamed, or eaten raw. It's small wonder, then, that the Mayo Health Clinic System considers kale to be a "nutrition superstar."
But most of us probably wouldn't have given kale a second look before 2012, the vegetable's "before times" when NPR says it was best known as the green and leafy backdrop of Pizza Hut's salad bar. Likely because of the chain's need for copious amounts of this curly garnish, Pizza Hut was at one point the biggest kale buyer in the United States. In the decade since, of course, kale has skyrocketed far beyond a salad bar trimming to become one of the world's most famous superfoods. This didn't happen in a vacuum: It took the efforts of a leading New York public relations practitioner to put kale in the spotlight where it was always supposed to be.
Kale's rise was driven by a clever public relations campaign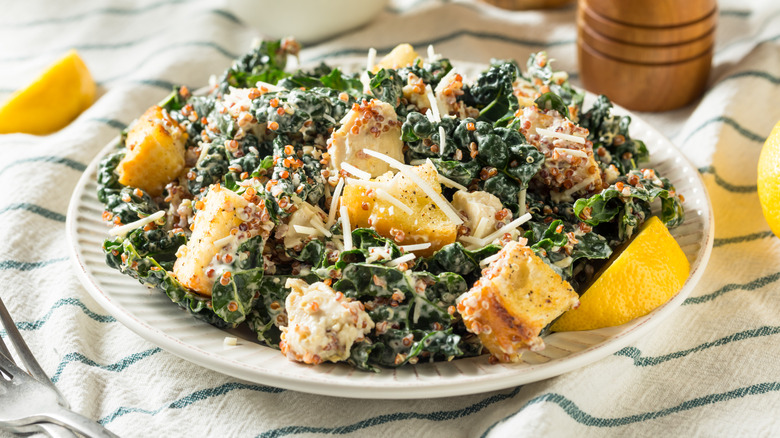 Brent Hofacker/Shutterstock
New York public relations firm My Young Auntie positions itself as the "agency of choice for the innovative introduction of brands and products," having represented stellar clients including Hermès, Converse, Vivienne Westwood, and Shanghai Tang. The firm's CEO, Oberon Sinclair, added kale to the list after deciding she wanted to teach people more about the leafy green, per Self. How did she do it? In an email to Mind Body Green, Sinclair referred to her "guerrilla marketing" approach to amplifying kale as "relatively simple."
"I literally put it on chalkboards around Manhattan and on the menus of cool restaurants, the Fat Radish [a My Young Auntie client] being one of them and the 'trend' escalated from there," Sinclair wrote. Thanks to her fashion experience, "kale" was even printed on widely worn T-shirts. That campaign culminated in kale being named one of the top 10 food trends of 2012 by Time. Despite the marketing success, Mind Body Green says kale's sudden popularity didn't always benefit farmers who had long been growing the formerly unglamorous vegetable. Instead, many farms that hadn't previously cultivated kale decided to do so, resulting in an excess of supply. The demand for the vegetable may have evened out now that kale is somewhat mainstream — oh, and because Pizza Hut doesn't have a salad bar anymore.