Popeyes Will Finally Have A Sit-Down Restaurant In The UK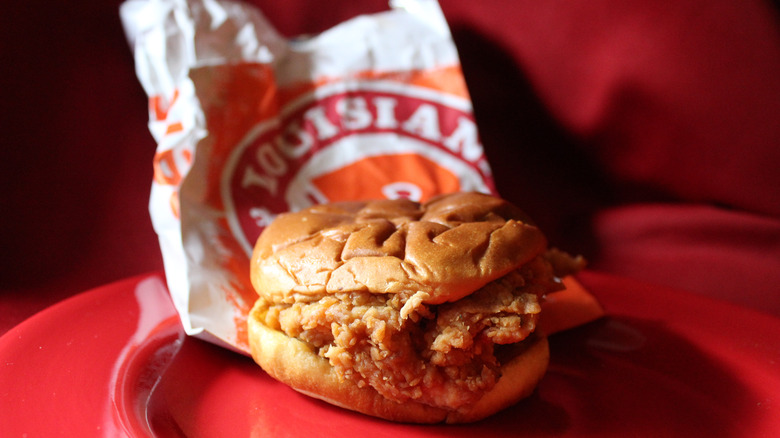 KDC-1/Shutterstock
When Alvin C. Copeland Sr. opened Chicken on the Run outside of New Orleans in 1972, it's hard to imagine he was looking for global domination in the humble southern-fried chicken restaurant. In fact, business was so bad those first few months that he reconsidered the entire concept, closing his doors to make what would turn out to be some pretty important changes. Number one, southern-fried chicken was OUT, New Orleans-style chicken was in. Number two, the place needed a new name, one that was based on a character from "The French Connection," with Gene Hackman, and which is now recognizable far and wide as a purveyor of tasty Louisiana-inspired food: Popeyes.
Old Alvy might not have been planning on an international chain of restaurants when he started the Popeyes franchise all those years ago, but the brand is well on its way. The chain opened its first UK location in November 2021 — a takeaway-only spot whose sales, according to the Mirror, ranked in the top ten of all of Popeyes' 3,000+ stores worldwide. That kind of popularity can mean only one thing: add some chairs and get ready to see the numbers jump off the page. That's right; after the tremendous success of its takeout spot, the UK has decided to open its very first sit-down Popeyes restaurant.
Eyes will be popping when the UK's new Popeyes opens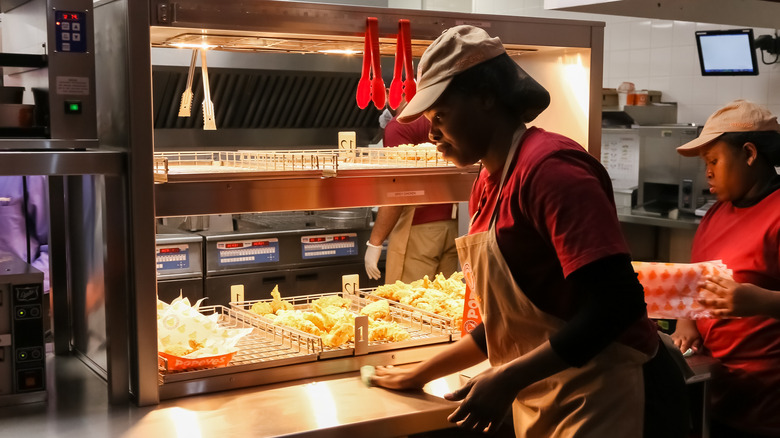 Sunshine Seeds/Shutterstock
According to LADbible, the popularity of the food court Popeyes in Stratford City's Westfield shopping center has endeared the Louisiana-fried chicken peddler to the British people, who clamored for a spot in the hours-long line to try the American southern cuisine in November 2021. Fast forward to, well, now, and you've got this announcement from Popeyes CEO Tom Crowley: "Our legendary menu and Southern spirit have captured the capital [of Essex] already, and we look forward to building on that with the launch of Chelmsford."
Chelmsford, a town in Essex, England, is what Crowley describes as a "vibrant part of the UK with a close-knit community," which is probably what attracted the franchise to the area for the country's first sit-down restaurant. The Mirror says to expect a 46-seat brick-and-mortar restaurant featuring the Popeyes menu people have come to love and expect (complete with biscuits, gravy, and 12-hour marinated chicken). As Peter Genna, the director of Popeyes' global culinary innovation and product development branch, said, "Popeyes UK has ambitious plans to rapidly become a British staple." Did Alvin C. Copeland Sr. imagine, after rebranding his 1970s Chicken on the Run restaurant and beginning the legacy that is Popeyes, that employees would one day be handing out buttermilk biscuits in a town not too far from Buckingham Palace? We sure hope so.