How Ree Drummond's New Walmart Collection Reflects Her Love Of The Outdoors
If you're walking the aisles of Walmart anytime soon, and you find yourself wandering through a section that looks like a cross between an enchanted tea room and a secret garden behind a cottage in the English countryside, fear not; you may have simply stumbled upon Ree Drummond's new collection of outdoor essentials. As a pair of paisley food processors flutter by your head, and a floral slow cooker hums merrily under a cherry blossom, you may notice that this bright, cheery place is filled with Pioneer Woman vibes; from the teal-and-cherry pops of color to the sweet, droopy-eyed basset hound that beams at you from a nearby watering can. That's because, according to The Pioneer Woman blog, Drummond's love of patterns, springtime, and all things great outdoors, has been successfully translated into a product line for Walmart.
Southern Living, a magazine that positively swoons when Drummond does almost anything, had its fainting couch and folding fan at the ready last week when the celebrity chef and bonafide ranch hand unveiled her new outdoor collection at Walmart. And a good thing, too – the vintage-inspired rose-covered planters, turquoise cast-iron "bistro set" (read: table and chairs), and "Breezy Blossom Squirrel-proof Lantern Bird Feeder" alone were enough to make any self-respecting Southerner fall into their rocking chair with a glass of sweet iced tea and call it a day.
Drummond continues her cheerful world takeover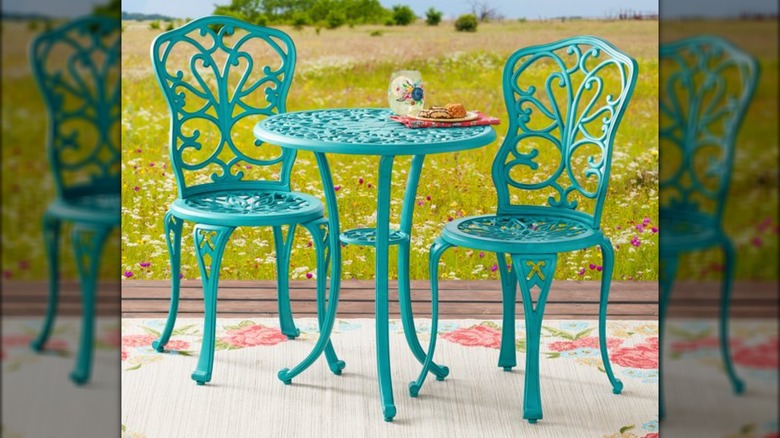 The Pioneer Woman
"Being able to bring my signature floral patterns and bright colored hues to the porch, garden, and patio has been so wonderful," Drummond said, most likely to a singing bluebird perched upon her finger who then relayed the message to Southern Living. "I can't wait to see all the different ways these pieces are styled within various outdoor spaces – from cozy patios to big backyards!" With pieces ranging from the practical (watering can) to the charmingly absurd (a stoneware planter shaped like a pickup truck, with Charlie the basset hound at the wheel), the collection is undeniably Ree-ified. As Drummond's website explains: "Multi-piece tool sets, gloves, hats, watering cans, and hose hangers all look a whole lot cuter when they're decorated with Ree's signature designs."
Drummond has been putting the "wee!" in "twee" for a while now, with a veritable multiverse of Pioneer Woman products that have already colonized Pawhuska, Oklahoma, the town where the chef hangs her hat, spurs, and spatulas. From a shop-restaurant-bakery dubbed The Mercantile to "cowboy luxury" boutique hotel The Boarding House, Drummond's floral, vintage-inspired takeover of Smalltown, U.S.A. has been well-documented, with the new Walmart collection simply adding another notch to the heavyweight's belt. Drummond's sights are no doubt set on world domination at this point; as everyone knows, once you've won the hearts and minds of Walmart shoppers, the sky's the limit.