Why Rachael Ray's Kitchen 'Means More' To Her After The Fire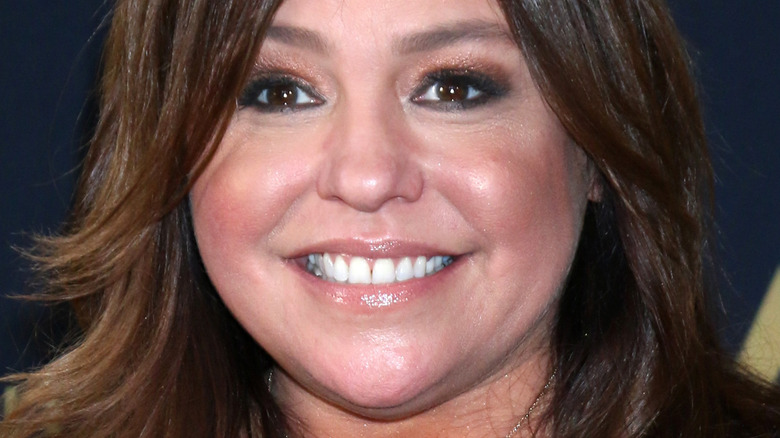 Kathy Hutchins/Shutterstock
Rachael Ray has been a household name for years now. She has cookbooks, magazines, TV shows, a line of kitchenware, even dog food and cat treats. Most importantly, when you think of Rachael Ray, you think of cooking.
Unfortunately, Ray's own kitchen burned down in August 2020. The fire began in the chimney, says USA Today, before engulfing the rest of the house. Ray and her husband went on to film her show from their guest house while they waited out the pandemic and the rebuilding of their home.
With everything that has happened over the last two years, we can hardly be surprised that Ray's priorities have shifted. According to Entertainment Today, Ray wanted her new studio to feel more realistic and relaxed, so they designed it to look like her home. As for her newly rebuilt kitchen, it too carries a lot of meaning for the TV personality. 
A kitchen rebuilt by family and friends
On March 25, talk show host Tamron Hall virtually joined Rachael Ray in her kitchen. In a clip from the show posted to YouTube, Ray demonstrates how to make a deep-dish ricotta frittata tie-dye pizza — say that five times fast — and also opens up about her home.
Perhaps intrigued by the container of spatulas sitting in the middle of Ray's island counter, Hall asks how many spatulas Ray owns. Ray responds by saying she has many more than she can "throw a spatula at."
"All of these things were replaced in gifts from friends when we rebuilt [after the house fire in 2020]," Ray says. "Everything here means something. It meant something before the fire and it means more now after a rebuild."
She goes on to explain that doing the show from home means a lot not just to her, but also to her fans. Don't get us wrong, her studio is still pretty great, but nothing beats seeing a chef really in their element.