The Most Expensive Pizza Actually Worth The Money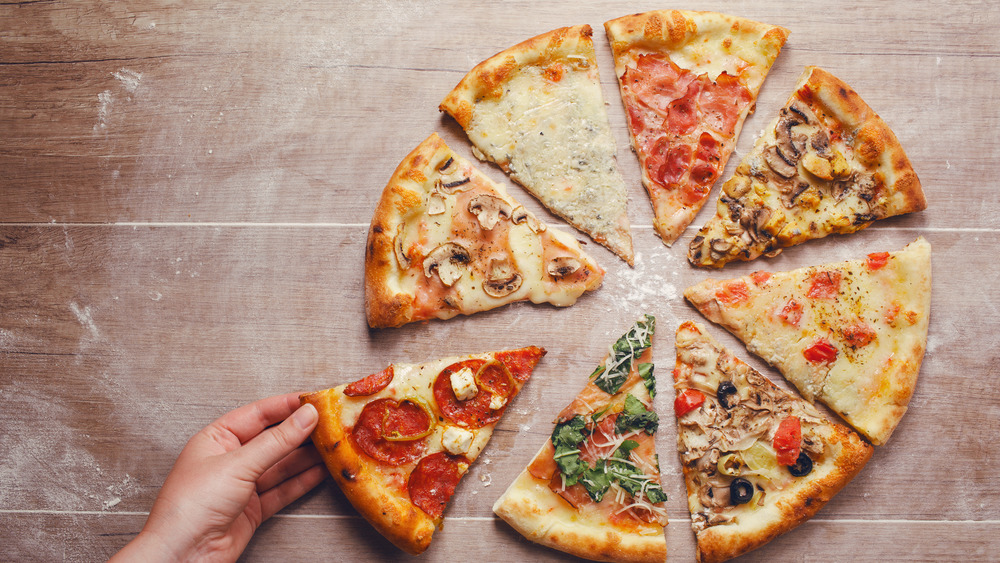 Shutterstock
How much are you willing to fork over for an exceptional pizza? Would you pay $80? How about $8,000?
What could possibly make a pizza worth more than the pie you buy for Friday dinner at your local pizzeria? In the fast-growing world of high-end pizza pies, it's the luxurious toppings that can elevate prices to a dizzying cost that could be more than your monthly rent. Hard-to-find caviar, champagne-soaked lobster, and even edible gold are what you'll find on top of some of the most expensive pizzas in the world.
But are they worth it? These ones are.
The "24K Pizza" at NYC's Industry Kitchen
If you're going to hold the Guinness World Record for Most Expensive Pizza, you'd better deliver something impressive. That's exactly what they do at NYC's Industry Kitchen.
The "24 K Pizza" starts out with a topping of English stilton cheese, followed by foie gras, then shaved truffles. The pizza then gets treated to dollops of platinum Ostera caviar — one of the costliest varieties of this highly-prized sturgeon egg. To make it a truly "24 Karat Pizza," the pie is then covered in sheets of edible 24 carat gold leaves. What will all this luxury cost you? A cool $2,000.
Not enough luxury for you? You can add even more. For an additional $700, Industry Kitchen will top your pie with an another ounce and a half of Ostera caviar. And this time, they are upping the ante to Ostera Almas caviar — the most rare of all Ostera caviar, known for it's albino coloring.
Worth it? In this case, those are some pretty pricey toppings on this pie, and some that are hard to get as well. Factor in the jaw-dropping view of the Manhattan and Brooklyn waterfronts, and this pie is worth dipping into your trust fund.
The $250 Sicilian Pie from Big Mama's and Papa's
Remember that time Ellen Degeneres ordered pizzas at the 2014 Oscar ceremony? Those pizzas arrived promptly from Big Mama and Papa's pizzeria. Big Mama and Papa took that best-free-publicity-ever and ran hard with it, opening franchises worldwide.
Big Mama's and Papa's certainly know how to keep that publicity train moving full steam ahead, with the addition of their Guinness World Record winning "largest deliverable pizza in the world." For $250, and 24 hours advance notice, Big Mama and Papa will deliver you and your friends a 2,916 square inch, Sicilian-style pie. Want extra toppings? Those will set you back $20 each. The 200 square slices can feed 50-70 people, making this $250 pie an absolute bargain — especially if the whole gang is pitching in.
The "Gold Pizza" at Britain's Pizza GOGO
Think 550 pounds (that's nearly $650) sounds like too much just to get a simple pizza delivered? Well the gang at Britain's Pizza GOGO aren't delivering any ordinary pizza.
Pizza GOGO's "Gold Pizza" is topped with fantail prawns, lobster meat, Beluga caviar, white truffle oil, and 23 carat edible gold flakes. But they don't stop with the luxury toppings. Pizza GOGO makes this pizza splurge-worthy by delivering it in true, splurge-worthy style. An actual butler will arrive at your home or office in a limousine, roll out an actual red carpet, and serve you your decadent pizza himself. Capture all this magic on camera, and you've struck Insta-GOGO-gold.
The Gold Pizza is available from any of the chain's 15 London locations... but all that luxury does require three day's notice.
The "SeeNay Pizza" at Steveston's in Vancouver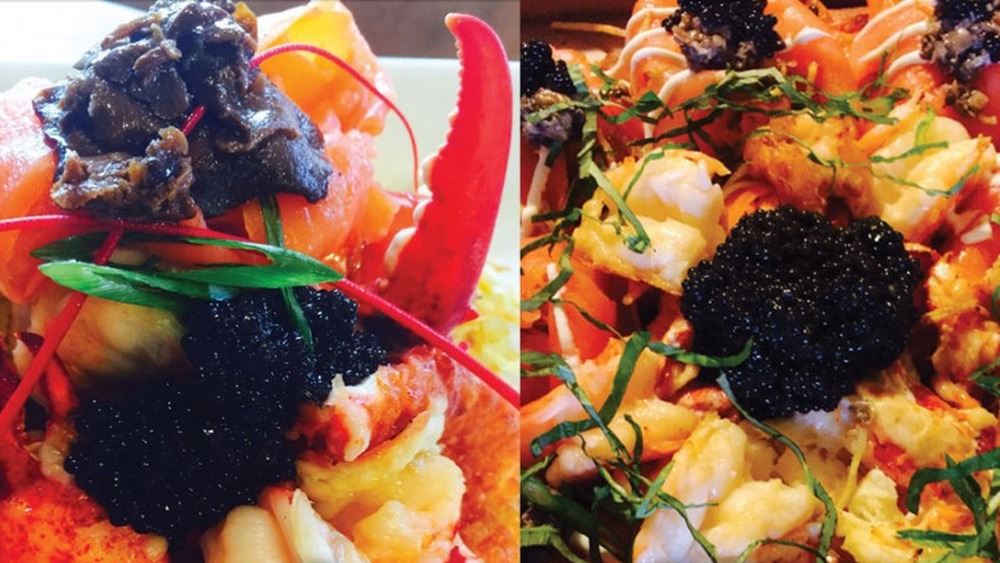 Steveston Pizzeria
Steveston Pizzeria in Vancouver, Canada believes you should have a bit of choice when it comes to your luxury pizza pie. That's why they offer not one, not two, but six different choices of premium pies on their "Castle" menu of high-end pizza choices. Ranging from $38 for a pie filled with shrimp, crab, and prawns, all the way up to a whopping $850 (about $670 in US dollars) for their "SeeNay" pizza — a seafood lover's dream that's jam-packed with tiger prawns, lobster ratatouille, smoked steelhead salmon, Osetra caviar, and Italian white truffles.
Owner Nader Hatami briefly held the Guinness World Record title for most expensive pizza in 2014, when he introduced his $450 "C6" pie. His decision to almost double up on the luxury seems to be a labor of love, as his profit margin on the "SeeNay" is quite low, making the opulent pie a smarter luxury purchase than most. Hatami told the Huffington Post in 2015, "The pizza costs me about $800 to make since Russian caviar is very expensive and white truffles fluctuate between $4,000 and $5,000 per kilo."
Renato Viola's "Louis XIII Very Expensive Pizza"
Lots of folks claim to make the most expensive pizza in existence, but I think the honor goes to master pizza chef Renato Viola, and his "Louis XIII Very Expensive Pizza." The cost is 8,300 euros, or nearly $10,000 in American money. Is he completely out of his mind? Read on and decide for yourself.
Any pizza that bills itself as "very expensive" undoubtedly will have some pretty pricey ingredients. And Viola's pizza does not disappoint in that department. Three different kinds of rare caviar top the pie, as well as red prawns, lobster, mantis shrimp, organic buffalo mozzarella, and Australian pink salt. But wait... there's more!
When you order a Louis XIII pie, you won't be doing it in Viola's restaurant. Oh no, Viola will show up at your house himself to make you your pie. Alongside him will be an additional chef, as well as a sommelier. That's right, you're getting not only a pizza for your money, but an entire catering team. Your pizza will be served with ultra-expensive Remy Martin Louis XIII cognac, a rare bottle of Krug champagne that retails for about $1,000, and an exclusive bottle of Cardenal Mendoza brandy. Viola and his team will arrive with limited edition plates, glasses, and cutlery with which you can enjoy your elegant pizza dinner. That price tag is getting a teensy bit more justified.
Domenico Crolla's "Pizza Royale 007"
Domenico Crolla's pizzas are true works of art. The chef of Glasgow's Bela Napoli restaurant has achieved pizza-fame for the edible works of art he creates on his pizza pies. Using strategically placed, shredded mozzarella, Crolla creates celebrity portraits on his pizzas with likenesses such as Madonna, Jay Z, and Kim Kardashian.
In 2007, however, Crolla was in the news for creating the "Pizza Royale 007." This decadent pie was topped not with art, but luxury ingredients like lobster marinated in cognac, medallions of venison, champagne-soaked caviar, Scottish smoked salmon, and edible gold leaf. The pizza was auctioned online, and Crolla traveled from Glasgow to Italy to create the pie for the auction winner, just in time to celebrate Valentine's Day. The winning bid was 3,000 euros.
But was it worth it? It sure was... it was for charity! The proceeds of the auction went to benefit The Fred Hollows Foundation which helps to treat curable blindness in developing countries. How can you put a price on that?
The White Truffle Pizza at London's Wellesley Hotel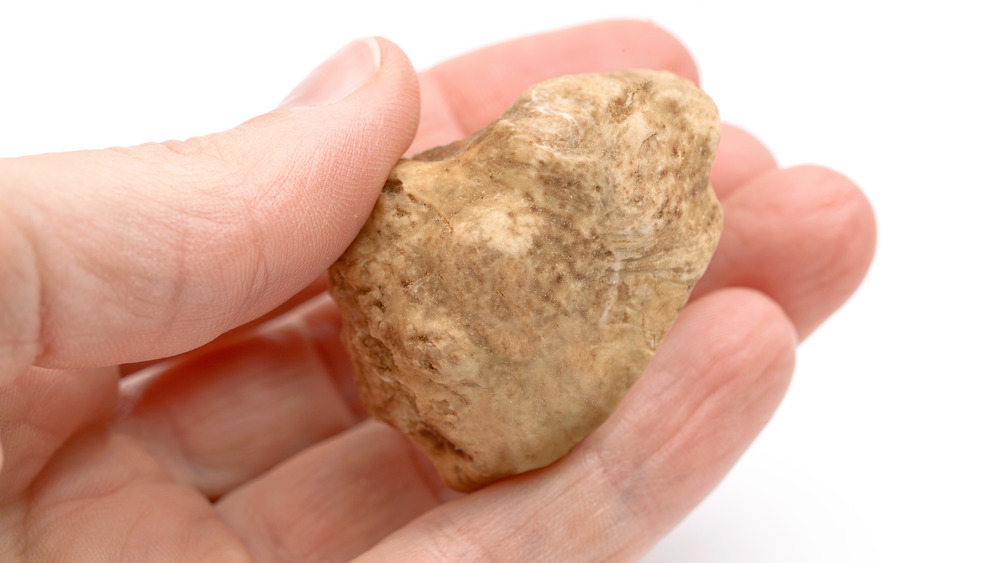 Shutterstock
It's no secret that shaving a bunch of pricey truffle mushrooms on top of a dish can really jack up the price of an already gourmet meal. And no truffle adds to your dinner bill quite like the Italian Alba White Winter Truffle. Available only during the late autumn and early winter, White Alba Truffles are considered the creme de la creme in the truffle world.
The super posh Wellesley Hotel in Knightsbridge, London, has created an entire menu around the elusive white truffle, including a white truffle pizza that will set you back 200 British pounds. The sourdough base of the pizza receives no tomato sauce to compete with the flavors of creamy burrata cheese and those precious white truffles, which are shaved on top.
But is it worth 200 pounds? The price of white truffle fluctuates daily, with the largest selling for up to $7,000 per pound. Suddenly that price tag seems a bit more reasonable. Alas, it doesn't include your plane ticket to London. So book now... truffles must be served fresh, and The Wellesley only offers their special white winter truffle menu during the short truffle season.
The Platinum Margarita Pizza at NYC's Bodega Negra
When you think of National Margarita Day, you probably don't think of pizza. But that's exactly what they did think of at NYC's Bodega Negra when they decided to team up with Patron Tequila to make a very special dish for the day that celebrates everybody's favorite tequila-based cocktail.
The Platinum Margarita Pizza doesn't get your traditional pizza toppings. Lobster and mango are cooked in Gran Patron Burdeos — Patron's most pricey tequila at $500 per bottle. The pizza also gets topped with avocado, Osetra caviar, black truffles, and flakes of edible platinum, and sits on top of a flour tortilla crust.
So what does it cost? For the price of $500 you and your tequila-obsessed friends can enjoy this special Margarita Pie, but only around National Margarita Day. Good news though — on National Margarita Day, Bodega Negra offers buy one get one free margaritas, leaving you plenty of moola to splurge on a pie or two.
The "Trump Pizza" at NYC's Champion Pizza
When Donald Trump was voted president, Turkish immigrant and world champion of "pizza acrobatics," Hakki Akdeniz, decided he wanted to capitalize on the big event, and help the homeless in the process. How did he do it? By creating a $5,000 Trump Pizza, of course!
Akdeniz, who was briefly homeless himself when first arriving in NYC, is the owner of lower Manhattan's Champion Pizza. The Trump Pizza is piled with Russian caviar, white truffles, Brazilian honey, seven different kinds of cheese, and 25-year aged balsamic vinegar, all atop a ginseng-infused crust. The finishing touch? "Trump" is spelled out on top of the pizza — in gold, naturally! Want even more of those luxury items piled on? Akdeniz will happily double up on them, for a price of $10,000.
Akdeniz doesn't take a penny from the sales of his Trump pies. He asks that his customers make their checks out directly to the Bowery Mission, giving you a decadent pizza, plus a tax write-off. Worth it!