Martha Stewart Added An Unexpected Ingredient To Her Pasta Recipe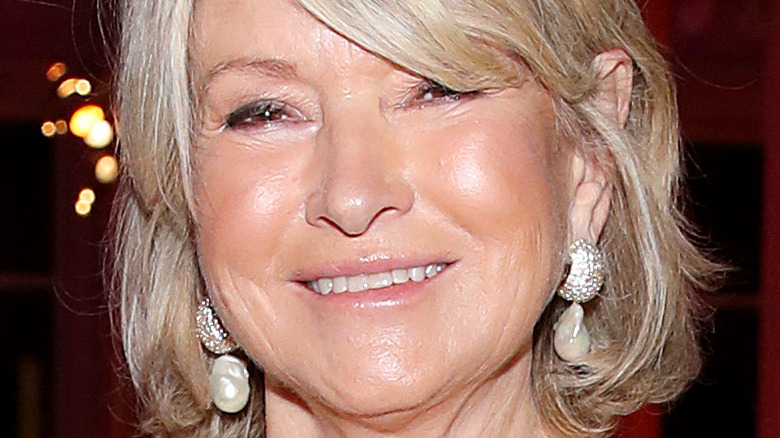 Tasos Katopodis/Getty Images
If you follow the latest Martha Stewart updates as we do, you probably think her recipes reign supreme, especially her simpler ones. After all, who could argue with a flavorful, carb-laden dish that could be cooked up in one pot, and completed in 20 minutes from prep to finish?
Stewart's trick to a perfect one-pot pasta dish is a game-changer for many home chefs but the TV personality never quite put the lid on her infamous one-pot wonder, as she found a way to make it even tastier and took Instagram to share it. The caption read, "If you love cauliflower, especially roasted cauliflower, and you love a one-pot recipe that streamlines dinner prep, then this is a recipe for you." 
Stewart added, "Inspired by our original one-pot pasta, this dish also features long, skinny noodles that cook in the skillet along with the other ingredients, but where it differs is that the finely chopped cauliflower is finished under the broiler to get a crispy kind of roasted flavor and texture."
The "long skinny noodles" she refers to are bucatini, a long, thin, hollow-shaped pasta, which The Spruce Eats says is usually served with a variety of sauces, including "tomato, meat, butter, cream, and seafood." The recipe can be found on Martha Stewart's site. 
The one-pot pasta method was groundbreaking when it was first introduced.
This variation on the one-pot pasta recipe will certainly make waves as the original recipe did when shared on Martha Stewart Living back in 2013. For those who cook pasta, using only one pot without having to strain the water out was truly a groundbreaking idea. Along with 7,146 ratings, the dish boasts 140 reviews like "Love how easy it all comes together," and "This was such an easy & delicious dish!"
It must be said though that Martha and her team were not the originators of the one-pot pasta idea. As Food 52's Kristen Miglore wrote, the method was one picked up by recipe developer Nora Singley during a trip to Puglia, Italy with a friend. "I was thinking, 'What do you mean all in one pot?'... We were aghast... with all our years of cooking experience — it just completely belied our formal training," Singly said at the time. The developer described the dish as being "perfect — and perfectly starchy." She even had words to say about the moment she discovered this trick, describing it as "this beautiful moment of learning."
Perhaps the best part of this recipe lies in its versatility. "I think it's such an awesome template — you can take it away and do it with anything," Singley said. Small wonder then, that the Domestic Goddess graces us with this new way of making cauliflower and pasta in one move.