Popeyes And Uber Eats Just Gave Fans A Meal To Eat During The NBA Playoffs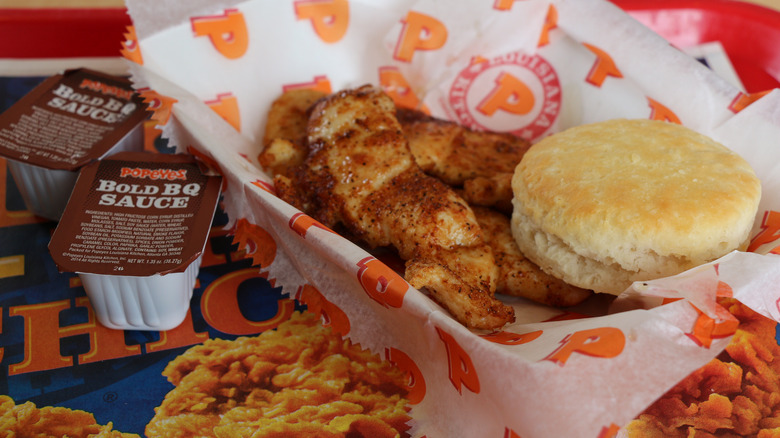 Deutschlandreform/Shutterstock
Regardless of what sport you're watching, game day often means lots of food. For some, it's as simple as a nice, big pepperoni pizza, a 12-pack of beer, and chips and dip. For others, it's hot dogs, hamburgers, corn, whatever you can throw on the grill. And for still others, game day is for endless tacos and loaded nachos.
But if preparing snacks is taking away from time with your friends, family, and the game, well, there's always delivery. Services like Grubhub, DoorDash, and Uber Eats often have some sort of deal going on, whether it's a food discount, free delivery, or an exclusive menu item.
And speaking of exclusives, for this year's NBA playoffs, Uber Eats has partnered with Popeyes to create a combo available only on its app. Not only could it be considered a slam dunk of a deal, it's also been named the "Most Dunkable Meal."
What Popeyes' 'Most Dunkable Meal' is
From April 12-17, playoff basketball fans can order the exclusive Popeyes "Most Dunkable Meal" for 50% off through Uber Eats, reports National Restaurant News. Depending on your location, the combo ranges in price from $5-8. The meal includes five Popeyes chicken tenders, a biscuit, a side of your choice, a drink, and five sauces for dunking. Popeyes' sauces include BBQ, Ranch, Chili Sauce, and Tartar (via Popeyes).
But this food-and-basketball collaboration wouldn't be complete without a little star support. NBA stalwarts Anthony Edwards of the Minnesota Timberwolves and Ja Morant of the Memphis Grizzlies also teamed up with Popeyes and Uber Eats. Morant said in the press release, "It's no secret that one of my favorite parts of the game is the dunk, so I'm pumped to team up ... on the Most Dunkable Meal to put the dunking power in our fans' hands."