The Best Personal Blenders Of 2022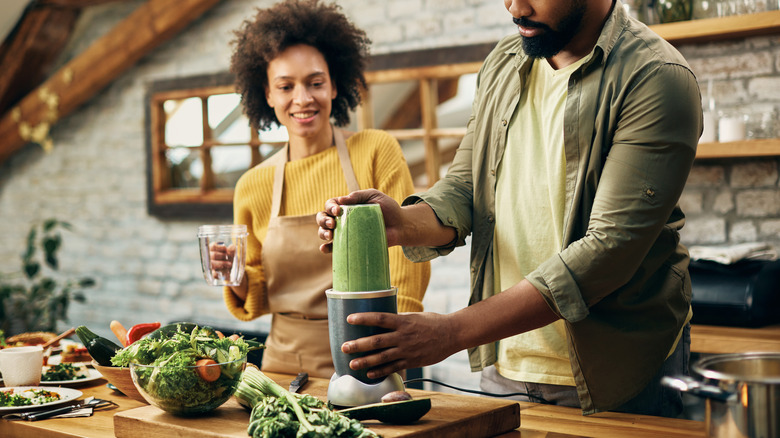 Drazen Zigic/Shutterstock
We may receive a commission on purchases made from links.
Personal blenders have transformed the way we mix up our favorite smoothies and juices. Rather than adding yet another bulky appliance to the counter, personal blenders are more compact — some are even 100% portable — and sized to make one smoothie (or other blended concoction) at a time.
According to Nutrition ED, using a blender can make it easier for you to get more green veggies into your diet, add nutritious fiber, and increase protein intake.
Trendy portable blenders are known for being quicker and more convenient than traditional blenders for people who need to whip up something in a few seconds. Many of them include tumblers that you can use to blend and drink from, so you won't have multiple accessories to wash. Other models attach the blending mechanism and cup to one another, allowing you to take it with you on your commute to work, the gym, or the school pick-up line.
Whether you're looking for a personal blender that doubles as a stylish accessory or one that's as powerful as a regular blender, there's one on the market for you. Consider our list of 13 of the best personal blenders available right now.
How we selected personal blenders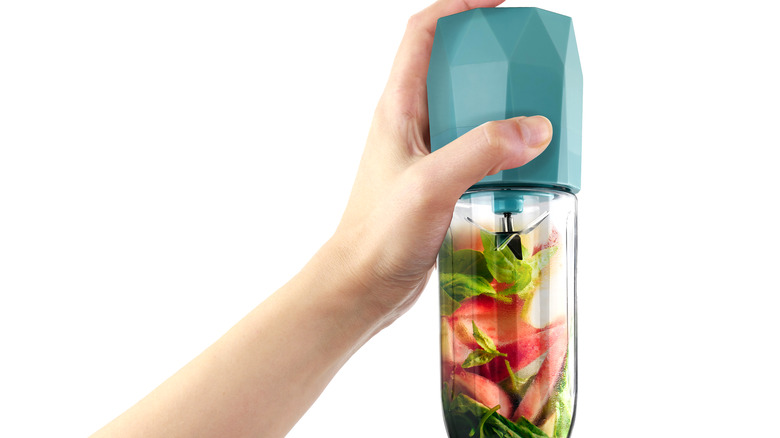 Kerozkeroz/Shutterstock
Traditional blenders have been around for decades, but personal blenders are relatively new in the kitchen appliance space. However, it's clear that brands have picked up on the popularity of these gadgets, as more and more are adding them to their product offerings. That's good news for consumers who want options, but it can make finding the right product more difficult.
To compile this list of our favorites, we first considered the reliability each blender offers, including the types of ingredients it blends, its durability, and its overall quality. We also looked at price, accessories, power, and speed. Finally, we researched customer reviews, general reputation, and the press received to determine each blender's overall popularity. Once we had our picks, we organized them into categories you'd most likely be thinking of when looking for one of these kitchen devices. Options like "best compact" and "best for families." Whatever your budget or preferred features, there's absolutely a blender on this list for you.
Best overall personal blender: Nutribullet Pro 1000
Nutribullet is one of the most well-known brands of blenders, offering a broad range of powerful, large blenders to compact and easy-to-use personal blenders. The Nutribullet Pro 1000 is a mid-range model with a perfect variety of features that just about anyone would want in a personal blender.
This blender is small, taking up about the same amount of space on the countertop as your coffee tumbler does. Still, it features a 1000-watt motor in its tiny frame. Generally, the higher the horsepower, the easier the blender will cut through tough ingredients, like ice and raw vegetables. For reference, some of the most expensive traditional blenders on the market have up to 1500 watts (via CNET). 
We also love this blender for its excellent seal, twist-off blades that are a breeze to clean, and quick, 60-second blending time for most drinks.
Purchase the Nutribullet Pro 1000 on Amazon starting at $156.80.
Best budget personal blender: Hamilton Beach Personal Blender
If you want a personal blender without a big price tag, try the Hamilton Beach Personal Blender. This compact blender is slim and sleek and comes in various colors to suit your taste. It couldn't be easier to use with its one-touch button control to start and stop the blending process. The 14-ounce container leaves plenty of space for all your fruits, vegetables, and any other nutritious goodies you add to your smoothies.
When you're ready to drink, remove the jar from the blender and add the travel lid to transition the blender into an on-the-go travel cup. The blending jar is also BPA-free, which, according to UK Juicers, is a feature most modern blender manufacturers are prioritizing to respond to potential health risks and consumer concerns.
It's clear that this blender is a popular option on Amazon with its more than 18,000 5-star reviews. Despite its price being less than $20, reviewers love its easy-to-clean design and say it has just the right amount of power to make excellent smoothies.
Purchase the Hamilton Beach Personal Blender on Amazon starting at $19.85.
Best personal blender design: PopBabies Personal Blender
Who says your blender needs to look like the rest? The PopBabies Personal Blender looks like no other with its chunkier design, fun hexagon-patterned base, and myriad of eye-catching color options, like Corolina Blue and Princess Pink. Plus, the carrying handle at the top makes it known that PopBabies designers were hard at work creating convenient design features that really set this blender apart.
This blender comes with a funnel to help you add ingredients with no mess. This is especially helpful for blending protein powder, chia seeds, and other small or powdery ingredients. When you're done blending, simply remove the blender jar from the base and take it with you wherever you need to go.
Another reason to love this blender is that you can blend while charging, so if you forget to charge it, no worries — you can still use it!
Purchase the PopBabies Personal Blender on Amazon starting at $36.99.
Best compact personal blender: Oster Blend Active Portable Blender
The idea behind a personal blender is to have a more compact version of a regular blender. Therefore, you'll find that most of them are small enough to leave space on your kitchen countertops, and lightweight enough to carry around if needed. However, the Oster Blend Active Portable Blender is among the most compact you'll find, which is great news for anyone who appreciates the smaller things in life.
The whole blender is no bigger than your typical travel coffee mug, so the removable jar should fit right into your car's drink holders or in your gym or tote bag. Oster adds a silicone sleeve around the jar for extra grip on the go. The blender's base is compact, too — smaller than your typical mug — and you can charge it wherever you need to with a USB cable.
Another bonus for its convenient size: One 5-star reviewer on Oster's site loves this blender for its assistance in portion control.
Purchase the Oster Blend Active Portable Blender on Amazon starting at $34.99.
Best accessorized personal blender: KOIOS PRO 850W Bullet Personal Blender
In most cases, accessories mean value, but only when they offer additional features that we're likely to use again and again. The KOIOS PRO bullet-design personal blender comes in an 11-piece kit that includes extra cups, blades, and lids to give you complete versatility in how you use it.
The blender itself features a mid-power 850-watt motor, a speed that's just below most high-powered blenders on the market (via Simply Recipes). With that power, you can expect to blend ice and most fruits and veggies with the right balance of liquids. Still, the additional grinding blade boosts what you can do with this blender — it can help you whip ingredients, like cream and sauce, and grind ingredients, like ice, nuts, and seeds.
The kit includes a flip-top drinking lid, a solid lid for storage, and a shaker lid for dry ingredients, giving you multiple ways to use the included cups.
Purchase the KOIOS PRO 850W Bullet Personal Blender on Amazon starting at $51.99.
Best personal blender for travel: BlendJet 2
Are you a frequent traveler who loves being able to whip up your greens into a drinkable form wherever you go? The BlendJet 2 is probably for you. The BlendJet 2 is the newest version of BlendJet's popular super-portable personal blender that packs a blender and drinking cup in one convenient unit.
With the press of one button, BlendJet 2 starts working its magic with no cords or bulky equipment involved. The complete unit can fit snugly in your hand and continues to work if you're carrying it around. Plus, the handy carrying strap makes it easy to do just that. The blender battery lasts for about 15 blends, and when it needs a reboot, you just plug it in with its included USB cable to charge. You technically don't even need a sink to wash the BlendJet 2. Just add soap and water to the cup, place the lid on top, and press the blending button for a quick, fuss-free wash when you can't get to a sink.
One reviewer on BlendJet's website says, "This is the best, simplest, and easiest to use ... portable blender I have ever used."
Purchase the BlendJet 2 on BlendJet starting at $49.95.
Best personal blender for power: Nutribullet Pro+
According to Nutrition ED, choosing to blend up your smoothies (rather than juicing them) is a good way to keep the nutrients (including the fiber) intact in your drink. This could help keep you feeling satisfied and full for longer.
And while there's no clear winner between juicing or blending (there are benefits to each), you might want a blender that is powerful enough to help extract more nutrients from the fibrous components of your produce. In that case, try the Nutribullet Pro+, which offers a more powerful motor and blade system to maximize the blending and extracting capabilities to help you make your ideal smoothie or juice. The powerful motor and quality blades work together to bust through seeds, pulp, and skin to unleash all the good stuff inside. The pulse feature gives you ultimate control over how your drink blends. You'll get cups in two different sizes and a to-go lid to take your smoothie with you.
Purchase the Nutribullet Pro+ on Amazon starting at $92.61.
Best personal blender with pitcher: Nutribullet Select 2.0
Sometimes you might want a to-go blend, while other times you might want to enjoy a few drinks at home. The Nutribullet Select 2.0 gives you the best of both worlds, offering a compact, slim appliance that's small enough to work as a personal blender, but includes a pitcher to make multiple drinks.
This blender comes with a 24-ounce cup and a 32-ounce pitcher, ideal for making a couple of servings to either enjoy with someone else or to make extra to refill your cup. Despite its slender size compared to traditional countertop blenders, this model packs 1,000 watts of power into its motor. You'll be able to chop, slice, and grind your way to healthy, homemade smoothies in a matter of seconds. Then, use the handled pitcher to pour your blend into a cup or bowl.
Nearly three-quarters of this blender's Amazon reviews are five stars, with reviewers praising its small profile, excellent blending power, and extraction setting for juices.
Purchase the Nutribullet Select 2.0 on Amazon starting at $95.89.
Best personal blender for families: Cuisinart Portable Blending System
A personal blender doesn't necessarily have to just be for you. The Cuisinart Portable Blending System proves that a personal blender can meet the whole family's needs with its accessorized kit of four travel cups and to-go lids. In addition, it comes with a chopping cup, 32-ounce blending jar, two interchangeable blades, and three operation settings.
Basically, that boils down to everyone in the family getting the blend they want from one sleek system. The unit itself is as portable as they come with its slim design, yet you can use it to make multiple drinks at once. Attach the blending jar to split one blend between the family, or blend a drink in a 16-ounce travel cup for a personal blend. The chopping cup makes it easy to chop and grind seeds, nuts, and other hard ingredients for extra nutrition in each blend. That said, its modest 350-watt motor isn't as powerful as others, so you'll want to make sure to switch to the correct blade if you need to slice through ice.
Purchase the Cuisinart Portable Blending System on Amazon starting at $79.95.
Best personal blender for water infusion: Beast Blender + Hydration System
Water infusion takes fruits, vegetables, and other ingredients and combines them with water to unleash their full nutrient potential. According to Care Spot, as much as 20% of the nutrients in the fruits and vegetables you include in a water infusion become absorbed by the water. When you drink that blend, you're getting all that good-for-you stuff in each sip.
Water infusion differs from blending, but you can use the right blender to get the job done. The Beast Blender + Hydration System fits the bill with its two-part system. Use the blender attachments — they come in three sizes — to blend with one touch of a button. Or, swap to the glass infusion bottle to stay hydrated on-the-go with your favorite water infusions.
One Amazon reviewer insists that this is the "best blender I ever had," adding, "I've made many more things since my initial review using ice, fresh fruit, frozen fruit, lemon with peel, ginger, etc. This blender blows my mind! It senses when it needs to keep blending, changes speed accordingly, and everything so far has been fully blended and delicious!"
Purchase the Beast Blender + Hydration System on Amazon starting at $185.
Best personal blender for protein shakes: Magic Bullet Blender
If you've ever mixed up protein shakes to add to your daily routine, you know they don't always mix up smoothly. It's certainly not pleasant to taste chunks of unblended protein powder in your drink, which is why it's sometimes best to use a blender rather than a shaker bottle for the job. This is especially true if you're adding other ingredients, like fruits or veggies, to your mix (via Drink Wholesome).
The Magic Bullet Blender is one of the best for blending protein shakes. Its motor power sits on the lower end of the scale, so it may not stand up to seeds, nuts, and ice-chopping as well as other blenders, but for blends of milk, water, and protein powder that simply need to result in a silky-smooth texture, it does its job well. It also includes a tall mug, a short mug, and a party mug so you can choose the size you need, along with a to-go lid to take your shake with you.
Purchase the Magic Bullet Blender on Amazon starting at $39.49.
Easiest personal blender to keep clean: Greecho Portable Blender
While most personal blenders are very compact and easy to take with you when traveling or going to work, they're not all as convenient to keep clean. That said, the Greecho Portable Blender really is portable in every sense of the word, and is designed with ease of use in mind.
This blender looks just like a water bottle with its volume markings, flip-top lid, and carry strap. But on the inside, it blends drinks with its four-blade mechanism and one-button operation. Simply flip the bottle over after adding your ingredients, and the bottle blends your drink within seconds. The exact same process works to clean your bottle when you're done. Simply add soap and water, turn it on to blend, then rinse and dry the blender so it's ready to use again.
And if powders or other ingredients get stuck on the blades (as they do with many blenders), the blade assembly pops out easily to be cleaned separately.
Purchase the Greecho Portable Blender on Amazon starting at $33.99.
Best personal blender for food prep: Nutribullet Rx
Some of the best personal blenders have more than just drink-making capabilities, and the Nutribullet Rx is one of them. Designed to be both a powerful blending system and a small appliance, the Nutribullet Rx includes a 1700-watt motor that can chop, grind, and pulverize just about any ingredient. Still, its profile is slimmer than many traditional blenders, and its cup sizes work for one or two people.
Because it's so powerful, you can use this blender as a food processor, too, practically doubling its value. it's able to make sauces, soups, purees, stews, and all kinds of other goodies to round out your meals. There's even a heating function to warm food as you blend it, making it ready for a quick dinner or lunch.
A Nutribullet reviewer who's used this model for eight years has found plenty of ways to use it: "I use it practically every single day to make healthy smoothies, Gelato, ice creams, dips, guacamole, refried beans, ground fresh coffee beans, snow cones, etc."
Purchase the Nutribullet Rx on Amazon starting at $117.99.
Best high-powered personal blender: Ninja Nutri Pro
Ninja is a well-known brand in the small appliance space, offering everything from ice cream makers to toasters. However, blenders were among the company's first products and remain one of its most popular categories today. And the Ninja Nutri Pro is one of its top contenders, especially for personal blenders that help you take your drinks on the go.
With more than 24,000 of its Amazon reviews marked with five stars, it's clear that people love this personal blender. A primary compliment? Its power, which comes from its 1100-watt motor. Combined with the professional extracting blades, the motor cuts through almost any ingredient you add to the cup while extracting the nutrients you want to consume. No more chunky smoothies if you don't want them, because this blender refines them into a super-smooth liquid form. There's even an Auto-IQ feature that analyzes what you're blending and adjusts the settings to get you the result you want. When you're done blending, remove the cup, add the to-go lid, and hit the road with your blend. 
Purchase the Ninja Nutri Pro on Amazon starting at $89.99.