Geoffrey Zakarian Celebrated The Kitchen's 400th Episode With A Fun Cake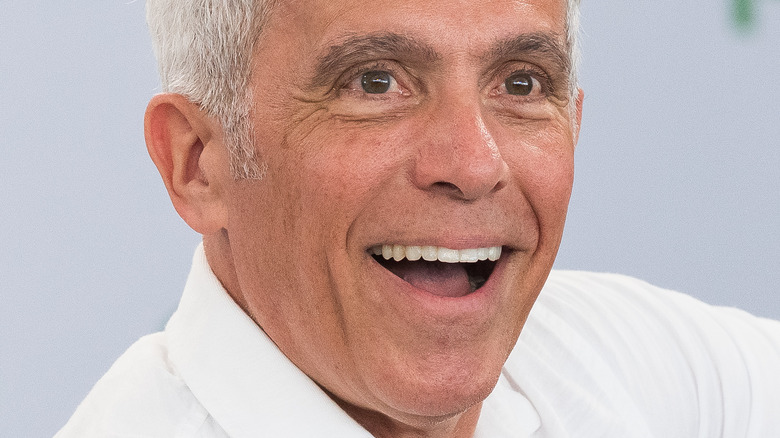 Jason Koerner/Getty Images
It is a huge achievement when a television show hits the 400 episode mark. So naturally, when "The Kitchen" achieved this milestone it inspired Geoffrey Zakarian to celebrate in an oh-so-appropriate way — with a delicious, whimsically decorated cake. After all, it's a big deal for the show to have lasted since it began in 2014.
The aptly titled show airs on Food Network and features an impressive slate of celebrity hosts, including Zakarian. Jeff Mauro, Sunny Anderson, and Katie Lee round out the lineup with Alex Guarnaschelli as a recurring co-host (via Variety). To commemorate 400 episodes of the cooking show, Zakarian presented the team with a cake and posted a pic of the group and confection to Instagram with the caption, "We are blessed beyond. Love this team!"
The sheet cake was decorated with a smattering of cooking-related touches, presumably made with fondant. Decorations included a tomato, rolling pin, carrot, kitchen knife, and of course, the show's logo. It definitely looks delicious.
Fans joined in on the celebration
Celebrities and viewers alike were delighted to join in on marking the occasion by interacting with Geoffrey Zakarian's Instagram post. One Instagrammer called "The Kitchen," the "best actual cooking show on the network," and noted that they hope "there are at least 400 more" episodes. The Pioneer Woman Ree Drummond chimed in on the pic, noting that the achievement is "beyond incredible." Alex Guarnaschelli replied with a simple heart emoji. "Masterchef Junior" winner Logan Guleff congratulated the group by commenting, "Great job chef."
In addition to praising the impressive milestone, fans were delighted to see Sunny Anderson in the picture. One fan said, "Welcome Back, Sunny!!!" and akafatima12 commented, "Glad to see Sunny in the picture." Still others would like the funny gal to be more prominently placed in future pics, as one commener wrote, "But why is Sunny in the back?" They also added that they loved the episode where Anderson fell backward after being scared by a Halloween stunt. Here's hoping fans of Anderson and all of the other hosts get what they clearly have a hankering for — many more episodes of "The Kitchen!"