The Best Cold Brew Coffee Makers Of 2022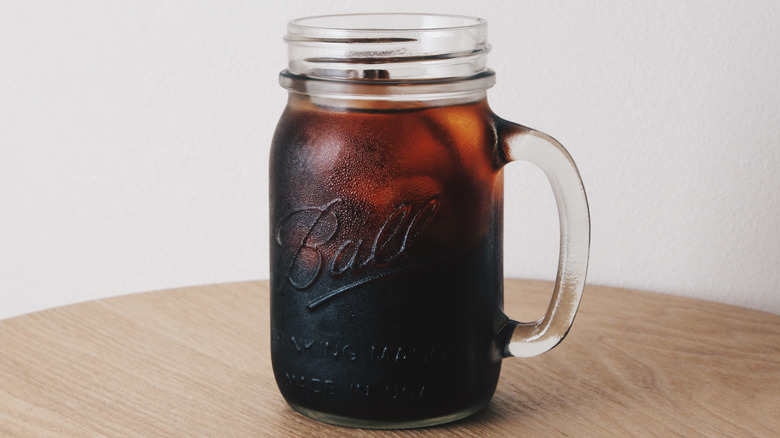 curatism/Shutterstock
We may receive a commission on purchases made from links.
Not to be confused with iced coffee, cold brew undergoes a smidgen of a lengthier process — anywhere from 12 to 24 hours. The result is a java juice that's low in acidity, big on flavor, and packs more pow to get you through the day. This type of brew costs more than regular and iced coffee if you're purchasing it at your local coffee establishment. Those morning (noon and evening) pick-me-ups can quickly begin to add up which is why owning a cold brew coffee maker is a great investment. 
When considering what kind of cold brew coffee maker you're interested in, you need to think hard about your coffee drinking habits, as well as your personality type. It's not as daunting as buying a car, but you want to be happy with what you're going to be looking at — and drinking — every morning. For starters, you'll want to think about storage (The Spruce says an average single-story home has 161 square feet of kitchen space but your studio apartment might boast less area). Are you always on the go, or can you commit to waiting? Will this be an investment piece or do you value budget purchases? Does drinking cold brew replace your water intake? Will it be a magical multitasker like yourself, or do one thing and one thing only — and do it exceptionally well? 
We've collected our top favorite cold brew makers so you don't have to feel intimidated by the decision process.
The selection process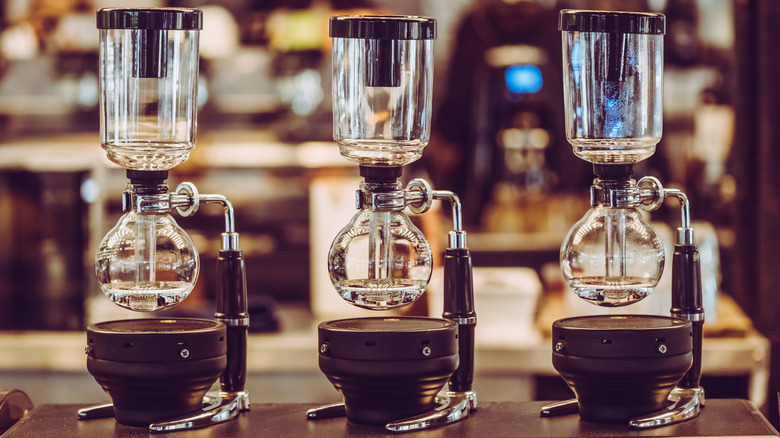 Aris-Tect Group/Shutterstock
The following cold brew coffee makers have been selected based on independent research, comparisons with other consumer-reviewed sites, and actual peer product reviews (via global search, online retailer websites, and reputable blogs revolving around coffee, coffee, and pretty much only coffee).
We've taken into account price (uber affordable, mid-range, or borderline wallet crushing), popularity (more than just average reviews), the physical size of the coffee maker (whether it's always on display or just a wee little guy), where it likes to live (countertop, fridge, or both), brew time (a few minutes or multiple hours for people who only know patience), liquid fuel capacity (two servings or enough for a small brunch army), and whether it serves more than one purpose (solo function or brewing kitchen wizard). 
Hopefully, the following picks can provide some caffeinated guidance for you as you set out on your quest to pick out the best cold brew coffee maker for your morning routine.
Best Overall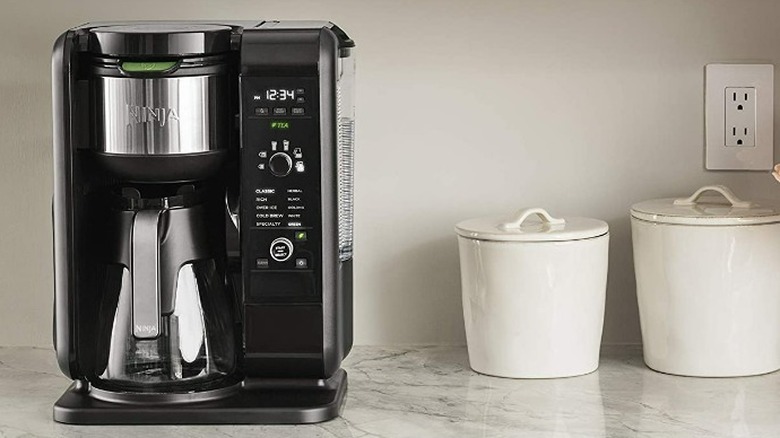 Ninja
The Ninja Hot and Cold Brew System (CP301) sneaks into the best overall spot, not only because it makes hot and cold versions of coffee and tea automatically. This nifty device is programmable so that you can brew up to 10 cups of whatever it is you want to brew in only 10 to 15 minutes. That's a minimal wait time for maximum fluid intake.
The Ninja Hot and Cold System also brews five different strengths and accommodates six different vessel sizes (ranging from a standard single-serve mug to the 50-ounce carafe, which is also included). For those of you who enjoy testing out your barista skills (or just like making a mess, er, practicing), the retractable frothing arm might pique your interest. If you enjoy the frothier side of the coffee world, a cup of tea amidst the java, and drink large volumes, then you've found your new brewer.
This multifunctional brewer is meant for countertop use only, and being about the size of a standard auto-drip, it takes up minimal space. The device is ranked in the top 35 coffee brewers on Amazon and Tom's Guide gives it a four out of five. Roasty Coffee deems it a darn good investment for those looking for a multi-brewer, citing that the price point is the only turn-off (expect to spend a minimum of $180).
You can buy the Ninja Hot and Cold Brew System (CP301) on Amazon for $180.
Best for People Who Like Expensive and Pretty Things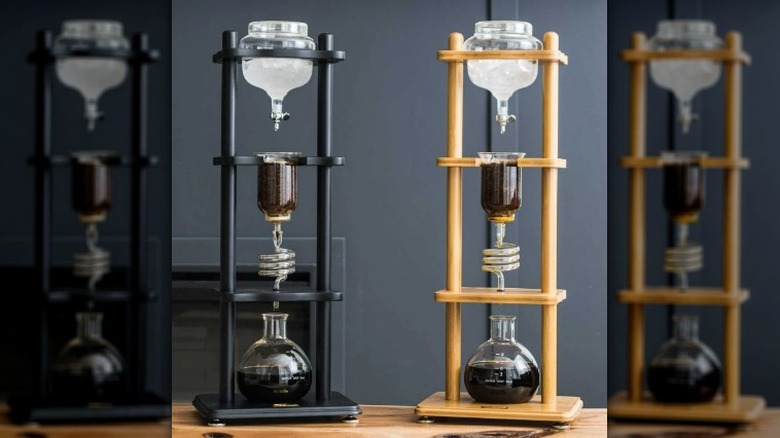 Yama Glass
This manual countertop cold brewer reaches a height of almost four feet, making it more than just functional — it's a conversation piece — and a stunning one, at that. Handmade in Taiwan, the Yama Cold Drip Tower brews up to 32 ounces (six to eight cups) of cold brew coffee or cold brew tea, which makes (almost) everyone happy.
The Yama Cold Drip Tower is built with bamboo or 100% recycled wood, and it is eco-friendly and sustainable. Each of the three carafes is blown from borosilicate glass, which renders them heat-resistant, and both dishwasher and microwave safe. Unsurprisingly, this cold brewer also comes with a steep price tag, starting at $255 for the recycled wood frame option. It is, after all, meant for people who like shiny and expensive things. The Yama Cold Drip Tower also requires two specialty filters — a reusable ceramic disc (available on Amazon) and small, circular paper filters (which are available on the Yama website). 
It takes anywhere from three to four hours to brew an eight-cup carafe, but at least you'll have something pretty to look at while you're waiting. The Coffee Maven ranks it 92 out of a possible 100 points, while reviewers on Amazon give it almost five stars. A word to the wise: If you have a cat, don't buy this. Just don't.
You can buy the Yama Cold Drip Tower on Amazon for $255.
Best for People Who Don't Want to Do the Work
The Vinci Express Cold Brew is the ultimate brewer for people who have zero time to spare and no interest in cold brew apart from drinking it. It ranks in the top 15 cold brew makers on Amazon thanks to its assorted qualities. The brewer works by circulating water and coffee grounds together, which almost looks like a mini java tornado trapped inside it. Users can choose between four settings (from a lighter coffee to extra bold), and any leftover coffee (that can't be real) will keep for up to 10 days in the fridge thanks to the airtight lid.
If you're a hands-off type of person when it comes to making coffee, you probably don't have any desire to clean the brewer either. No judgments — no one likes to clean appliances. You'll be glad that this device has a built-in cleaning function so that it continues to brew smoothly. The vessel is made with heat-resistant borosilicate glass, which means you don't have to worry about accidentally shattering it and losing all 37 ounces of your delicious cold brew. 
Customers rate it five out of five stars on the Vinci website, while an independent reviewer at The Gadgeteer states that the only part they would change is the bulky handle, not even the suggested $80 price tag. Food & Wine also says that it's a low-maintenance piece of equipment that's worth considering for your cold-brew needs.
You can buy the Vinci Express Cold Brew on Amazon for $80.
Best for Purists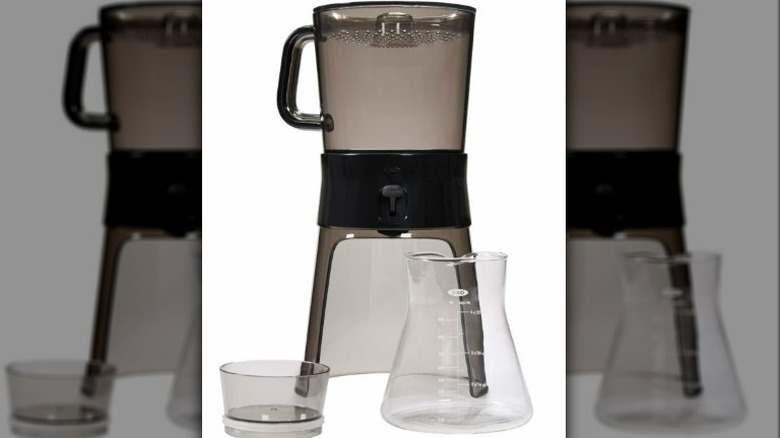 OXO
Here's the cold brewer for all of you current, former, or pretend baristas that are scoping out new toys for your kitchen. The OXO Cold Brew Coffee Maker is pretty much what it sounds like: a no-frills, all chills, manual countertop brewer that makes 32 ounces (four cups) of incredibly potent cold brew concentrate. Yes, this brewer creates concentrated cold brew, which means if you dilute it in a 1:1 ratio, you'll get 64 ounces of jitter juice per brew. That's a lot of brain fuel.
The OXO Cold Brewer breaks down for quick storage and takes up minimal cupboard space. Some reviewers mention that it breaks easily because aside from the glass carafe, the entire body is made from BPA-free plastic. Keep in mind that this cold brewer wins for the purist category because, according to The Spruce Eats, it's pretty darn simple to operate (yet another cold brewer with limited human involvement) and requires little cleaning. That being said, extracting cold brew can take anywhere from 12 to 24 hours, so if you're not the kind of coffee drinker who likes to wait, this might be a hard pass.
The OXO Cold Brewer scores five bold stars over at Williams-Sonoma, with the suggested retail price hovering around the affordable $50 mark. That means this hassle-free brewer will soon pay for itself.
You can buy the OXO Good Grips Cold Brew Coffee Maker on Amazon for $49.
Best for Multifunctional Purposes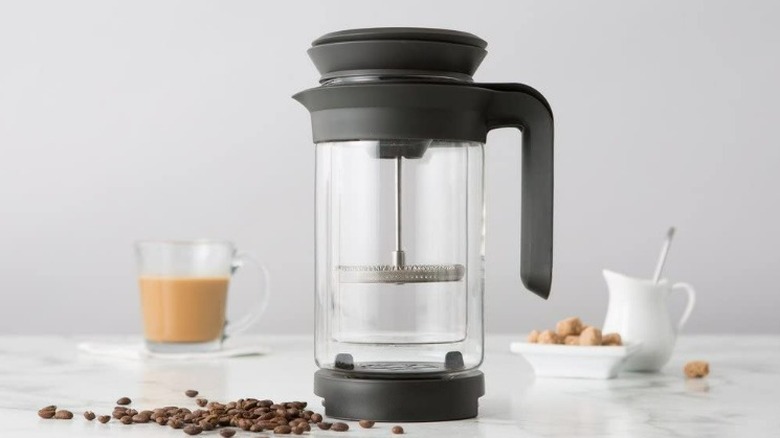 Chef'n
What makes 16 ounces of cold brew coffee and can also be used for French Press java juice, Pour Over coffee, and diffusing tea? The Chef'n 3-in-1 Coffee Brewer is basically the answer to all of your coffee (and tea) prayers. It can be used and stored on your kitchen counter and easily fits in the refrigerator. The handy brewer also utilizes a smart storage tactic that's reminiscent of wooden nesting dolls, so it takes up a trivial amount of storage when it's not in use. (But with such versatility, when would you not be using it?)
Like most coffee carafes, the Chef'n 3-in-1 is made with borosilicate glass, so it's sturdy and tolerates heat very well. While it's noted that this brewer can also be used to make tea and infusions, the pour-over carafe is sold separately, as is an airtight coffee bean canister that looks cool but probably isn't that necessary. Keep in mind that a major set back — with any brewer that fuses glass and plastic — is that if it accidentally gets cracked or broken, you have to purchase a whole new set, which will set you back around $50.
Regardless, this multifunctional and space-efficient nesting coffee brewer will save you money in the long run on hot and cold brews. Real Simple praises its efficiency and customers on Amazon rate it four out of five stars.
You can buy the Chef'n 3-in-1 Coffee Brewer on Amazon for $48.
Best if you're on a Budget
This pitcher-style cold brewer is super affordable, as in, under $30 (one of a few different aspects that cold-brew aficionados are psyched about). The compact Takeya Deluxe Cold Brewer is Amazon's choice for cold brew coffee makers (and also in the top five for coffee machines, though it's not really a machine). Reviewers on Walmart and the Takeya website frequently cite its small size as a major plus. Over 50,000 cold brew drinkers have contributed their opinions on Amazon, awarding this simple brew jug just over four and a half stars.
The Takeya Deluxe is also available in two different capacity options (one or two quarts) with a few different color options, depending on which size you choose (you're limited to black, white, or gray, which are kind of boring, but it's not the end of the world). The body is made of shatterproof glass and is free from BPA plastic (as with most cold and hot brewers). It's also dishwasher safe, which is another bonus for those of you who like to set it and forget it.
One independent reviewer at A Barista's Daughter points out that it can be used for making hot coffee as well. One can only speculate that it probably works for making cold brew tea too. Because of its rave reviews, simplicity, limited use of space, and excellent price, the Takeya Deluxe takes the spot for the Best Budget brewer.
You can buy the Takeya Deluxe Cold Brewer on Amazon for $25.
Best for People with No Space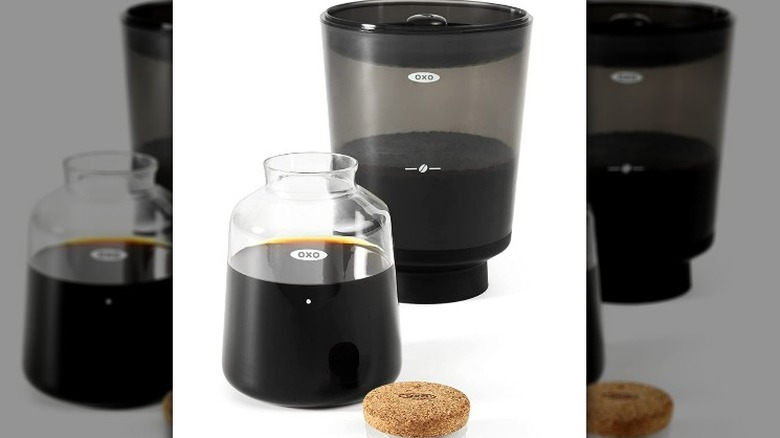 OXO
For those of you who have smaller kitchens, studio apartments, or roommates, then you need to pay attention to the OXO Compact Cold Brewer. With close to 3,000 ratings, this brewer is dubbed Amazon's choice in coffee machines and earned around four and a half stars on Crate and Barrel.
This petite cold brewer reaches a height of about eight and a half inches and holds 16 ounces of cold brew concentrate in a 24-ounce heat-resistant glass container. It utilizes the ingenious nesting doll storage style, which means it doesn't take up any room in your fridge or kitchen cabinets. OXO's Compact Cold Brewer includes a reusable stainless steel mesh filter, as well as a cork and silicone-sealed stopper to keep your cold brew fresh. Cnet mentions that the beauty of this brewer (besides its size) is its simplicity.
On the flip side, it only makes cold brew, which can take anywhere from 12 to 24 hours, so you're trading a minimal storage footprint for an increased patience threshold. It's also not necessarily that great of an investment (around $30 to $40) if you've been successfully making cold brew with mason jars and assorted equipment.
You can buy the OXO Compact Cold Brew Coffee Maker on Amazon for $35.
Best for Sunday Brunch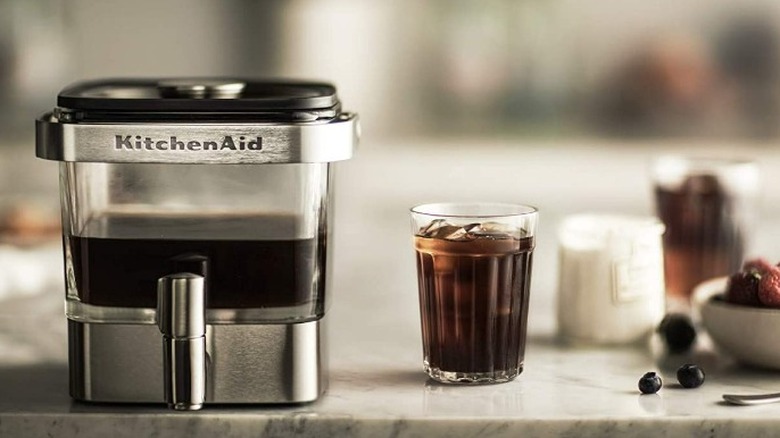 KitchenAid
If you enjoy Sunday Funday brunch (or late-night parties on Saturday that require a lot of caffeine on Sunday), then KitchenAid has you covered with its cold brew coffee maker. This quat cold brewer has a brushed stainless steel exterior that guarantees no rust. The device comes in a 28 and 38-ounce capacity, which might not sound like a lot. However, remember that this isn't just cold brew — it's cold brew concentrate. That means it's potent ... really potent. KitchenAid's recipe instructs you to mix two ounces of concentrate with six ounces of water or milk. Basically, one 28-ounce brew makes 14 servings.
KitchenAid's Cold Brewer is itty bitty — eight by seven inches — so it also fits well in locations with limited space both in the fridge and on your countertop. Another advantage is that the appliance is simple to take apart and clean. You can pretty much just set it and forget it while it brews a full batch in 12 to 72 hours. This cold brewer is a bit on the pricier side, coming in at around $100. 
Reviewers on Wayfair give it 4.6 stars, though some individuals have remarked that it leaks — although there's no specification as to where the leak is actually coming from. There's also some concern about leaking on the KitchenAid product page, but these comments are few and far between. It's worthwhile to note that incorrectly installing the seal after cleaning it can be a reason for leakage.
You can buy the KitchenAid Cold Brew Coffee Maker on Amazon for $100.
Best for Travel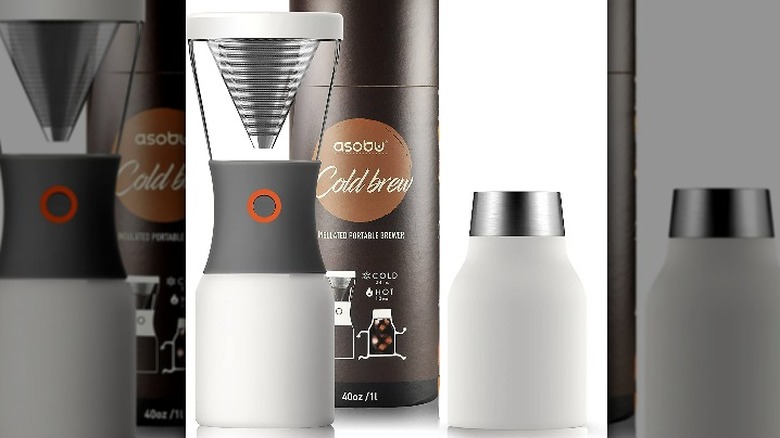 Asobu
The first of its kind, Asobu's Portable Cold Brew Coffee Maker creates 24 ounces of velvety, refreshing java juice concentrate in just 12 hours. It also doubles as a hot coffee maker (pour-over style) and loose-leaf tea brewer, producing both in about three minutes.
The Asobu uses special vacuum technology to extract the cold brew from the brewing cone into the double insulated 32-ounce stainless steel carafe it latches onto. This carafe seals tightly and is both leak and spill-proof, as well as able to keep your brain juice fresh for 24 hours (or up to two weeks with refrigeration). It's rated four and a half stars on Amazon, and 88 out of 100 by The Coffee Maven, whose main issue is with regards to the Asobu Cold Brewer's carafe capacity — but it's a travel-size cold-brewer, so what do you expect?
While it's a little pricier than your standard travel mug (it retails for around $45), TrustedReviews states that it's worth the investment (even if it's a tad longitudinally challenged). You'll be saving money no matter what, and those extra dollars can go towards purchasing quality coffee beans. The Asobu Portable Cold Brewer also comes in 10 different colors and patterns, because who doesn't love options?
You can buy the Asobu Portable Cold Brew Coffee Maker on Amazon for $45.
Best for Simplicity
When it comes to making cold brew coffee (or tea, or even nut milk), you can't get much simpler than a CoffeeSock. It's undoubtedly the most basic way to brew cold coffee. You put your grounds in the sock, tie it tightly, and let it soak in your preferred jar of choice. Boom. Easy. That's probably one of the reasons why it currently has just about a five-star rating on Amazon and Google. It's also super affordable, hovering around the $15 mark depending on the size and shape you order. Since it's reusable it can last up to one year and eliminate an estimated 500 paper filters from landfills (via CoffeeSock). That's not just saving a tree, that's saving the planet.
The CoffeeSock is made of certified organic cotton following the Global Organic Textile Standard (GOTS). The product is hand-sewn in Austin, Texas, by employees who are paid a fair and living wage (via CoffeeSock). The only downside is that the sock can get moldy if you don't allow it to fully dry, and you'll need to invest in your own carafe. But those two negatives aren't really anything that would be a major game-changer. This no-frills, no bells n' whistles brewing method is easily the best method for making cold brew with simplicity.
You can buy a CoffeeSock Cold Brew Filter on Amazon for $17.
Best for People with No Time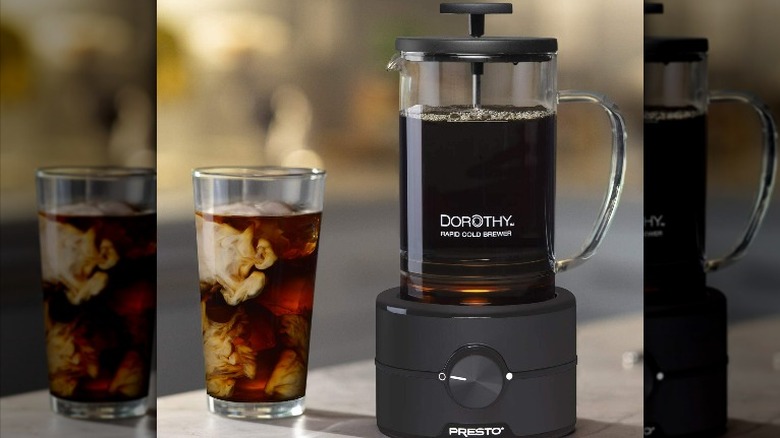 Presto Dorothy™
With the Dorothy Electric Rapid Cold Brewer by Presto, when you click your heels three times, spin a dial, and say "there's no taste like cold brew," you'll be transported into a world of alertness within 15 minutes. This rapid cold brewer is part French press part science experiment. The vessel appears more like a container that taps into the power of a tornado because that's what it looks like once you spin the dial from off to please, caffeinate me. At a price point of around $35, the Dorothy is compact and stores nicely at about 10.5 inches in height. You'll be able to make approximately 22 ounces of cold brew java juice.
CoffeeLogik gives it a 4.5-star rating, noting that cleanup is super easy, but figuring out the coffee to water ratio can be a bit finicky. The review also mentions that you're going to end up with coffee deposits at the bottom of your brew no matter what. Almost 3,000 cold brew reviewers on Amazon have given it an average of four stars, commenting that it's good at brewing rapidly but you shouldn't expect it to wow you with flavor. And as noted in a number of reviews, the coffee won't be silt free (via Amazon). If you're always in a rush, add cream and sugar so that you don't taste the coffee flavor anyway, and don't mind a bit of silt in your bean juice, then this is your M.O.
You can buy Presto's Dorothy Electric Rapid Cold Brewer on Amazon for $42.
Best for the Unconventional
Nitro coffee (nitro cold brew) is the up and comer to the cold coffee scene and with good reason. It's not only refreshing, but Full Coffee Roast reports that nitro may contain more caffeine than a standard cold brew. Plus, you don't need ice, sweeteners, or dairy, because the nitrogen brings out the natural sweetness of the coffee gives it creates a creamy mouthfeel.
Royal Brew's Nitro is rated as Amazon's choice for nitro cold brewers, and Coffee Hustle says it has the best value out of any other nitro brewer on the market. It's the ultimate catch-all for the unconventional cold brew consumer. In addition to it looking cool super cool (who else do you know that has a nitro keg in their kitchen?), it's super simple to clean, will feed your cold brew and nitro cravings, and will ultimately save you money on drinks, drive time, gas, and additives (like sweeteners or creamers). This nitro brewer comes in 64 and 128-ounce versions, matte black or silver, and a lifetime warranty. The Royal Brew Nitro Cold Brewer will run you around $140 and you'll have to purchase nitrous oxide cartridges sold separately, at roughly $15 for a pack of 10.
You can buy the Royal Brew Nitro Cold Brew Coffee Maker Home Keg Kit System on Amazon for $160.
Best for the Thrifty Brewer
Bodum is a Danish-Swiss kitchenware company that's been around since the 1940s, and one of its main niches is coffee. You might assume that the Bodum Bean Set is pricey since prominent coffee companies like Chamberlain Coffee (owned by YouTube sensation, Emma Chamberlain) sell and specifically label the Bodum French Press. But that's not really the case. After all, the Bodum Bean Set earned the spot as the best coffee maker for thrifty brewers for a reason: For around $14, you have a press that makes over six cups of cold brew.
The Bodum Bean Set is ranked in the top 10 on Amazon for cold brewers, with a rating of 4.7 from Influenster and over four stars on Google reviews. It's lightweight and deceivingly small (under 10 inches), though it holds a total capacity of 51 ounces. Being a French press, it's super simple to use and clean. Another unique feature about the Bodum is that it contains no glass — the entire press (carafe and all) is made with 100% BPA-free plastic, rubber, silicone, and stainless steel. 
It includes two lids (one for brewing and one for pouring) and can be used for both cold brew and hot coffee. Basically, you're getting a two-for-one coffee brewer deal on this one. If you're patient enough to wait 12 to 24 hours for your java tonic to brew, then this is a no-brainer.
You can buy the Bodum Bean Cold Brew Coffee Maker on Amazon for $14.