Instagram Loves Martha Stewart's Throwback Post About Cooking With Her Mom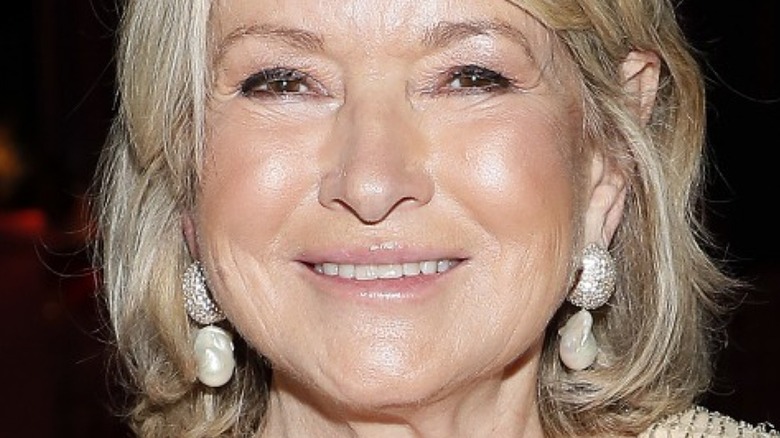 Paul Morigi/Getty
There are probably many people who can say that they learned to cook from Martha Stewart, whether by watching her television show, reading her magazine, or picking up one of her cookbooks. But who did Stewart learn to cook from? That would be Martha Kostyra, also known as "Big Martha," who was Stewart's mother. Kostyra passed away in 2007 (per the Los Angeles Times), but it was in childhood that she taught Stewart how to cook, and passed on their Polish family's treasured recipes.
Later in life, Big Martha would appear on Stewart's television show, and in one episode from 2002, she and Stewart worked together to share their family's rustic country cheesecake recipe (via MarthaStewart.com). In the video, Stewart shares that growing up, Kostyra would prepare a large traditional Polish Easter breakfast that included kielbasa, hard boiled eggs, babka, horseradish, and other goods, along with the rustic cheesecake recipe from Kostyra's mother.
Stewart recently shared a video clip of the episode showing the two Marthas cooking together on Instagram, and fans couldn't get enough.
Fans found Martha Stewart's nostalgic recipe clip heartwarming
Martha Stewart's throwback Instagram clip featured the famous rustic cheesecake, which she explained "is an Easter tradition in the Kostyra family." Though Stewart didn't mention any other personal details in the caption, seeing the two Marthas cooking together all those years ago seemed to bring up a lot of emotions for fans. "Watching you two together reminded me if my Mother and I whom I loss [sic] two weeks ago," shared one person, while another said, "It just makes your heart happy seeing such a wonderful mother daughter combo working together in the kitchen, on family recipes."
Some people did have questions about the recipe. A few were leery about adding golden raisins to a cheesecake, while others wondered what farmer cheese, the cream cheese substitute used in Stewart's recipe, actually is. One fan responded to a commenter's query with instructions for making farmer cheese from scratch, but if that sounds a little daunting, not to worry — another commenter said that they've been able to find farmer cheese at grocery stores, including Whole Foods and Wegmans.
Once you get your hands on some, you'll be on your way to recreating this classic family recipe that brought Big Martha and Martha Stewart together on screen.