Insomnia Just Dropped An Epic 4/20 Deal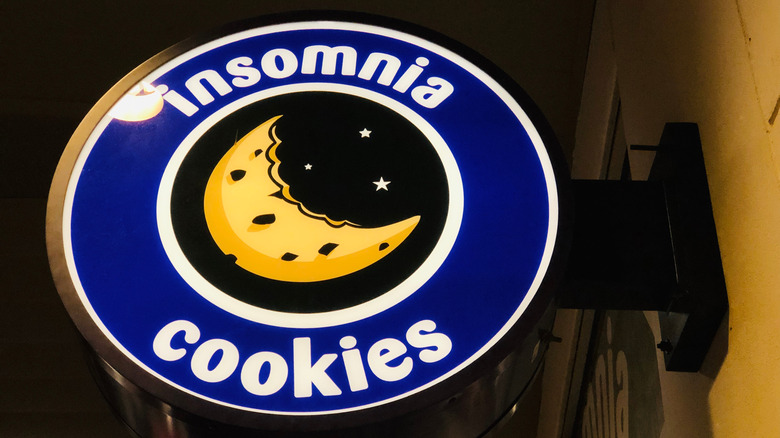 ZikG/Shutterstock
Cookie and weed lovers, take note: Insomnia Cookies is unleashing a variety of munchie-style cookies just in time for 4/20. The bakery chain — notably known for its delivery service of warm, freshly baked cookies — announced the sweet and salty snack news in an April 18 Instagram post. While Insomnia's 4/20 menu will feature three limited-edition cookie treats, the big-ticket item that has fans buzzing is the Munchie-Style Cookie Nachos. It's made up of the kinds of salty and sugary snacks people on 4/20 crave the most, such as crushed potato chips, pretzels, and chocolate.
According to Thrillist, 18 Mini Chocolate Chunk cookies make up the base of the Cookie Nachos box. The cookies are blanketed in chocolate cookie butter and caramel sauce, and topped with a mountain of crushed potato chips and pretzel pieces. The cookie nachos are being pegged as the perfect late-night, post-blaze snack. But, that's not all Insomnia has baked up for the high holiday.
Insomnia is offering two versions of Munchie-Style Dippers
Insomnia Cookies will also be offering Munchie-Style Dippers for those who prefer to save their sauce for dipping, rather than drizzling (via Instagram). These cannabis-inspired cookies can be ordered two different ways: Big or Lil'. The Munchie-Style Lil' Dippers feature 12 Mini Chocolate Chunk cookies, while an order of Munchie-Style Big Dippers includes four Classic cookies, and both net you a side of dipping sauce, either Chocolate Cookie Butter or icing. Each dip comes garnished with crushed potato chips and pretzels.
Insomnia's website features 15 Classic cookie flavors, ranging from double chocolate chunk and sugar to hibiscus berry and peanut butter chip, so you have tons of options. Vegan and gluten-free cookies are also on offer. The Munchie-Style Cookie Nachos and Munchie-Style Dippers will only be available from April 20 to April 24, or while supplies last. While Insomnia ships nationwide, the bakery's 4/20 menu is only available for pickup or local delivery, so plan accordingly.