What Mark Wahlberg Really Ate While Filming Father Stu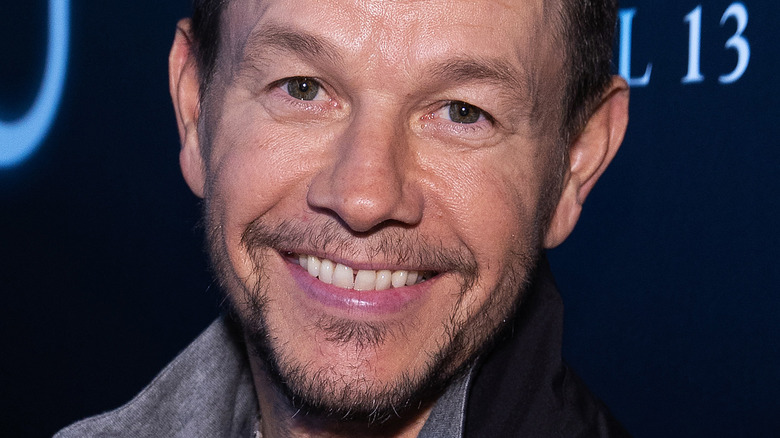 Mat Hayward/Getty Images
Who would have thought the former frontman of a group called the Funky Bunch could come out smelling like a rose? From Dirk Diggler in "Boogie Nights" to Dignam in "The Departed" Mark Wahlberg has certainly played a wide variety of characters. According to IMDb, in addition to his acting roles, he has played the part of executive producer on television series like "Boardwalk Empire" and "Entourage." As of late, Wahlberg's career shows no signs of slowing, a recent role required a major commitment. 
According to Insider, Wahlberg packed on 30 pounds to play the title character in "Father Stu." The movie is based on the real-life story of Stuart Long, a boxer who becomes a priest. Long suffered from body myositis, which Cedars-Sinai says is "a rare group of diseases" that can fatigue and weaken muscles. To recreate Long's physical metamorphosis, Wahlberg had to change his diet drastically. It turns out the actor's diet wasn't exactly the fantasy made up of Wahlburger's chocolate shakes and tater tots you may have imagined.
It might be easier to tell you what Wahlberg didn't eat
New Africa/Shutterstock
Mark Wahlberg's personal chef, Lawrence Duran, explained to E! News that various experts assisted with identifying the actor's dietary needs, including doctors, a nutritionist, and a specialist. Insider reports the diet began with two weeks of consuming an incredible 7,000 calories daily, followed by an even more astonishing 11,000 calories a day for the next four weeks. "The weight gain was bad," he remarked, adding, "It isn't something I would want to jump at doing again."
Wahlberg told Entertainment Tonight his diet included "a dozen eggs and a dozen pieces of bacon, two baked potatoes, a Porterhouse steak, two bowls of white rice, and a glass of olive oil." Duran also detailed a typical day in the life of Wahlberg for E! News: "So morning usually starts about 3 a.m. and his first breakfast is four eggs—that's the pre-breakfast." His days were jam-packed with a variety of meals, like a half-roasted chicken, a protein shake, fish, and "tons of vegetables." 
Wahlberg even needed to gain weight in his sleep! Duran said that for a "nightcap," the actor would have a "mash" containing oatmeal, applesauce, jelly or jam, almond butter, and molasses. Fortunately for Wahlberg, he got a weekly day off the diet. Duran explained that this entailed a cheat meal on the weekend that involved the actor's favorite restaurants, pasta, pizzas, or cookies. Now, that's one part of Wahlberg's "Father Stu" diet we can relate to!