Change Is Coming To Halo Top Ice Cream, Whether You Like It Or Not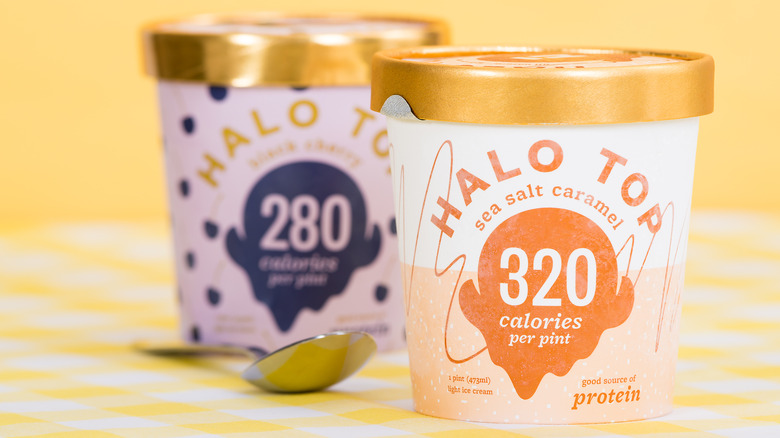 Leena Robinson/Shutterstock
We may receive a commission on purchases made from links.
It seems that options are endless as far as ice cream goes, which for frozen dessert lovers, is a good thing. From Carvel sundaes to frozen yogurts and everything in between, when the hankering for a frozen treat hits, it's relatively easy to satisfy. For the more health-conscious, there's also a large variety of products filling the freezers at grocery stores, including Halo Top low-calorie ice cream pints.
Halo Top is renowned for its light ice cream that is made out of skim milk, erythritol, eggs, prebiotic fiber, cream, organic cane sugar, vegetable glycerin, and organic stevia leaf extract (via Healthline). However, because it's made to be healthier than the average ice cream, it doesn't contain as much fat or sugar, making it less creamy. In addition, the product "freezes harder" than regular ice cream.
Healthline describes the texture as more icy and grainy than competing products and Amazon reviewers on the Vanilla Bean flavor agree, with many stating that when it comes to Halo Top, "the problem is the texture," not the flavor. One review refers to the ice cream as "flavored ice."
Halo Top has taken note of these complaints and has released a new iteration of its classic light ice cream that's a big transformation from its traditional ice cream recipe. With the launch of this new item, the ice cream brand can cater to the preferences of creamy ice cream lovers while maintaining its lower-calorie status.
Halo Top offers a creamier version of its light ice cream
Halo Top has composed a formula that makes ice cream "more creamier" than its previous recipes. This upgrade is being made to its Chocolate Chip Cookie Dough, Peanut Butter Cup, and Chocolate variations, which was announced in a recent Instagram post. The short video is captioned, "Never stop improving yourself. Introducing our new creamier formula for your favorite flavors." 
Per a press release, the new formula includes "ultrafiltered skim milk and other high-quality ingredients," which gives the revamped ice cream a more desired texture. In celebration of the creamier versions, Halo Top has released "Chocolate Cake Batter," a new flavor complete with rainbow sprinkles. Furthermore, the new pint remains true to its low-calorie promise, with just 330 calories for its entirety.
One reason Halo Top can create this creamier product is the ultrafiltered milk. According to The Spruce Eats, the fat is first separated from skim milk, which makes the liquid extremely protein-rich. This is what gives the milk its extra substance, thus making it more creamy.
The Instagram announcement already has fans expressing their excitement with one grateful fan saying "Thank you Halo Top for pulling all the stops! #gamechanger." Another shared "I already tried the improved cookies and creme and it's 100% better."
When searching for the new Halo Top flavors, make sure to look for the "Now Creamier" label on the product.