CVS Just Launched An Unexpected Condiment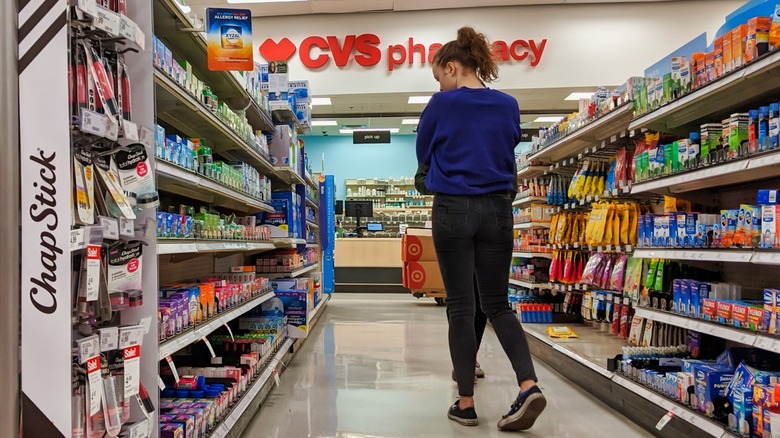 Colleen Michaels/Shutterstock
We may receive a commission on purchases made from links.
CVS may not be the first place you turn to for your fridge, freezer, and pantry needs. However, as anybody who has ever stepped into one of the chain's 9,863 locations to pick up a prescription or do a toiletry re-stock could probably tell you, the drug store does dedicate a sizeable portion of its aisles to fair-priced food and beverages. This means it can be a prime errand destination for those times your to-do list is all over the map. Shoppers will spot a number of familiar brands when browsing their local CVS, but nestled on the shelves alongside your favorite treats from Hershey and Lay's are products from CVS's own Gold Emblem line.
One of "the first private brand food lines created by a major drugstore chain," a 2013 press release notes that Gold Emblem initially debuted in 1995 before getting a major makeover 18 years later. The store then launched Gold Emblem abound in 2014, which then-VP of merchandising George Coleman described as a "brand of healthier snack and grocery items" rich in protein and other nutrients in addition to being gluten, sodium, and cholesterol-free (via Store Brands).
Nowadays, products bearing the Gold Emblem or Gold Emblem abound logos range from popcorn and nuts to soda and macaroni and cheese, as well as one unexpected condiment that only recently made its way into CVS stores.
CVS is spicing up its aisles with hot honey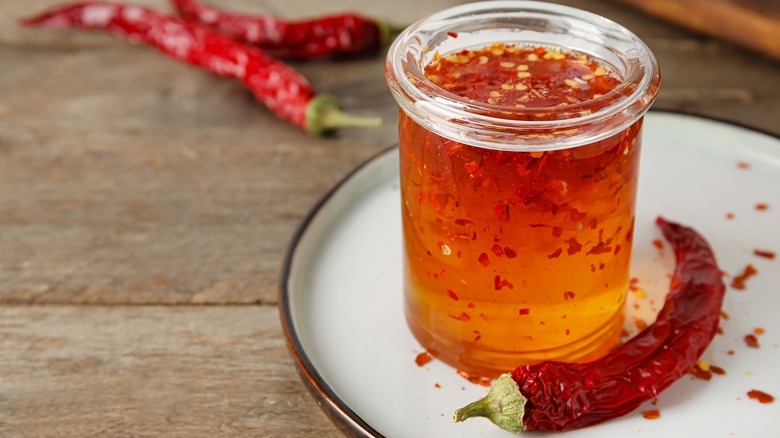 Pixel-Shot/Shutterstock
CVS's Gold Emblem product line just took a spicy turn with the launch of Gold Emblem Gourmet Hot Honey, which is available in stores and online now. Consisting of just two ingredients — honey and natural chili flavoring — this sticky condiment offers a bold, sweet, and spicy flavor that sounds right up a hot sauce connoisseur's alley.
Gold Emblem Gourmet Hot Honey is currently listed on CVS's website at $7.99 for a 12-ounce bottle, though prices may vary in-store and by location. We'll admit that price may seem a little steep, especially considering that a more "traditional" hot sauce such as Frank's RedHot can be purchased on Amazon for just $2.98. However, Mike's Hot Honey, which is arguably the leader in the hot honey realm, goes for $10.99 per 10-ounce bottle on Amazon or $19.99 for a two-pack of 12-ounce bottles on the brand's website. Comparatively, CVS's take on the condiment could be categorized as a steal.
As for how to use this hot honey, the drug store's website notes that it pairs well with "pizza, chicken, and cheese," though one Redditor offered a drastically different idea. "I'd fry a corn tortilla in bacon grease then drizzle some hot honey and dust with cinnamon," u/Piper-Bob suggested in response to another user's inquiry about the condiment a few years back. We'll take two, please.