The Best Dutch Ovens Of 2022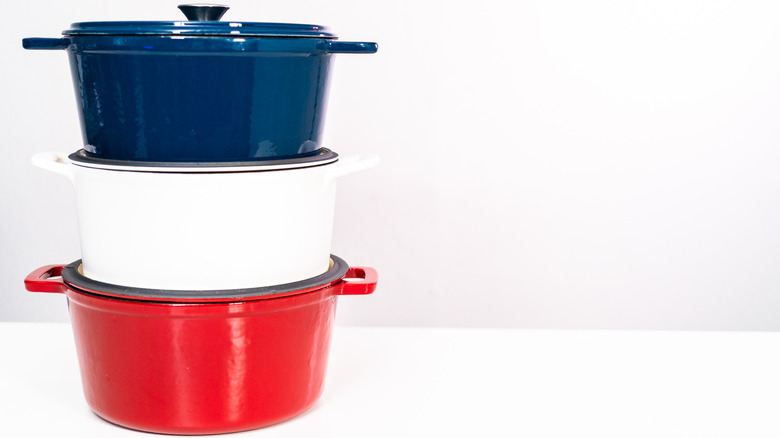 Arina P Habich/Shutterstock
We may receive a commission on purchases made from links.
If you're ready to spend more time cooking, one of the most important pieces of equipment you need to have is a Dutch oven. It's pretty much the most universal cooking tool in the kitchen. Food Network notes that whatever you can cook in a stove top pot, you can cook in one of these bad boys. A Dutch oven can be used on and in your cooking range. You can bake, sear, braise, steam, stew, fry, sauté, or roast pretty much anything and everything. Dutch ovens come in a variety of shapes, sizes, and colors, so there's pretty much something for everyone. You can even find single-serve sizes in 8-ounce capacity.
A Dutch oven is a heavy, cast-iron cooking pot that is fairly shallow and comes with a tight-fitting lid. According to Greatist, there are three types of these vessels in American cooking history: The traditional Dutch oven, which used to be suspended over an open flame, the "bake kettle" which would sit directly on hot coals, and the French cocotte, which is essentially the same thing as a Dutch oven, just by a different name. That being said, today the term "Dutch oven" is used to describe all three cooking tools. 
But when it comes to choosing the right Dutch oven for you, you'll need to think about how you'll be using it and for whom. Price point, what it's made with, and aesthetics are also important to think about. 
How we selected these Dutch ovens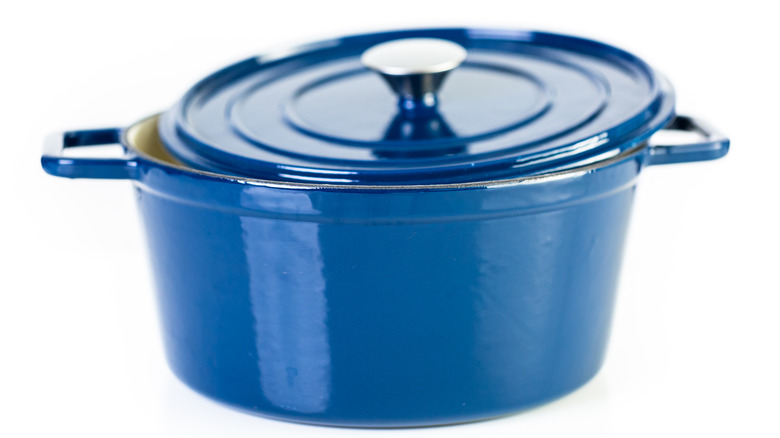 Arina P Habich/Shutterstock
The following Dutch ovens were selected based on a number of important aspects. Customer reviews recorded on reputable retailer websites (including, but not limited to Amazon, Target, the manufacturer's website, and small businesses), as well as independent press and professional critiques were all taken into consideration. These Dutch ovens have also undergone extensive testing and have been on the market for awhile, so you can feel confident that the crockery you select is high-quality.
It's important to pick a pot that feels like it fits your lifestyle. You don't want to select an extra-small Dutch oven simply because you like the color and think its minuscule size is cute. So think about what types of dishes and how many servings you're hoping to make with your pot selection. Price point, lifestyle, and aesthetics have all been taken into account when categorizing the following cooking vessels, so there should be a little something for everyone.
Best overall Dutch oven: Lodge Enameled Cast Iron Dutch Oven
Lodge has been in business for over 120 years (since 1896) and has perfected the art of cast-iron cookware. And due to the brand's reputation, consumer ratings, size and color options, and affordability, the Lodge Enameled Cast Iron Dutch Oven is the singular choice for best overall.
This particular Dutch oven isn't their signature seasoned cast-iron — like the Lodge Deep Camp — but that doesn't make it any less appealing for consumers. Amazon ranks it as an "Amazon's Choice" product in the Dutch oven category, with over 35,000 reviewers giving it almost five stars. The New York Times and Food & Wine have both dubbed it the best on the market (via PrudentReviews), while over 370 independent reviewers on Target give it an average of 4.6 stars. 
The Lodge Enameled Cast Iron Dutch Oven comes in six different sizes with over 25 different color choices (depending on size). But by far the biggest factor that allows it to shine brighter than its competition is its affordability. Cast-iron and enameled cookware tends to be expensive (at least for high-quality, durable, exquisitely crafted Dutch ovens). 
This is where Lodge stands out, because this Dutch oven starts off with a price tag of around $65 on Amazon for the 3-quart size.
Best traditional Dutch oven: Le Creuset Enameled Cast Iron Signature Oval Dutch Oven with Lid
Everyone has probably seen a Le Creuset product at one point in their lives. Whether it be the iconic signature flame color, or the brand's trademark three rings showcasing their name, Le Creuset is one of two most recognizable companies in the world of heavy-duty cookware (via Everten). Although the brand (which was founded in 1925) is firmly ingrained in the American kitchen, Le Creuset is the Dutch oven of choice among French and European home cooks (and professionals). 
What makes Le Creuset unique isn't just its stand-out style, with cookware available in 100 different colors, it's the high-quality, chip-resistant enamel on all of their products. Insider writes that Le Creuset is considered the best in the industry, although it does come with a price tag. You know that old adage, "you get what you pay for?" Well, you're investing in a product that's been in existence for almost 100 years and is made with high-quality materials and craftsmanship. 
The traditional oval Le Creuset holds 8 quarts and is ranked number 26 in Dutch ovens on Amazon. While it's one of the most durable, recognizable and long-lasting Dutch oven brands in existence, it's also one of the most expensive. That said, if properly taken care of, it can last generations. 
You can pick up a 3-quart version on Amazon for just under $265.
Best Dutch oven for camping: Lodge Deep Camp Dutch Oven
The Deep Camp Dutch Oven by Lodge has a design more similar to one of the original Dutch oven styles (perfected in colonial America by none other than Paul Revere). 
Lodge's Deep Camp Dutch Oven is pre-seasoned with 100% pure soy-based vegetable oil so it imparts greater flavor with each use (just don't use soaps or chemicals to wash the pan). This product is designed for outdoor use, so it's ideal for camping and backyard bonfires. It can be used on a grill top or directly in the fire. This cast iron vessel has three stable feet, a bail handle (for hanging over a fire, if in a fire isn't ideal for you), and also comes with a cookbook.
The Deep Camp Dutch Oven has garnered almost five stars from almost 5,000 reviews on Amazon, and ranks No. 7 in Dutch ovens. You can make your purchase for about $80 on Amazon. 
Best stainless steel Dutch oven: Tramontina Stainless Steel Dutch Oven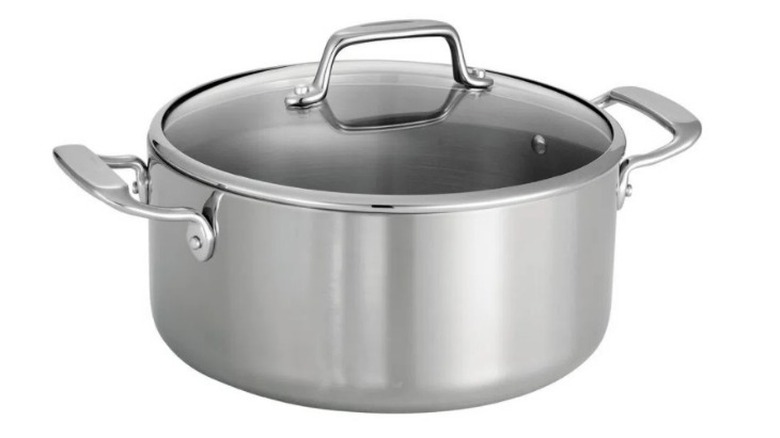 Tramontina
The Tramontina Stainless Steel Dutch Oven wins the spot for best stainless steel option based on its versatility (it can also be used as a stockpot, works in the oven, and on gas, electric, and induction ranges) and it's weight, affordability, and how easy it is to clean. 
Normally, the words "stainless steel" and "easy to clean" aren't paired together in the same sentence. This is because stainless steel is notoriously difficult to clean (via OvenSpot). However, one unique feature noted in an Amazon review is that the bottom of the Dutch oven is extra thick and composed of three different layers which helps prevent food from getting burnt or baked onto the surface. They're also incredibly durable and long-lasting — a different reviewer commented that they've had theirs for 16 years. 
The Tramontina Stainless Steel Dutch Oven holds five quarts and is rated No. 2 on Amazon (for stockpots) with over 2,870 reviewers giving it an average 4.5 rating. Over at Wayfair, customers give it a 4.8 on the satisfaction scale. 
This steel Dutch oven retails at around $80 on Amazon, making it an affordable option for budget buyers looking for a stainless steel pot.
Best tagine-style Dutch oven: Bruntmor Cast Iron Tagine
If you're a diehard foodie who likes trying different styles of cooking, then the Bruntmor Cast Iron Tagine is beckoning you with its brilliance. For those who aren't quite sure what this is, a tagine is both a dish and a cooking vessel from North Africa, with the vessel functioning as the Moroccan equivalent of a Dutch oven. Eater notes that the more traditional tagine pots are either glazed or unglazed clay, but clay cookware can be trickier to use and easily broken (via Nicer Abode). 
The good news is, the clay tagine isn't the only option available. The Bruntmor Cast Iron Tagine is the go-to choice for a not-so-typical Dutch oven experience because it's durable and easy to clean. It can also be used on all types of cooking ranges as well as in the oven. DontWasteYourMoney.com gives it a 9 out of 10 with over 230 reviews (their expert reviewer gave it an 8), with a first-place ranking out of 13 tanginess. Amazon rates it 4.6 out of 5, with over 75% of customers giving it 5-star reviews.
You can purchase the Bruntmor Cast Iron Tagine starting at $70 on Amazon.
Best Dutch oven splurge: Staub Enameled Cast Iron Round Dutch Oven
Staub's Cast Iron Round Dutch Oven is pretty pricey, surpassing even Le Creuset (which says a lot). It's most definitely an investment piece, but it's worth every penny. What sets this Dutch oven apart from the others — besides the interchangeable piggy knob — is the slightly porous interior that becomes infused with cooking oils over time, building up a non-stick surface that's better for searing foods. The brand also has a special feature in their lids that allows the pent-up steam and juices to drip from the top, continually basting the food while it cooks, allowing for a more flavorful and moist result (via Everten).
OvenSpot reports that Staub currently has 11 different colors to choose from (though availability is dependent on the actual product and its capacity).
If you're on a budget and you balk at the thought of investing in a Dutch oven that costs as much as all of your utility bills combined, just remember that you often get what you pay for. Reviewers on Williams-Sonoma, Wayfair, Bed, Bath, and Beyond, and Amazon all give the pot a 4.8 or higher out of 5 stars. (One Amazon reviewer even states that it's "the greatest pot in the history of pots.")
Staub 's Cast Iron 6-Quart Round Dutch Oven can be purchased on Amazon starting at $345, depending on the color.
Best statement Dutch oven: Great Jones The Dutchess
Founded in 2018, Great Jones is a relatively new company in the cookware world (via TheTakeOut). The brand is inspired by foodie legend Judith Jones, who is known for editing some of the best cookbooks by Julia child, James Beard, and Edna Lewis (to name a few). According to the company's website, Judith Jones "treated her cookware like art", and that's exactly how you'll feel when you cook with one of these conversation-worthy Dutch ovens. Known as The Dutchess, (yes, that's the correct spelling), this crockery truly needs to be treated like nobility and shown off to the world (not tucked away in a cupboard somewhere).
While The Dutchess is only available in one size (6.75 quarts), the seven fun food-themed colors (like blueberry, broccoli, and marinara) should make up for the limited sizing. This artsy crock pot is priced middle-tier, but is still considered very affordable in the world of Dutch ovens. According to Prudent Reviews, Great Jones is able to keep their pricing low because they only sell through their website (which eliminates the middle man).
This colorful cast-iron enameled cookware melds modern art with vintage '70s aesthetics. It rates a 4.6 out of 5 stars on the Great Jones website and also received good reviews by independent reviewers on BestProducts and Kitchn. 
The Dutchess is perfect for those who want their food to be the center of attention, and can be purchased for $160 at Great Jones website.
Best electric Dutch oven: Instant Pot Electric Precision Dutch Oven
Maybe setting a timer and babysitting your oven isn't your favorite part about cooking — after all, there are so many more important things to do with your time. If you tend to lean more towards low-maintenance cooking devices (but still like the idea of a one-pot dinner), then the Electric Precision Dutch Oven by Instant is going to be your new best friend in the kitchen. This fully automated electric Dutch oven not only braises, sears, sautés, and acts as a slow-cooker, but it also includes a manual mode for those moments you feel inspired to, you know, focus on your cooking.
Instant's Electric Precision Dutch Oven comes highly recommended by Food Network because it's actually two cooking tools in one. It functions not only as an electric Dutch oven (heated with the electric base), but the cast-iron pan that sits on top of the base can be used just like any other Dutch oven. This cooker comes in three different color options (red, black, and blue) and has a 6-quart capacity. Instant's Electric Precision Dutch Oven is rated 4.7 on Amazon and 4.9 on Williams Sonoma.
Instant's electric Dutch Oven costs $230 on Amazon, but when you get a two-in-one and all the bells and whistles (and none of that "oops, I accidentally burnt dinner" smell), it's totally worth it.