There's Finally A Bubble Tea That Might Be Healthier Than Boba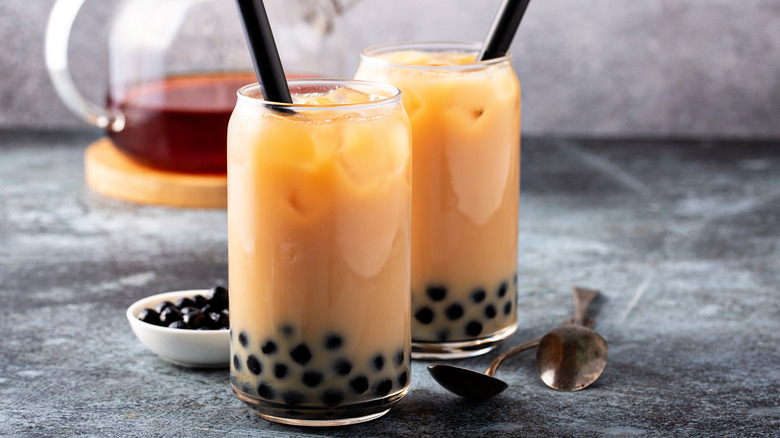 Elena Veselova/Shutterstock
Boba, or bubble tea, isn't a new pop culture phenomenon but it has seen skyrocketing popularity in recent years. Stores are opening across the world, including near schools, shopping malls, and town centers. According to CNET, the boba market is expected to grow to $3.4 billion by 2027.
And with boba's surge in popularity comes a rising interest in how to make homemade versions of it. Recipes have surfaced on the internet, and typically include two parts — the brewing of the tea and the creation of the tapioca pearls. The tea can come in a variety of different flavors, such as brown sugar and matcha.
While making your own bubble tea saves you a good amount of money, it also gives you more control of the ingredients going into the beverage. According to Mind Over Munch, store-bought boba can contain lots of sugars. But for those who don't have the time or access to ingredients, there is now a new healthier product on the market that will satisfy the boba craving.
BUBLUV drinks use a different boba recipe
Founder Diana Ark Chen of BUBLUV has loved boba from a young age, but as she became more health-conscious growing up, she wanted to design a version of her favorite drink with that in mind (via BUBLUV).
Chen announced on April 20, 2022, that her food startup had launched three flavors of low-calorie bubble tea that people can buy in bulk (via LinkedIn). These drinks are 50 calories or less and the flavors are Black Milk Tea, Matcha Soy Latte, and Passionfruit Oolong Guava. Each of these three variations comes with tapioca pearls. These bubbles are particularly special because they are a mixture of tapioca and konjac, which is a root vegetable that is known to be low in carbs (via The Low Carb Grocery). It will also give the pearls a texture more similar to jelly.
Not only are these drinks low-calorie, but they also include health benefits with antioxidants like Vitamin C, according to a press release from the company. WebMD states that boba typically contains few health benefits, so this new product is definitely revolutionary because the brand focuses on maximizing that in its drinks.