Taco Bell's New Luggage Collection Is Fire - Literally
With the weather starting to warm up, many people are daydreaming about summer vacations. And while relaxing on a warm beach may already sound pretty good, Taco Bell has just the thing to make this year's vacation hotter than ever. The fast food chain announced they will be collaborating with the travel accessory company CALPAK to launch a brand-new luggage collection inspired by their favorite hot sauces.
This new collection will feature four custom-made pieces that Tracee Larocca, Taco Bell's head of brand creative, hopes "inspires our fans to 'Live Más' wherever they are, or are going, in the world" (via Food & Wine). The collection features compact carry-on and duffel bags that meet TSA's requirements while still making a statement with spicy designs inspired by Taco Bell's iconic hot sauce packets. Fans of the chain will find it easy to show off their love for the brand with one of these pieces, or super fans might opt for the full set of spicy luggage for the whole family.
Taco Bell's new collection features four fiery bags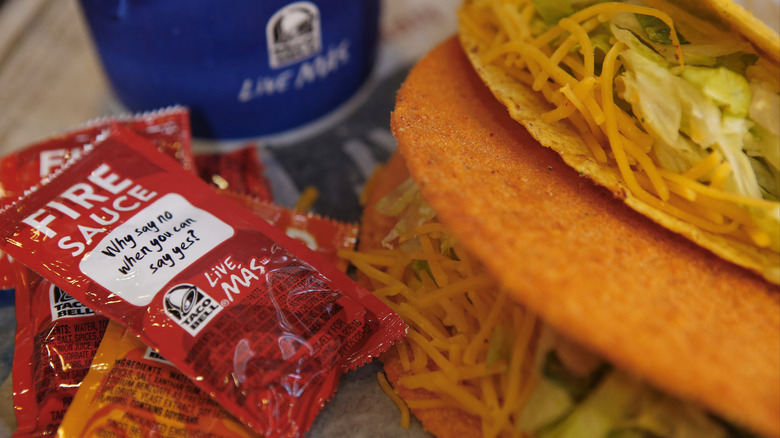 Bloomberg/Getty Images
Taco Bell's newest merch collection features four heat-bringing bags. There's the Fire! carry-on suitcase; a Hot! duffel bag; the Diablo! cross-body bag; and a Mild! five-piece packing cube set. The rolling Fire! suitcase makes it easy for travelers to transition from hotel to plane with a zippered front pocket, removable zippered pouch, and secure lock, according to Taco Bell. The lightweight Hot! duffel bag also makes it easy for busy travelers to store all of their necessities on-the-go with a luggage sleeve, removable pouch, and interior mesh pockets, while those who are looking for a smaller carry-on might want to try the Diablo! bag with adjustable, cross-body straps and zippered pockets. Finally, the Mild! five-piece packing cube set makes it easy to stay organized while traveling with one large, one medium, and two small travel pouches that are ideal for safely storing travel essentials.
These spicy luggage pieces are set to drop on April 26, but Taco Bell Fire Tier Rewards members will be able to score early access starting on April 23, per Food & Wine. CALPAK's own VITs (Very Important Travelers) will also be able to snag their favorite bags one day early, on April 25. The collection will be available for purchase via Taco Bell's online Taco Shop or the CALPAK website.