Whataburger Just Dropped A New Spicy Chicken Biscuit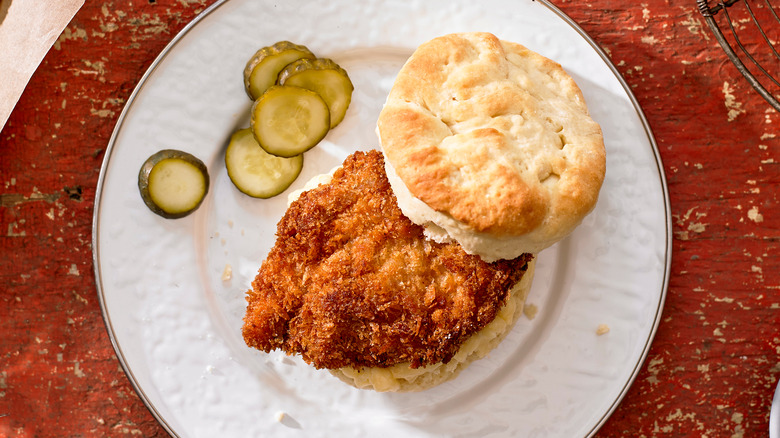 Michael Kraus/Shutterstock
The fight over who has the best fast food chicken biscuit has almost reached the intensity of the fried chicken sandwich wars. According to Insider, one reviewer tried these offerings from McDonald's, Wendy's, and Chick-fil-A, and decided that the chicken biscuit from Chick-fil-A ranked supreme when it came down to taste, texture, and look. While the reviewer found Chick-fil-A's offering superior out of the offerings, It's a Southern Thing disagreed, ranking the chicken chain's biscuit as one of the lesser versions of the meal out there. Instead, the reviewer named Whataburger's chicken biscuit as the best item out there.
Other fans tend to agree. Wide Open Eats found that the Whataburger chicken biscuit dominated Wendy's Honey Chicken Biscuit when it came to a taste test. Whataburger now plans to ride the wave of popularity with their latest chicken biscuit offering and it has the potential to spice up diners' mornings.
A new look for Whataburger's breakfast menu
According to Chewboom, Whataburger now offers a Spicy Honey Butter Chicken Biscuit for anyone looking to add an extra kick of heat into their morning commute. The new item plays with the Whataburger chicken biscuit formula by serving up fried chicken strips topped with spicy honey butter in between two halves of a buttermilk biscuit. The item generally goes for $2.79, but varies based on location, and additionally comes as a meal with coffee and hash brown sticks for $4.89.
While Whataburger struck gold with their original chicken biscuit, the new take won't last long. The chain only plans to keep it on menus for a limited time and diners can only pick it up between 11 PM and 11 AM. San Antonio Culture Map reports that the new biscuit joins two other sandwich offerings, in addition to a Dr. Pepper shake. The chain assures diners that the new spicy biscuit has the potential to get patrons excited about their chicken again and it has the potential to keep the argument going over which fast food establishment offers the best fried chicken biscuit.