Why Hilarie Burton And Jeffrey Dean Morgan Just Launched A New Drinks Line
Hilarie Burton recently shared a highly unique birthday nod for husband, Jeffrey Dean Morgan. On April 22, the couple announced the launch of their new line of alcoholic beverages. Talk about a fun and innovative way to celebrate another revolution around the sun, toasting with your very own beverage!
Burton posted on Instagram, "It is my love @jeffreydeanmorgan's BIRTHDAY!!! And so we are throwing a mass party by officially launching @mflibations for sale TODAY on @reservebarspirits! That way our brand and our boy will always have the same birthday and we'll always have a way to celebrate together!" 
Burton further said of the brand, called MF Libations, "We have loved and appreciated seeing all of your support for this special brand and we can't wait for all of you to make your own mischievous concoctions with MF Blackberry Gin and MF Bonfire Rye! Send over your cocktail recipes for us to stir up late-night by the fire and we will be sharing some of our favorite recipes very soon."
Jeffrey Dean Morgan's ReserveBar Spirits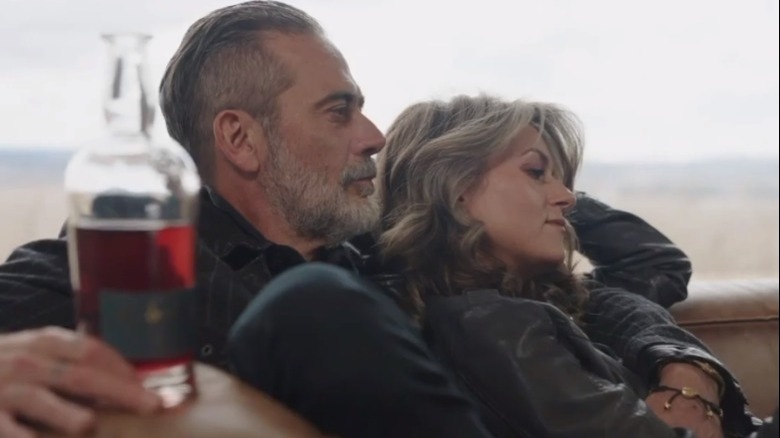 New Africa/Shutterstock
The MF in MF Libations refers to the couple's Mischief Farm, and the Blackberry Gin is said to be inspired by "a taste of Hilarie's own garden," according to the official website. Using a base of Tod & Vixen's Dry Gin 1651, the liquor steeps blackberries in the base for 24 hours. Other botanicals added to the mix include red Rooibos tea, bitter orange peel, juniper berries, coriander seed, angelica root, and fresh orange peel. Makrut lime leaves and orris root balance out these complex flavors. 
The other bottled option, the MF Bonfire Rye is inspired by Morgan's own love of drinking by the fire (a toast we hope he enjoyed for his birthday too!). This 2-year-old rye whiskey is steeped in Lapsang Souchong Tea for 30 minutes to add a unique and smoky flavor.
Both the MF gin and rye are available online at ReserveBar, and distribution is being added to soon to more places. Prices listed for preorder online are $39 for the gin and $47 for the rye, or $86 for a bottle of each. Shares Burton on Insta, "If there is anything we have learned from our partners @thevalefox, it's that liquor is complicated so if you don't see availability in your area yet, please know we are working on it and we will keep you posted!"