Here's How To Get Paid To Eat Tacos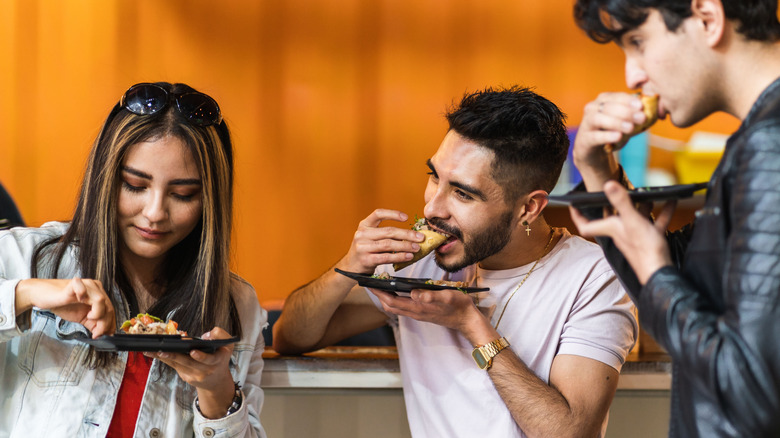 Eduardo Rgz/Shutterstock
Getting paid to eat sounds like a dream come true. And truth be told, some folks have found ways to actually monetize their meal times — whether they work as food critics, food bloggers, or even competitive eaters. Some people are even get paid to simply eat food on live streams, per Love Food. If you want to eat a particular kind of food, the options for monetization might slim down, but it's not impossible. Back in 2021, McCormick even wanted to pay some lucky diners $100,000 to eat tacos, per Delish.
As expected, the competition requirements looked stiff — anyone interested had to send in a self-made video showing off their personality and why they loved eating tacos, along with supplying a cover letter and résumé. This Director of Taco Relations position dished out some serious money, though not everyone could make the cut.
Now, a new opportunity has recently been announced, and while this taco position doesn't quite pay out the $100,000 that McCormick was offering, anyone who gets the new position can look forward to raking in some serious cash while enjoying this Mexican culinary staple.
A Tex-Mex dream job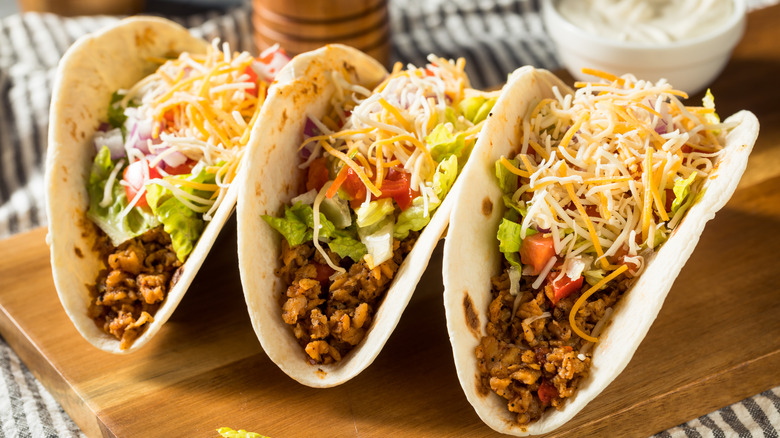 Brent Hofacker/Shutterstock
According to CNN, A Texan food delivery company called Favor wants to hire a Chief Taco Officer that comes with an equally tempting $10,000 salary for two months of work. The chosen employee gets to drive across Texas in June and July and stay in various towns across the state, eating meals consisting exclusively of tacos. The chosen Chief Taco Officer will get free accommodations, transportation, and food from the company for a year, all for documenting their journey. Anyone who has ever dreamed of getting paid for eating a ton of tacos just needs to apply on the Favor website and submit a video explaining why they're perfect for the position.
Newsweek reports that the perfect candidate needs to showcase a strong appetite, the ability to easily navigate social media, and keep their energy levels high. Those who apply for the job don't need to have any form of previous experience, but they need to be a resident of Texas and be over the age of 21. The deadline for this taco-centric job expires May 12, meaning there is still a bit of time to decide if you want to pursue a career change and chase tacos through the Lone Star state for a five-figure salary. You might not get paid $100,000 to try these tacos, but if you always wanted to get paid for eating, your time may have finally arrived to put your love of tacos to good use.