The Problem Costco Shoppers Have With Its Caesar Salad Kits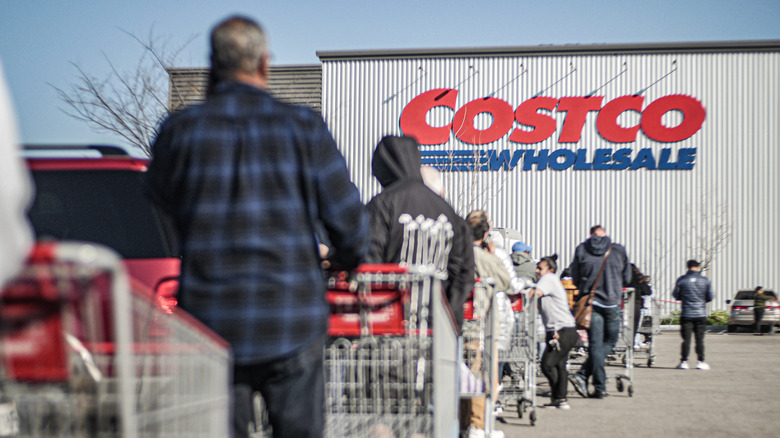 William James Herath/Shutterstock
The Costco Subreddit is home to posts in which members show off random Costco buys out of appreciation for the store. For example, on April 23, one member shared their Organic Caesar Salad Kit. "The happy living Caesar salad kit is seriously so good," they stated in the title. In the hurly-burly of comments, the OP explained the reasons for their love: "The romaine leaves are so crunchy and crisp and DELICIOUS. They also add in a seasoning packet which most salad kits don't have." That person really can't get enough, going so far as to write, "Stuff is seriously like crack."
Others chimed in about the merits of the seasoning pack. "I wish I could buy it on its own," one wistfully wrote. "I would put that stuff on everything." "The seasoning packet is *insert an emoji gesture indicating the unspeakable fineness of the product here*" another agreed. "I'm convinced the packet is the magic," a third stated.
Outside of the apparent amazingness of the Caesar salad's seasoning pack, a fourth suggested adding the meat from Costco's rotisserie chicken and some thick Kirkland bacon. When mixed together, they explained, "It's almost a meal." Evidently, the ready-made salad kit is held in high regard. However, there is one thing about it that fans aren't fond of.
Some Caesar salad fans 'can't justify the cost'
Despite the fulsome praise dropped upon the Happy Living Organic Caesar Salad kit, there is a lot of protest as well. "Don't mind the haters," one person wrote on Reddit. "This salad is delicious." "Don't mind the haters," another wrote. "I haven't tried the Caesar salad kit, but we buy the chopped dill salad kits in bulk." The mentioned haters are those who think that the price for a bag of chopped salad is too high. "Isn't it 8.99," another asked. "I can't justify the cost."
The cost does seem to be around that level. In 2019, Costcuisine covered the Kirkland pre-made Caesar salad, which had a price tag of $8.96. Similarly, in 2021, Extraordinary BBQ shared an Earthbound Farm's bagged organic Caesar salad that cost $7.99. While the products differ at least in branding, all of them are organic Caesar salads. So, Costco will probably sell a similar product for that price. "We have gotten it a few times for family things but I feel like it should be $5.99," one Redditor concluded.
The alternative is to take advantage of the fact that Costco also sells all the ingredients for a Caesar salad at cheap prices. Moreover, if, for example, you buy sourdough bread, you can both slice them for croutons and use it for you daily bread needs. However, such a solution leaves one major problem. When one comment offered a list of Caesar salad ingredients, one salad devotee asked, "What about the seasoning packet?"