Classic Buttercream Frosting Recipe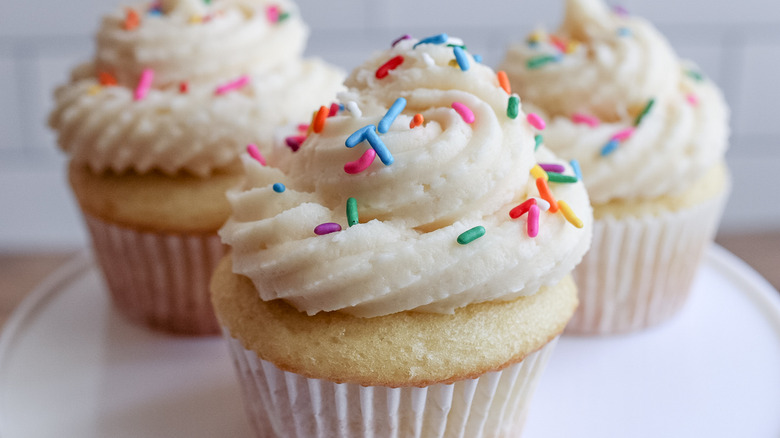 Jessica Morone/Mashed
The perfect buttercream frosting is always a welcome sight in our kitchen. It is a fundamental component of some of the best baked goods, and having a reliable recipe on hand means that you can whip up your favorite treats whenever the craving strikes. Recipe developer Jessica Morone of Jess Loves Baking is always experimenting with sweet treats, and a classic buttercream frosting is often the finishing touch that ties them all together. 
"This is kind of a simple buttercream recipe, so I don't recommend changing it up too much," Morone notes. Instead, why not use this perennial favorite on a new baked good you're testing out? Morone's recipe ups the vanilla flavor with added extract. "It almost tastes like vanilla ice cream," she says, "which I just love." We suspect you will, too.
You'll only need a handful of baking staples for this recipe — and just a few minutes to beat this frosting together. 
Gather the ingredients for this classic buttercream frosting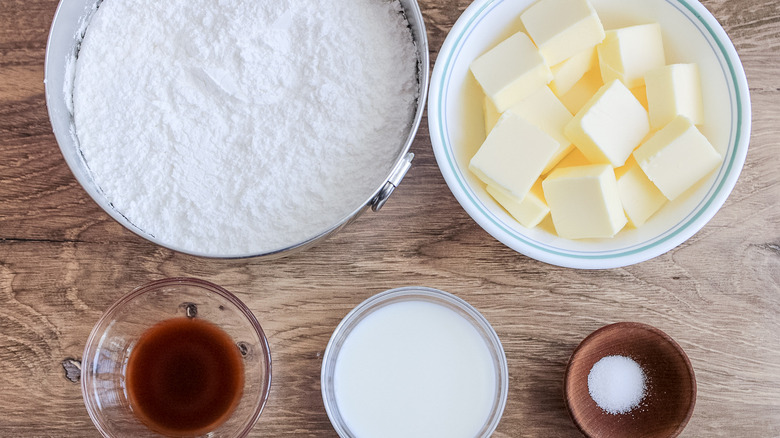 Jessica Morone/Mashed
A total of five ingredients are required, and if you like to bake, then you probably have them on hand already. You'll need unsalted butter (softened), confectioners' sugar (aka powdered or icing sugar), vanilla extract, whole milk, and salt. Morone points out that "it's better to use unsalted butter so you can control the amount of salt in the recipe," though if salted butter is all you have, go ahead and use it; simply omit the added salt. As for the confectioners' sugar, there's no need to sift it before use, according to Morone. 
Be sure to have everything measured out before starting, as you will be adding the ingredients in quick succession. 
Beat the butter in a bowl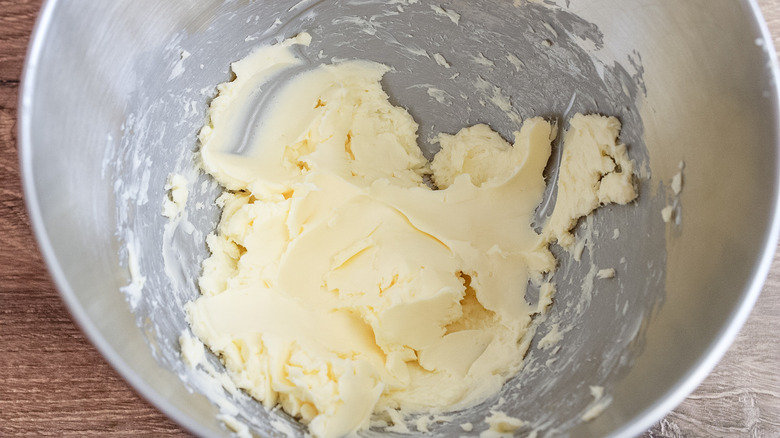 Jessica Morone/Mashed
Place 1 cup (that's 2 sticks) of butter into the bowl of a stand mixer and beat it on medium speed until the consistency becomes soft and creamy. This should take about 2 minutes to reach the right texture. If you don't have a stand mixer, using a mixing bowl and an electric mixer will work well, too.
Incorporate the remaining ingredients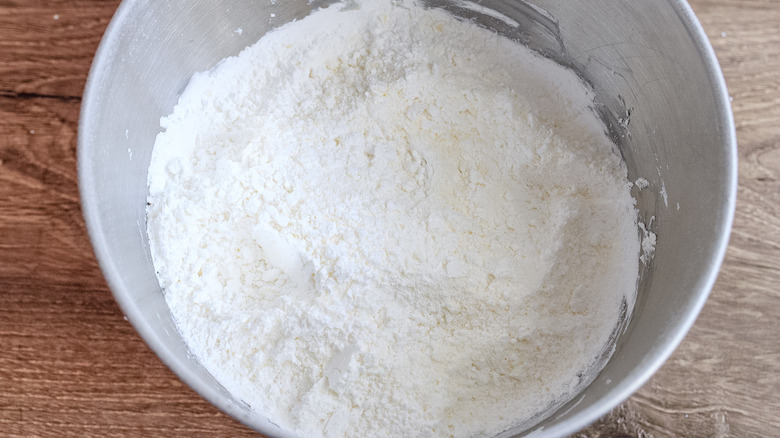 Jessica Morone/Mashed
Next, pour in 4 cups of confectioners' sugar and beat it with the butter until the two are combined. You may need to scrape down the sides with a spatula to catch and incorporate the excess spatter. Then add ¼ cup of whole milk, 1 tablespoon of vanilla extract, and ¼ teaspoon of salt. Beat the ingredients on medium-high speed for around 2 minutes, until the frosting reaches the consistency you're aiming for. "The perfect texture will be light and fluffy; it will be creamy and easy to spread," Morone says.
Adjust the consistency if needed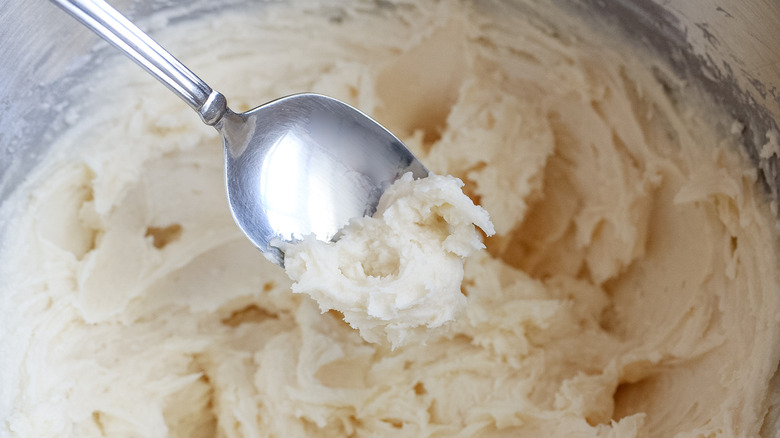 Jessica Morone/Mashed
In case the texture of the frosting is too thick or too thin, there's an easy fix. In order to thin it out, add 1 tablespoon of milk at a time as you beat the mixture. If you want to thicken it up, add more confectioners' sugar little by little until you are satisfied. 
Use the buttercream frosting as desired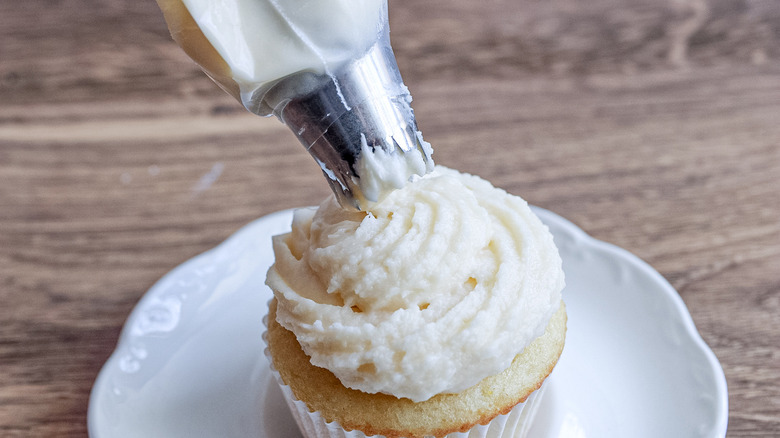 Jessica Morone/Mashed
Clearly, spooning buttercream frosting directly into your mouth is a tempting option. That said, there are countless ways to add it to your baked goods. Pipe some frosting over a batch of cupcakes or spread it over a cake. Or, Morone suggests, "You could also use it for French macaron filling or to make cookie sandwiches."
If not using the buttercream immediately, you can refrigerate it for up to a week. When you are ready to use it, Morone notes that "you will want to let it get to room temperature before spreading it or piping it, otherwise it will be very stiff."
Classic Buttercream Frosting Recipe
Every baker needs a solid vanilla buttercream recipe in their back pocket. This one is sure to do the trick, taking all of your baked goods to the next level.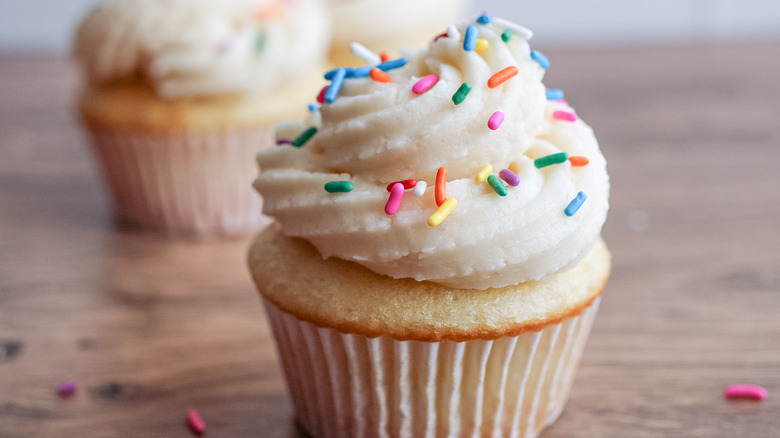 Ingredients
1 cup unsalted butter, softened
4 cups confectioners' sugar
¼ cup whole milk
1 tablespoon vanilla extract
¼ teaspoon salt
Directions
Add the butter to the bowl of a stand mixer or a large mixing bowl. Using either the paddle attachment of the stand mixer or a handheld electric mixer, beat the butter until it is soft and creamy, about 2 minutes.
Slowly add in the confectioners' sugar until combined, scraping down the sides of the bowl with a spatula as necessary.
Add the milk, vanilla extract, and salt to the bowl. Beat on medium-high speed for another 2 minutes, or until the desired consistency is achieved.
If the frosting is too thin, add more confectioners' sugar. If it is too thick, then add milk, 1 tablespoon at a time.
Use the frosting immediately or store in the refrigerator for up to 1 week.
Nutrition
| | |
| --- | --- |
| Calories per Serving | 297 |
| Total Fat | 15.5 g |
| Saturated Fat | 9.8 g |
| Trans Fat | 0.6 g |
| Cholesterol | 41.2 mg |
| | |
| --- | --- |
| Total Carbohydrates | 40.3 g |
| Dietary Fiber | 0.0 g |
| Total Sugars | 39.5 g |
| Sodium | 53.6 mg |
| Protein | 0.3 g |