The McDonald's Meal Jennifer Lawrence Ate On The Way To The Oscars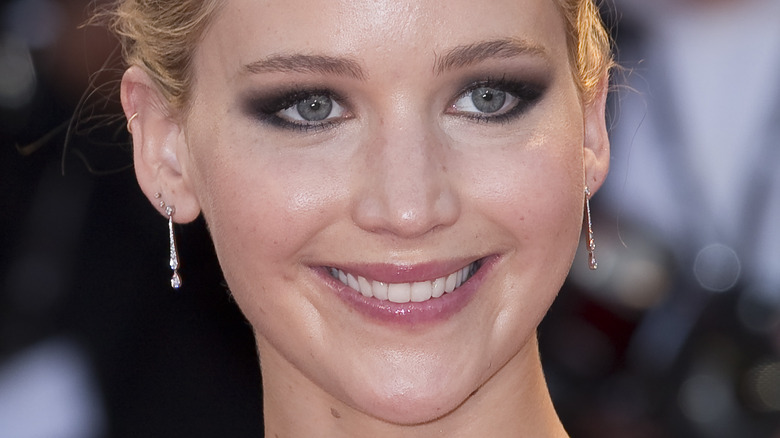 Bakounine/Shutterstock
After starring as the fierce and relentless Katniss Everdeen in "The Hunger Games" franchise, Jennifer Lawrence skyrocketed to global stardom. The talented actress famously dropped out of middle school to pursue acting, moving to Manhattan with her brother at the age of 14. In an interview with 60 minutes, the Kentucky-native recounted the moment her parents said goodbye and left the city (via Hello Giggles). "My brother turns to me and goes, 'We're gonna die,'" she shared. But Lawrence is proof that trusting your instincts can pay off in the end. Not only was Lawrence the highest paid actress in the world for two consecutive years, as noted by E!, but she also earned an Academy Award for best actress at the mere age of 22 (via Yard Barker).
Despite all of her fame and success, Lawrence is notoriously down to earth. One of her favorite things to talk about in an interview? Her love affair with food. While there are things that Lawrence won't talk about in interviews, food certainly isn't one of them. Whether she's discussing cake balls, pizza, or Mentos, the "Red Sparrow" star is one of many celebrities with bizarre food habits, and constantly has food on the brain (via Bustle). Even as she was rushing to make it to the 85th Academy Awards, she still managed to make time for McDonald's (via MTV).
Jennifer Lawrence ate McDonald's and won an Oscar on the same night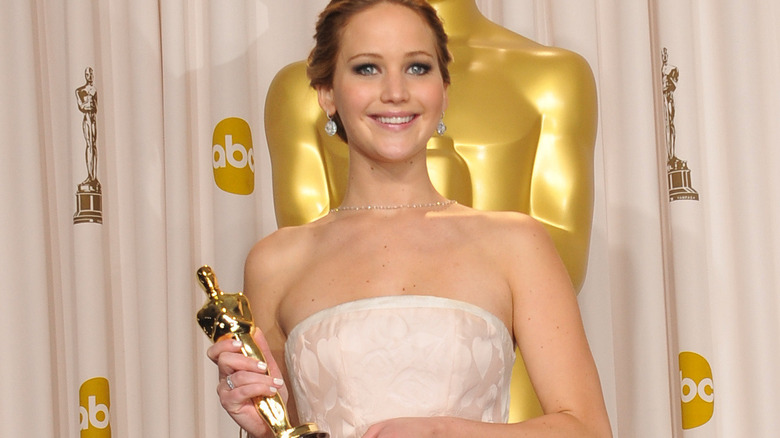 Ga Fullner/Shutterstock
Most Jennifer Lawrence fans know that she won an Academy Award for best actress in 2013. Many people also know about the iconic moment she tripped on the stairs as she went to collect her Oscar. As USA Today puts it, "it was the fall seen 'round the world." However, less people know about the meal that the "Don't Look Up" actress ate on her way to the award ceremony.
"I forgot to eat because I was stressed trying to leave the house, and I got in the car and I was starving," Lawrence shared with interviewers Josh Horowitz and Jannell Snowden (via MTV). "The ceremony is four hours long. I got in the car and could see the McDonald's right there, so..." For once, it seems like food must have slipped the actress's mind. But that's the beauty of McDonald's — it's always there when you truly need it!
Lawrence gave her publicist specific instructions about what type of meal she wanted and where she was going to eat it: "I'll eat it in the bathroom. Just get me a freaking Happy Meal!" Lawrence recalled jokingly telling her publicist (via The Hollywood Reporter). While she may have fallen on the stairs, thankfully, the actress avoided getting ketchup stains on her pale pink Dior Haute Couture dress!