Heinz's Latest Product Aims To Take Burger-Eating To The Next Level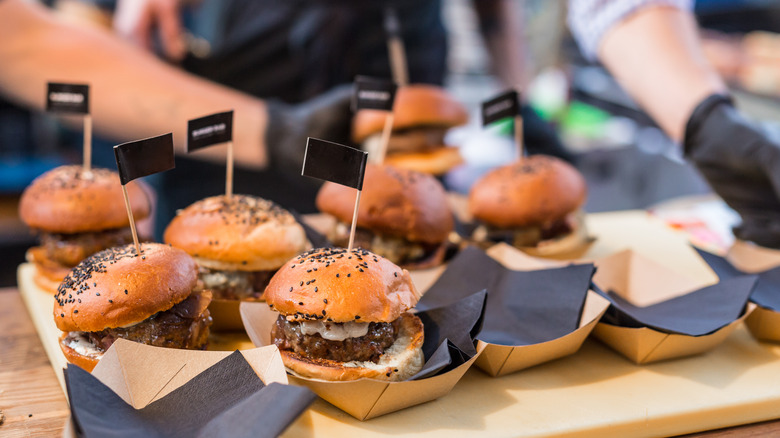 Matej Kastelic/Shutterstock
When it comes to crafting the perfect burger, some of America's top chefs agree that certain factors make a huge difference. According to Eater, some of the top burger authorities in the U.S. believe that you should source quality beef and properly season your patty, cook your burger in a way that preserves its juiciness, and serve it with the right meat-to-bun ratio — plus, don't forget those fresh and interesting toppings!
Trying to pair the best add-ons with your burger can prove trickier than expected. The Pioneer Woman favors quite a few different toppings, from bacon and barbecue sauce to green chiles and even grilled pineapple. Meanwhile, Thrillist ranked a number of classic burger extras and found that cheese, onions, and condiments (in general) reigned supreme. While most aficionados concur that sauces can enhance the burger-eating experience, selecting the right ones depends on your sandwich stylings. You could go for ranch or thousand island dressing, or stick with classic mustard and ketchup. Condiment giant Heinz is no stranger to the sauce game, and now a new product aims to add both taste and texture to your sandwiches.
A new way to add flavor and texture to your burger
According to Businesswire, Heinz recently released a product that sauces up your burger and then adds a crispy crunch to every bite. Called Heinz Dip & Crunch, the duo of accouterments features a container of "secret sauce" and a container of crunchy fried potato bits. The suggested method for use seems to be dunking your burger into the ramekin of sauce made from "tomato puree, molasses, sun-dried tomatoes, garlic powder, tamarind concentrate, onion powder and spices," and then dipping your condiment-coated buns in the potato chips for a boost of flavor and mouthfeel. The brand even plans to release a spicy version of the same dipping sauce for those who want an additional hit of peppery heat.
Diners on the West Coast may have seen a similar item piloted at Jack in the Box locations, and this is no coincidence. Heinz partnered with the fast food chain to pilot the product, and thanks to some solid positive customer feedback, the condiment company decided to go forward with an official launch. Shoppers can now get this dip set at Walmart, Meijer, Target, and Giant stores, though it remains to be seen whether home cooks will take to Heinz's vision of dipping and crunching.