How Does Ina Garten Fit Into The 'Coastal Grandmother' TikTok Aesthetic?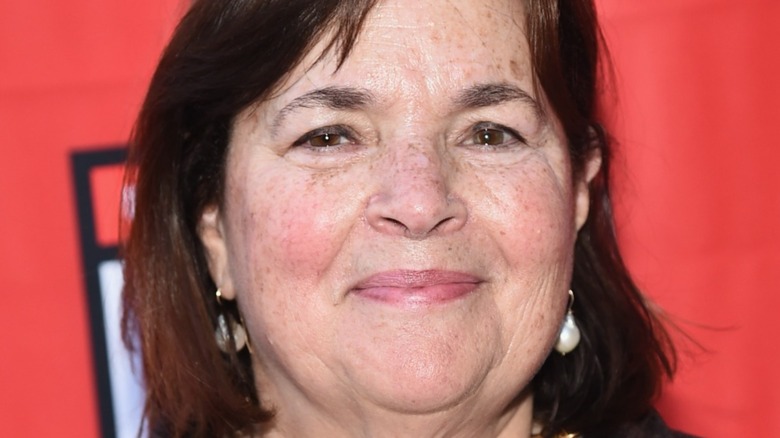 Michael Loccisano/Getty
The year is 2003, the movie is "Something's Gotta Give," and the setting is a beach house in the Hamptons, where Diane Keaton is taking refuge from a sudden rainstorm. Her off-white turtleneck and matching linen pants are retired for a robe (also linen), which she wears by candlelight while cooking a pan of post-coital scrambled eggs. "I love this bistro called The Grand Colbert. It's right behind the Palais-Royal," she tells her lover, Jack Nicholson, when he asks about her favorite place to eat in Paris. What we have here is a prime example of the "coastal grandmother" aesthetic, the latest hyper-specific trend currently taking over TikTok. 
The look — or lifestyle, more accurately — has replaced the "e-girl" trend of 2021, according to BuzzFeed, which turns to "coastal grandmother" progenitor Lex Nicoleta for a breakdown of the aesthetic's core elements, as seen in the user's viral TikTok video. According to Nicoleta, anyone who likes "Nancy Meyers movies, coastal vibes, recipes and cooking, Ina Garten, cozy interiors, and more" might be a coastal grandma, regardless of age. Per that fourth mention, let's look at the Barefoot Contessa's style to see how she fits into the aesthetic. 
Ina Garten checks a lot of boxes, but maybe not all of them
Despite naming Ina Garten as an interest of the "coastal grandmother," Lex Nicoleta specifies in a later TikTok video that the Food Network star herself isn't necessarily the pinnacle of the aesthetic. "Coastal grandmother is Martha Stewart-adjacent, not fully Ina Garten," she explains. "Think Nancy Meyers chic," she says, listing the aforementioned Diane Keaton vehicle and the Meryl Streep comedy "It's Complicated" as examples. "It's the Hamptons," she continues. "It's a light white sweater even though it's the middle of summer. It's a five-karat diamond ring passed down from your great-great-grandmother."
Ina Garten checks quite a few boxes on Nicoleta's list. Firstly, she famously owns a renovated barn in the Hamptons that's been featured in countless episodes of her nominal cooking show, "Barefoot Contessa." The estate itself is the perfect dwelling for a "coastal grandmother," complete with a massive garden that often plays host to dinner parties, a fridge stocked with endless farmer's market provisions for impromptu midnight breakfasts (we're guessing), and (very likely) a linen closet stacked with gloriously soft sheets. 
One could also look to Garten's wardrobe — it seems largely composed of airy button-ups, neck scarves, and floppy sun hats — for her likeness to the aesthetic. We're racking our brains, but if Ina Garten falls short of being a "coastal grandmother," we imagine it's because she has yet to star in a Nancy Meyers movie.