The Best Steak 'N Shake Menu Item According To Nearly 31% Of People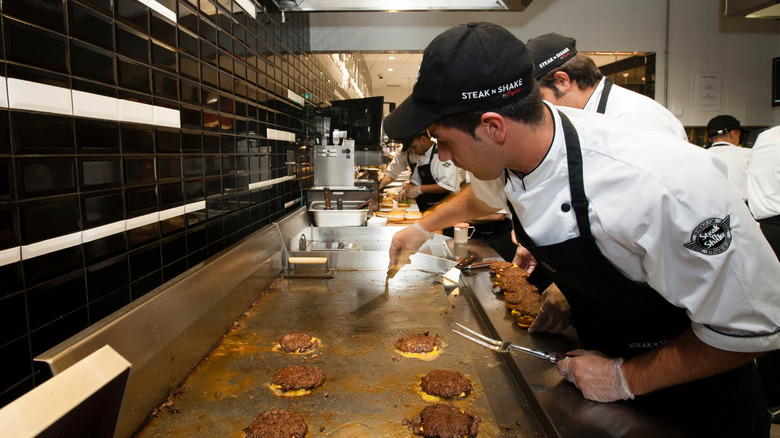 Andre Roque Almeida/Shutterstock
The Steak 'n Shake menu has evolved over the years, and diners constantly find something new to love at the restaurant. Back in 2019, the chain's Wisconsin Buttery Steakburger, The Original Double 'n Cheese Steakburger, and the White Truffle Prime Steakburger topped a list of the chain's options, per Thrillist. Times continue to change and items like the brand's Bacon Cheese Fries and Patty Melt climbed up the rankings (via Restaurant Clicks). According to Ranker, many diners rally around various takes on their fries, with the original Thin 'n Crispy variety winning over the most hearts.
After going through a handful of menu changes, diners now resoundingly have a preferred menu item when they visit Steak 'n Shake. Mashed asked 594 individuals across the U.S. and narrowed down exactly which sandwiches, sides, and other menu items rank supreme. Some items scored lower — only 7.58% of respondents said the Chili 5-way was the best, and 7.74% of folks preferred the Butter Steakburger. With these items out of the way, a few entrées mostly split diners' attention with the exception of one sandwich that won over almost a third of respondents.
The most preferred item at Steak 'n Shake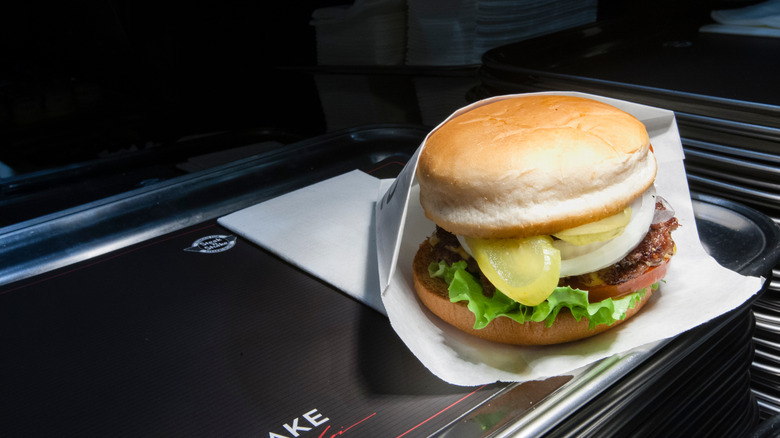 Andre Roque Almeida/Shutterstock
While the poll showed that only 9.60% of respondents loved the Royale Steakburger the most, four particular items really split the vote. 11.62% of folks preferred the Fresco Melt, while 16.16% of the voters went for the curveball choice of Steak 'n Shake's chicken fingers. 16.50% of people opted for the Garlic Steakburger, meaning that a whopping 30.81% of polled patrons prefer the classic Double 'n Cheese Steakburger over all other items. Restaurant Clicks confirmed this finding and listed the classic burger formula that marries ketchup, mustard, mayo, lettuce, onion, and pickles together with two patties and cheese as the top option at the chain.
Fans love this product enough to even request it in the form of a frozen meal you can grab at the grocery store. Reviewers on Influenster show that shoppers loved the frozen version of this burger, and one user noted that the whole sandwich held together nicely when heated up. If you ever hit up a Steak 'n Shake and feel at a loss of what to order, take heart knowing that this particular burger might be a good place to start if you want to explore a tried and true classic.