Instagram Is Buzzing Over The Return Of Aldi's Spring Gnomes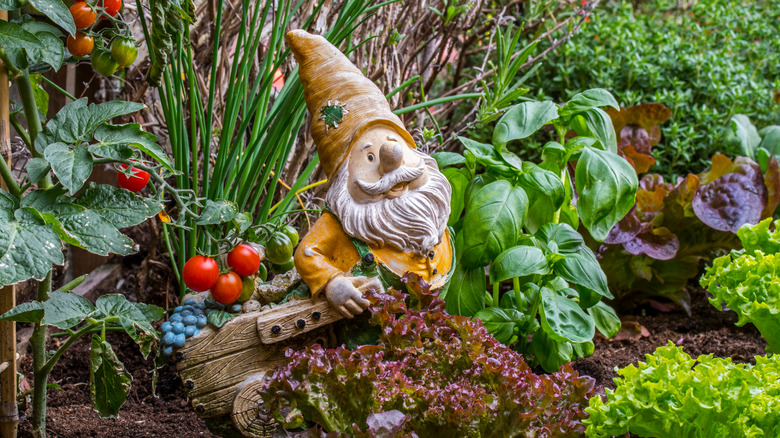 Philippe Clement/Shutterstock
If you ask the average child to draw the symbols of spring, they might show you renderings of bunnies, baby chicks, lambs, eggs, or tulips and daffodils. But if that child lives on a farm or has a Nordic heritage, they might add a few pointy-hatted gnomes to the page. It's not uncommon to see the stout, oft-bearded figurines in gardens throughout the year, but those familiar with gnomes' Scandinavian roots will know that they're also said to bring good luck to spring crops. 
The creatures grew in popularity as a spring trend in 2020, says Yahoo! News, which explains that the origin of gnomes (called "nisse" in Norway) can be found in Scandinavian folklore. "The nisse is a small, bearded nature spirit in charge of caring for farmers and their families," writes the outlet, adding that the creatures have a reputation for bringing good luck to those who display them, and that "simply having one in your home is believed to bring cleanliness and prosperity."
The discount supermarket chain Aldi is up on the trend, as they've stocked their shelves with festive plush gnomes each spring for the past couple of years. As we know from blossoming trees and allergy attacks, spring has returned to the Northern Hemisphere, and so have Aldi's gnomes. The Instagram account @aldifavoritefinds shared the news yesterday, and shoppers approve. 
The pastel-hued gnomes comes in two sizes
With a large version for $8.99 and a small version for $4.99, Aldi's returning Huntington Home Spring Gnomes are stocked above a "Here today gone tomorrow!" sign, meaning they're only available for a limited time. Many shoppers who commented on the @alidisfavoritefinds Instagram post have already hit up the gnome section at their local Aldi. 
"My boyfriend bought me the small one with the rainbow hat," said one user. "I got mine yesterday!! So cute," said another. The plush little gnomes are decidedly more cuddly than the hollow ceramic kind you'd find nestled between beds of spring vegetables, and they're sure to add a festive (and possibly lucky) air to peoples' homes. 
With Mother's Day coming up on Sunday, May 8, one user tagged a friend to suggest they buy one for their mom as a gift. Others tagged friends who appear to collect gnomes. "You obviously need more," wrote one user, for example. There's no telling how quickly these babies will sell out, so Aldi shoppers may want to make haste.