Martha Stewart's Instagram Photos Of Andre Leon Talley's Funeral Got Strong Reactions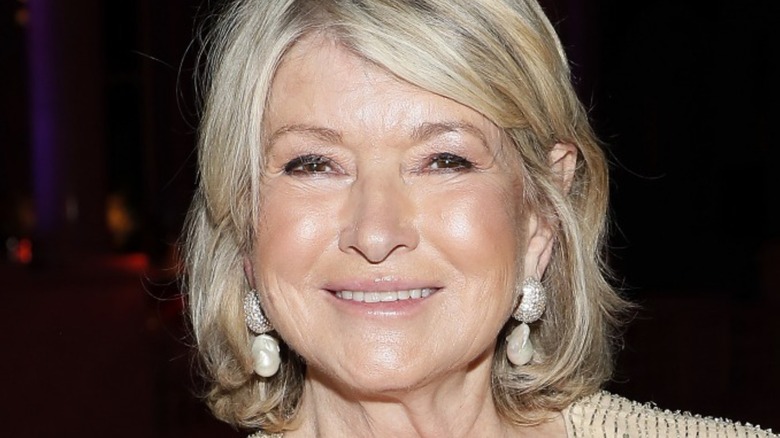 Paul Morigi/Getty
Martha Stewart was one of the many celebrities who paid tribute to the late fashion icon and Vogue legend Andre Leon Talley. He was laid to rest on April 29th in New York, according to TMZ. Among the other mourners in attendance were Anna Wintour, Naomi Campbell, Gayle King, and Marc Jacobs. Talley died in January in White Plains, NY. While Vogue reported that he died of a heart attack, TMZ wrote that no official cause has been publicized.
Stewart shared her experience on Instagram: "a moving and very appropriate memorial service for Andre Leon Talley @andretalley at the Abyssinian Baptist Church in Harlem friday. the choral music was phenomenal and the sermons enlightening." The chef and lifestyle guru further added four photos. They captured the backs of the pews where people sat, a closeup of the choir, and an even closer view of one of the rather elaborate displays of white funerary flowers.
Some fans had strong reactions, to say the least. One Instagrammer shared, for example, "Perfect send off for a legend." And while much respect is being paid to Talley, others were less enthused about Stewart's social media post. "Is nowhere sacred?" asked a detractor. "Phone in the church? Instagram really?? Martha you know better."
Is it okay to take photos at a funeral?
Beyond the Dash is a website specializing in sharing stories and honoring different lives, or dashes. A 2020 blog post by the outlet weighed in on the acceptability of taking photos at a funeral. Judging from some of the site's recommendations, Martha Stewart didn't make any of the larger photo faux pas, such as posing for a selfie or inappropriately sharing images of the deceased. But for a number of Instagram users, she crossed the line. Those who expressed upset felt that a funeral is not a time and place pics. Critics indignantly asked such questions as "Girl what? Are funeral pics now normal???" and "Who takes photos at a funeral." One seemingly shocked follower exclaimed, "Why are you taking pictures?!!!"
Beyond the Dash suggests that in general, funeral photos should be left to professional photographers. It advises that people avoid cell phone use at a funeral altogether, as a sign of respect. If someone does choose to take photos, according to the site, it's best to first ask the family.
Yet while these photos may not have been the epitome of etiquette in a number of people's minds, there were still fans who appreciated the share. Added one grateful Instagram commenter, "Thank you for posting this. Loved everything he did and stood for. A fantastic man." Another fan quipped, "If Martha's not documenting my funeral, I'm not dying."