Instagram Couldn't Believe Geoffrey Zakarian's Mile-High Lemon Meringue Pie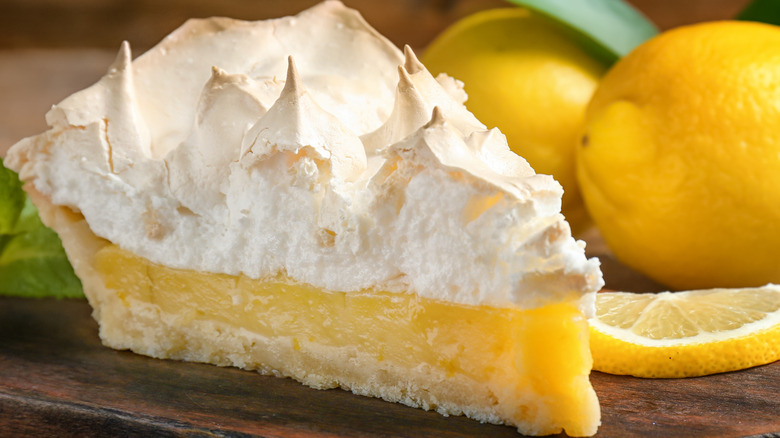 Africa Studio/Shutterstock
You may be familiar with the creamy citrus flavor of lemon meringue. Cuisine at Home states that in its most basic form, meringue is egg whites whipped with sugar. The whipping allows air into the whites to froth them up, while the sugar keeps the fluffy structure stable and sweet and causes the egg whites to balloon up to eight times their size — something expertly done at the restaurant celebrity chef Geoffrey Zakarian visited in New York.
On Instagram, Zakarian showed off an incredible slice of lemon meringue pie with a towering creamy top several times the size of the pie itself. The blooming meringue appeared to defy the laws of physics with its imposing height. The dessert was served at 4 Charles Prime Rib, an establishment bearing all the hallmarks of sophistication. According to its website, the eatery boasts plenty of traditional wooden paneling, luxurious leather seats, and crystal chandeliers. Clearly in awe of the chef's dining experience, Instagram users were very excited by the lemon meringue pie.
The pie was impressive
The incredible pie has achieved nearly 5,000 likes on Instagram, with many replies praising Geoffrey Zakarian's choice. One commenter believed the meringue was defying gravity, while another could see how it mirrored a shark's fin. The pie might even have been added as an afterthought, one person suggested, and another joked that the meringue was "over the top." "Mountainous meringue" was how one user described it, while "nothing succeeds like excess" was a particular pearl of wisdom.
Some believed the meringue's size was off-putting, with one saying it looked strange. There wasn't enough lemon for many Instagram viewers, and another wanted more chocolate. A cheeky comment wondered what a "Chopped" judge would make of the disproportionate meringue-to-pie ratio.
Before you go rushing to make a booking at 4 Charles Prime Rib you may want to consider the cost. As well as the lemon meringue pie, which is priced at $18 according to the restaurant's dessert menu, Zakarian stated that he also selected a steak. 4 Charles' dinner menu shows the cheapest steak dish is Prime Rib French Dip at $38.95, while the most expensive is the 4 Charles Cut at an impressive $144.95.