Why TJ Maxx & Marshalls Are Recalling Vegan Chocolates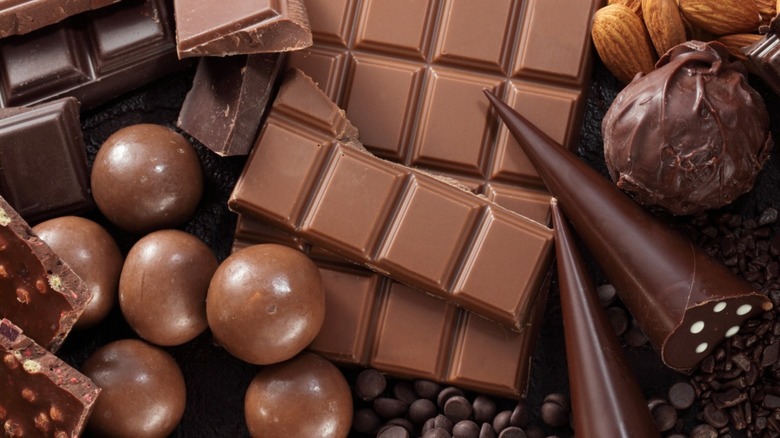 Shulevskyy Volodymyr/Shutterstock
Let's say you're a strict vegan (meat lovers, just go with it, okay?), and you're in a checkout lane at Marshalls. Now, you know how Marshalls and their affiliated stores, (e.g., T.J. Maxx, HomeGoods, etc.), like to line those lanes with hard-to-resist snacks you're nevertheless forced to resist if they're not labeled vegan? Well, not today, you think, upon spying a pretty box of "vegan" chocolates, or so you assume because they're labeled as such — the word "VEGAN" being written in an all-caps font. And that should be enough, you might think, if you're even thinking beyond the fact that you're now in possession of some delicious-looking vegan chocolate truffles, and you're just seconds away from that first bite. But, as soon as you take said bite, you recoil. Was that milk? Like, the animal kind? You spit it out. You're disgusted. But then hopefully you move on with your day. 
Indeed, that very scenario may have happened once or twice before Marshalls' parent company, The TJX Companies, Inc., recalled three of its chocolate candies/truffles after having been made aware that these supposedly vegan candies/truffles actually contain undisclosed milk products, per the U.S. Food and Drug Administration (FDA). However, as distressing as it may be for anyone to realize that they've consumed any undisclosed ingredient, for people with milk allergies, the particular manufacturing/labeling mistake made by The TJX Companies that led to the recall, could prove fatal. Here's what's at stake and what to do if you purchased any of the recalled products. 
The so-called 'vegan' chocolates contain milk
On May 1, the FDA recalled three chocolate products sold at T.J. Maxx, Marshalls, HomeGoods, Sierra, and HomeSense retail stores because, although they are labeled "VEGAN" and "dairy-free," they actually contain milk. The recalled products are as follows: Pimlico Confectioners Vegan Fine Hazelnut Truffles (in a 3.88-ounce green plastic package), Keats London Vegan Hazelnut Dark Chocolate (in a 4.93-ounce round green plastic package) and Keats London Vegan Irish Cream Truffles (in a 4.93-ounce round blue plastic package). All said products were distributed nationwide at all TJX Companies retail stores, and all, regardless of product code, are subject to this recall. 
If you purchased any of these products, you're urged by TJX to "return them to the store at which they were purchased or contact the appropriate customer service department for a full refund." You'll find the related customer service telephone numbers and photos of the recalled products here.
The TJX Companies initiated the recall after it learned that these supposedly dairy-free products actually contained milk. It's unclear whether TJX made its discovery on its own. However, the FDA's announcement states that one illness caused by the recalled products has been reported as of May 1. "Subsequent investigation indicated that this was caused by a manufacturing error at the supplier's facility," the FDA adds, which is why this recall involves all items for sale that were manufactured at that particular facility.