Giada De Laurentiis' Spinach Pasta Recipe Is Turning Heads On Instagram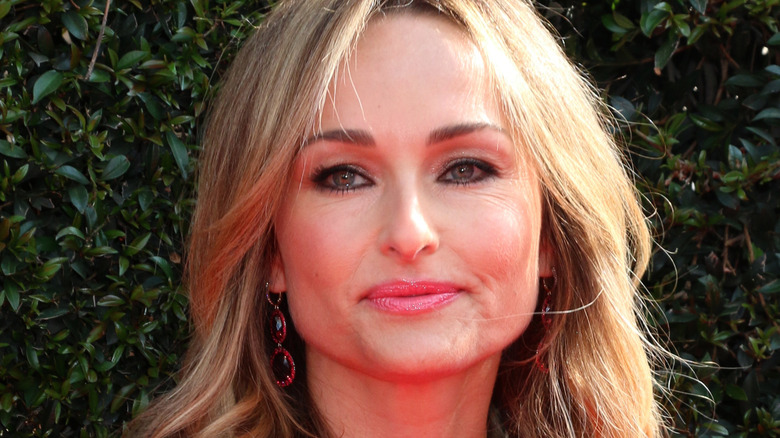 Kathy Hutchins/Shutterstock
Gone are the dull and dreary days of winter. Slowly and surely, the world around us is brightening up and becoming alive again. April showers are making way for May flowers, vibrant green grass has replaced the snow and the sludge, and people are sporting their floral dresses and pastel pants once again. And let's not forget about the seasonal spring dishes that make for delicious dinners. 
While rich, warm stews and heaping plates of casserole may be the perfect winter comfort foods, let's face it — they aren't much to look at. From easy homemade lemon bars and key lime pie to prosciutto with burrata and roasted radishes with butter, there are so many spring dishes that are as colorful as they are delicious (via Pure Wow). If you're planning a menu for a seasonal soiree, no dish is more crowd-pleasing than pasta. But rather than opting for a dish that's hearty and heavy, try gravitating towards something that screams spring, like this bright green spinach pasta from Giada de Laurentiis (via Instagram).
Giada de Laurentiis's spinach pasta is perfect for spring
If there's anyone who knows how to whip up an innovative and aesthetically-pleasing homemade pasta, it's the star of "Everyday Italian." In a recent Instagram post, Giada de Laurentiis shared the recipe for a beautifully vibrant spinach pasta. Intrigued? You can follow the TV personality's step-by-step process in her Instagram video and on Giadzy.
Fans of the Italian-born star gushed about her recipe in the comments section of the post. One user wrote "You're so awesome!! My favorite. making it this weekend," while another person would rather focus on the chef's kitchen: "Pasta looks amazing.. but I love your counter top." One user shared what we are all thinking, and asked "Do you do private cooking classes?"
The best part about this homemade pasta? Not only will it look beautiful on a buffet table, but you can also create any type of pasta shape that your heart desires. As for the sauce? The world is your oyster. Users can replicate Bon Appétit's spicy spinach linguine with olive oil and garlic or whip up De Laurentiis's easy spinach sauce with goat cheese and garlic (via Giadzy).