Costco Shoppers Are Raving About Its New Must-Have Grill Accessory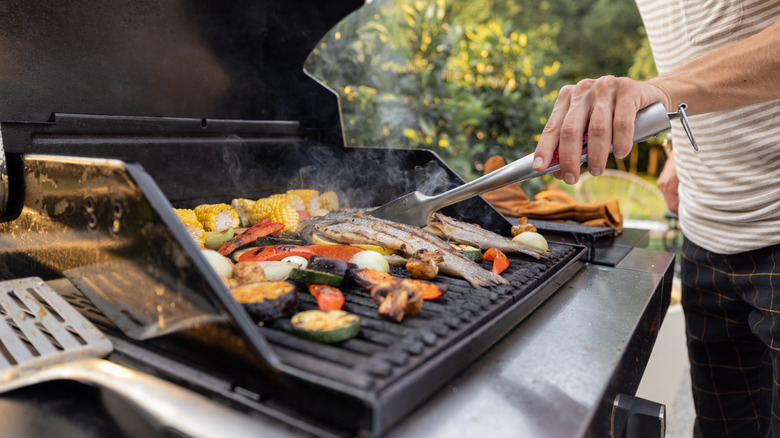 RossHelen/Shutterstock
With spring rolling in, warm weather has returned and folks around the country can finally break out their grills. Anyone who considers themself to be a pro griller most likely keeps track of all of the best accessories for their outdoor cookspace. Good Housekeeping recommends seasoned grill veterans invest in digital thermometers, stainless steel skewers, heat-absorbing gloves, and grill baskets.
This final accessory might seem like a mere wishlist item, but it can actually take your grilling experience to the next level. According to The Kitchn, the fine mesh versions of these baskets are great for cooking up vegetables or legumes over an open fire, while baskets with a hinged clamp make grilling fish a walk in the park. Grill connoisseurs can go all out and even get flat, stainless steel baskets that hang just above the flames and keep food from getting charred. Trying to find the right version of these baskets for what you cook can take some time and effort, but luckily, one Instagrammer spotted a Costco find that easily solves this problem.
One hot grill accessory
Instagrammer @costcohotfinds recently spotted a two-pack of grill baskets at Costco. They found the items going for $20.99 and claim that the trays make cooking fish and vegetables over an open fire that much easier. Fans concurred — "I have last years version and they're amazing!" one person wrote. "Hope my costco has them," another said.
@costcohotfinds found that dishwashing the trays caused discoloration, and suggested power washing them instead. Power (or pressure) washing is a method that should effectively work on these grill trays, but can also be applied to your whole charcoal grill setup. Cleanup Expert noted that as long as you don't mind splashing some grease around the yard, this method might prove ideal.
The Instagrammer recommended using the trays for vegetables and fish. The Kitchn agrees, confirming that cooking delicate items in grill baskets really lets the purchase shine. One of the biggest reasons to use a grill basket is to prevent sticking, meaning that you won't lose chunks of your fish or vegetable spread during the grilling process. If the enthusiastic social media response is any indication, you might see a few of these products sitting above open grills as the weather continues to warm up.